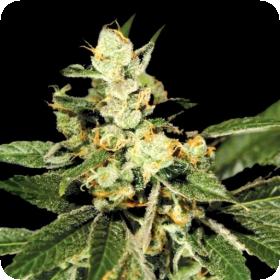 Trainwreck Feminised Seeds
Greenhouse Seeds Trainwreck is a great-quality 40/60 Sativa-Indica It's a well-balanced and high-quality hybrid that offers a complex and unique balance in every aspect from the look of the plants to its aroma and flavour to its effect.
This is an excellent cannabis strain that has everything every commercial and hobbyist grower wants: a short flower period, hardy and vigorous, and very easy to grow. Trainwreck offers high yields of long, delicious buds that are completely covered in crystalline resin when they reach full maturity.
Trainwreck makes a great addition to both small indoor grow rooms and large commercial facilities. It is also nicely inconspicuous when grown outdoors. Consistent lighting is essential for best results and while some growers report better results in soil setups, hydro growers have also reported having good luck and good yields as well.
The trick to success with these plants lies in the upkeep, particularly in the distribution of nutrients throughout the vegetative and flower stages. Maintaining a proper nutrient-rich environment will result in healthy plants that produce well.
The flowering period for this strain is only about 8 weeks and the average yield fluctuates slightly depending on the growing environment. These plants are better suited to controlled indoor methods than to the more variable conditions of outdoor growing, but they can work outdoors under temperate conditions and in areas that see lower than average rainfall and humidity.
The aroma and flavour of Trainwreck are very strong and tempting. Each has an undercurrent sweet fruitiness that keeps the user wanting more. It delivers a powerful that is very balanced and long-lasting. It gives the user an enjoyable, head-filling feeling of euphoria that works great at the end of a long day. It is also good for treating sleeplessness along with a variety of other medical applications. THC content is high.
Genetics:
Original clone from Arcata