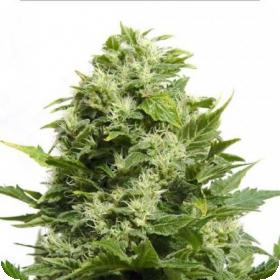 Bubble Cheese Feminised Seeds
Bubble Cheese was originally the brainchild of Mr. Cheese - a British cannabis seed developer. The original was a cross of classics Bubblegum and Exodus Cheese Original.
This hybrid was then serendipitously crossed with Bubba Kush. This happy accident became Bubble Cheese: a strong, head-filling and heavy strain with many endearing qualities that have made it such a popular choice among cannabis enthusiasts worldwide.
In keeping with Big Buddha's "throw it and grow it" breeding philosophy, Bubble Cheese germinates well and is easy to grow. The strain is mostly indica and shows superior resistance to stress and disease - another Big Buddha signature trait.
They sprout within a day after a normal soaking. They germinate quickly and the seedlings are very hardy.
Bubble Cheese responds well to virtually every growing method. These seeds are so versatile that they respond to whatever the grower's preferred method may be. The plants flourish indoors but will need space since they can grow to 5 feet or better.
They also take up space as they stretch, but they grow strong branches that can support the fat, heavy buds the plants produce and they have slim classically indica leaves.
This strain also lends itself well to outdoor growing, especially in gardens where they have decent direct sunlight and room to grow unencumbered. Flowering time is only 8 weeks and the buds do not disappoint. They provide plenty of product and have a high THC content.
Leave them to mature another week and the quality improves dramatically. Every Bubble Cheese plant is capable of producing upwards of 125 g of product. The buds give off a pleasing fruity aroma that intensifies when lit.
The taste is classic Kush with unique accents from the parent strains. The finished product has an excellent shelf life that will last for months.
Please remember that the growing of cannabis plants and the cultivation of seeds is illegal in some countries - please check the laws of your country and don't be growing any plants if it is against your country's laws.
Genetics:
Bubble Gum Cheese ("mrcheese" cut) x Bubba Kush Reversed S1