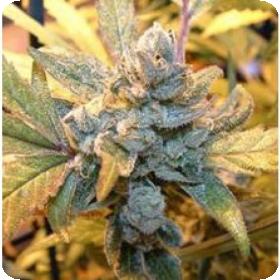 Blue Cheese Feminised Seeds
An 80% sativa, 20% indica hybrid, Blue Cheese Feminised from Big Buddha seeds is a cross between a female Cheese phenotype and a carefully-selected group of male Blueberry plants.
This strain is a favourite component of many of Big Buddha's projects and is a very stable strain. Of of its identifying traits is its short flowering period. Just 8 to 10 weeks and the plant is completely mature and ready to provide an excellent yield.
Blue Cheese embodies all the best of both parent strains. These seeds are incredibly stable and that is owed to a number of breeding experiments conducted by Big Buddha's developers over time.
They also boast a superior germination rate. Blue Cheese plants are bushy, stocky and short, but give it some space to stretch and it will respond with a great yield. Its flowers are compact, tight, swirly and round.
They take on a purple hue that grows more vibrant as the plant matures.
Indoor growers find the Sea of Green growing method to be particularly effective in growing Blue Cheese given the plant's close internodes. Every plant produces a single large main cola. Its yield increases quite a bit with controlled side branching.
When grown outdoors, Blue Cheese is harvested at the end of October in the Northern hemisphere and should be protected from early frost.
Blue Cheese feminised seeds are easy to grow. It serves best to grow it in small batches since the yield is low in comparison to other strains (about 150 g per square metre).
It is, however, an ideal strain for medical marijuana users and those who smoke recreationally and occasionally.Every bit is likely to be used. Its flavour is fruity and sweet with an undertone that is earthy and musky.
The smell brings the earthiness forward in a way common to many strains that share like genetics.
Please remember that the growing of cannabis plants and the cultivation of seeds is illegal in some countries - please check the laws of your country and don't be growing any plants if it is against your country's laws.