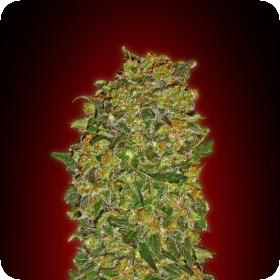 Chocolate Kush Feminised Seeds
Chocolate Kush Feminised is an improvement on the iconic Mazar with the inclusion of some of the breeder's most elite indica genetics.
The original was a hybrid cross between Afghani and Skunk, stabilised and branded as Mazar by Dutch Passion. This version is still sativa-dominant but with an extra push toward the Indica end of the spectrum in terms of effect.
The plants have a single central cola that expands considerably and produces ample numbers of densely resinous buds.
THC content can be very high, making Chocolate Kush an exceptionally potent and invigorating strain.
The finished product has a pleasurable, mellow aroma that is both reminiscent of its Afghani heritage with an extra hint of earthiness and sandalwood incense, particularly when lit.
The flavour of this version is somewhat lighter less hashy than the original Mazar but is nonetheless pleasing and robust.
Those who decide to give Chocolate Kush a go should prepare to be not only mesmerised, but also locked to the couch by its exceptionally potent effects.
The pairing with the breeder's indica genetics really tips the scales in terms of the overall effect but the sativa side does show itself with bursts of inspiration and energy.
It produces a very head-filling effect but also delivers a very pleasant full-body experience. It is relaxing, but at the same time stimulating and mildly psychedelic.
Growers with experience cultivating Afghani should should feel right at home working with Chocolate Kush.
The plants grow well in indoor setups and respond similarly well to every popular method (including soil, potting, and all various hydro methods).
They reach a medium height at full maturity but remain reasonably compact, allowing them to be evenly lit. The plants flourish best in moderate climates and produce their best yields when planted to harvest by late summer.
Genetics:
Chocolate Afghan x Sensi Star