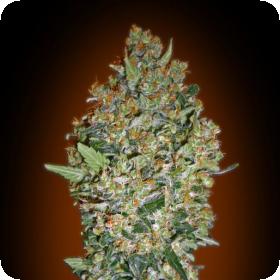 CheeseBerry Feminised Seeds
Cheeseberry is a feminised cannabis strain that gets its genetics from the iconic varieties Cheese and Blueberry. This one has been around for quite some time now, making the rounds as Blue Cheese from other breeders.
Cheeseberry plants are relatively short which makes them a good choice for indoor cultivation. The average height at full maturity is typically under 4 feet inside or out.
Outdoor plants can grow as much as a foot taller than indoor ones but 4-6 inches taller is more the norm. Heavy lateral branching accounts for abundant numbers of delicious buds.
Growers with experience with Low Stress Training can get these plants to produce even better. 350 g per square metre in setups like Sea of Green or Screen of Green coupled with 600W lights on a typical cycle is very easy to achieve with these plants.
Longer hours of light during vegetation and equal amounts of light and dark during flowering are optimal. Most growers recommend starting out with an 18/6 cycle, switching to 12/12 to initiate flowering.
Outdoors, growers will discover that achieving good yields with Cheeseberry is even easier. These seem to have somewhat of a preference natural light cycles and conditions but will perform well indoors as well as out.
The flavour of Cheeseberry is described by many as being fruity and dank. The dankness is a product of the Cheese genetics and the Blueberry only adds to the already sweet berry goodness found in the original Cheese. The aroma and flavour also create an interesting contrast.
The effect from Cheeseberry typical of a high-quality indica. It has a strong, sleep-inducing narcotic effect that leaves most users couch-locked for a good long while.
This exceptionally potent strain is not recommended for first-timers or those who prefer a more mild effect. The THC levels in this strain are high, paired with low levels of CBD.