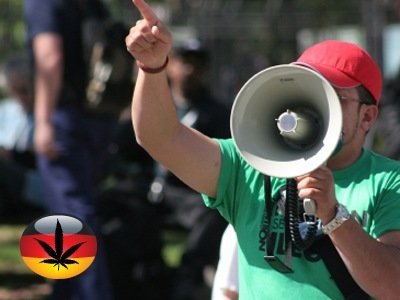 In the lovely university town of Gottingen something rather magical is happening. Marijuana plants have started to sprout up all over the place as part of a pro marijuana protest. The protest was against Germany's very strict anti-marijuana laws. The group, A Few Autonomous Flower Children, spread the seeds throughout Gottingen some time back and now the plants have begun to pop up everywhere.
They believe that marijuana, as the useful, amazing, and natural phenomenon that it is, should be as legal to buy as alcohol. At least the strains which have very little psychoactive effects such as the high CBD/ low THC strains which are predominantly used as medical marijuana. They have dubbed themselves "a sign against the demonization of cannabis".
Of course one of the first thoughts is well that's a pretty irresponsible thing to do, all of the seeds which were planted are those which were low in THC and the least harmful, in fact the most helpful form of cannabis. These strains can be used to battle the symptoms of many debilitating diseases such as, rheumatic arthritis, diabetes, cancer, glaucoma, Chrone's disease, and many more. It is true that most marijuana can give this sort of relief but high CBD strains with a low level of THC make sure that there is little effect on the patient mentally and so there is no real reason that it should not be legal. Alcohol has a worse effect on the brain than these strains of cannabis. So you can kind of see this groups point.
The group was not just made up of mad hippies who want pot to be legal but of people who really thought out their argument. They pointed out to the press how much more dangerous tobacco and alcohol are than marijuana. They backed up their argument with numbers such as that tens of thousands of people die each year in Germany from alcohol or tobacco consumption related illnesses. Not only that but if marijuana were legal people would not need to deal with sketchy underground dealers who not only may be mixing in other things with their products but are also an easy way to get sucked into doing harder and far more dangerous drugs.
It goes without saying that they are getting into a little spot of trouble with the local police but they knew as a group there would be consequences. The point has been made and that's the important thing. More protests like these should be made worldwide and maybe that would help to speed up the legalisation of marijuana.
It is legal to buy cannabis seeds, so if that is what you are looking for please visit The Vault Cannabis Seeds Store to see our extensive range of seeds.
Remember though that although seeds are still legal to buy in many countries it's still illegal to germinate them, so please don't break the laws in your country.