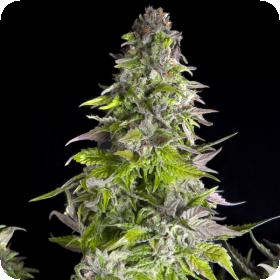 Romulan is a 75% Indica hybrid from the Pacific Northwest of the United States with an unknown genetic origin, though one parent is assumed to be White Rhino. 
The plants are squat, with a distinct pine scent radiating from their icy blossoms. The yields aren't the best, but the quality makes up for it. 
Indoors, yields should exceed 300 grammes per square metre, with flowering taking 50 to 60 days. With northern latitude harvests in September, each plant can yield 500 grammes outside. 
Buds that are nearing the conclusion of their flowering period have crimson and purple hues.
The flavour is sweet pine with a hint of spiciness. 
THC levels are roughly 24%, and CBD levels are less than 1%. 
It has a very soothing effect, but it also has significant cerebral effects due to its 25% Sativa genetics. 
The customer is lulled into a deep, introspective peace by powerfully euphoric sensations. 
Stress, discomfort, and insomnia are among the therapeutic uses.