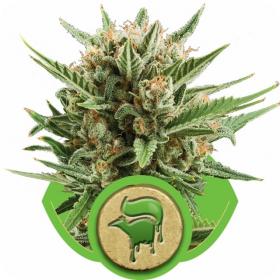 Sweet Skunk Automatic Feminised Seeds
Sweet Skunk Automatic is said to be closely akin to the ever famous Spanish strain Green Poison in growth, taste and effect. This strain, however, is an autoflowering variety, meaning it can be easily cultivated in an array of conditions.
This latest strain comprises of a combination of the clone strain Green Poison and the autoflowering Big Devil #2, it has then been back-crossed and honed over multiple generations to create the optimum hybrid.
This plant is fast growing with a growing period of only 8 weeks. Sweet Skunk Automatic develops very resinous buds with a potent, somewhat fruity and skunky aroma if grown well. This seed strikes a nice balance of Indica, Sativa and autoflowering Ruderalis genetics.
The Indica aspect is undoubtedly the most presiding feature however. The average yield of Sweet Skunk Automatic is approximately 400-450 grams per plant, this does vary however, depending on the growing conditions.
It does not grow too high, finishing at around 60-100 cm, making it suitable for all varieties of growing spaces.
As Royal Queen Seeds has made Sweet Skunk an automatic feminised seed, it is very much a low maintenance variety, thus giving it the edge over other regular seeds.
A regular seed pack will usually produce 50% female plants and 50% male plants, while in practice the male seeds are of no purpose, due to the fact that it is only female plants that are needed for cultivation.
This results in a grower requiring much more space and time, and twice the amount of money, in order to make sure the correct number of females are produced.
The fact that feminised seeds can ensure a 99.99% chance of an entirely female crop also means it will be perfect for a less experienced grower as they will not have to deal with the annoyance of the male plants' disposal.
If a grower still wished to cultivate their own crop it is not necessarily essential that the males be there to produce the pollen.
An experienced grower, through attentive direction of the female plants can then manipulate them into producing pollen, generating a crop with a superior set of genetics than those resulting from using both male and female parents.
Please remember that the growing of cannabis plants and the cultivation of seeds is illegal in some countries - please check the laws of your country and don't be growing any plants if it is against your country's laws.
Genetics:
Green Poison x Autoflowering Big Devil #2