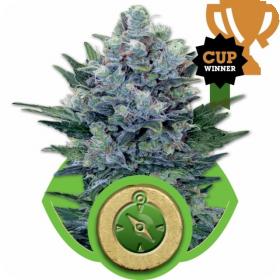 Northern Light Automatic Feminised Seeds
Northern Light is one of the world's most recognised cannabis strains. It is a mostly-indica strain that dates back to the 1970s where it was first developed by breeders in the United States using Afghani genetics. By the 1980s, the plant had made its way to Holland and soon become the standard by which indoor growing of cannabis would be measured.
Over the past several years, many changes have occurred in the growing and breeding of cannabis. New techniques have been developed and new methods invented. Northern Light Automatic responds well to virtually all of them just as well as it has withstood the test of time.
Northern Light Automatic is perfect for indoor cultivation, but can been grown in warm, outdoor climates as well. The plants start producing flowers practically immediately, and are ready for harvest with just 9 to 10 weeks from seed.
Northern Light Automatic produces an abundant harvest and a very high yield, particularly for an automatic variety. The plants grow to heights of between 2 and 3 feet (90-120 cm), also making it particularly large for an automatic. Some plants have been known to produce as much as 200 g by themselves, but will realistically produce around 90 consistently.
Just like the original Northern Lights, Royal Queen Northern Light Automatic Feminised has a pleasingly sweet flavour and relaxing effect. It is identical to the original with the added benefit of being auto-flowering. Northern Lights and strains derived from it are also consistently recommended for medical marijuana applications.
This strain is both feminised and autoflowering, which most growers will agree is a win-win situation. Experienced growers will appreciate the minimal effort it takes to grow them and those new to cannabis cultivation will appreciate how forgiving these plants are and how effortlessly they grow and produce.
Royal Queen Seeds has managed to update the old favourite Northern Light strain that began its journey in the 1970s and since made its way to Holland where it became a staple for indoor growers. It has been modernised by crossing Northern Light, bred from Afghani genes, and Ruderalis, which means it's autoflowering and so exceptionally easy to grow. It is Indica dominant and has a THC content, and although is well known for its indoor growing capabilities, it can also thrive outdoors in warmer climates. It is rather large for an autoflowering plant, growing to between 80-120cm indoors compared with 130-160cm outdoors, and the height is match by the large yield which it produces. After 9-10 weeks it will give off 500-550gr m2 indoors and 170-220gr per plant dried, which is quite exceptional for autoflowering. As well as this it has a medium CBD content which means that it is great for medicinal purposes.
Not only is Royal Queen Seeds Northern Light automatic but it is also feminised, making the growing experience even easier. In regular seed packs there will roughly be an equal split of 50% males and 50% females, however in reality the males aren't of much use. Consequently twice the amount of time, space, and money will be spent on males which are not needed, and this is exceptionally pertinent when it comes to an indoor plant such as Northern Light. Feminised seeds eradicate this problem as there is almost a 100% chance that all of the seeds will be female. The only way the males may come in useful is if a grower was looking to breed their own future crop, for which the male-pollen would be needed. Even then there is a way to manipulate the females into producing this pollen, which would even result in a crop that has a greater level of uniformity than if male pollen had been used. It should be noted however, that this is an extremely tricky process, and only the most experienced growers are likely to be successful.
Please remember that the growing of cannabis plants and the cultivation of seeds is illegal in some countries - please check the laws of your country and don't be growing any plants if it is against your country's laws.
Genetics:
Northern Light x Ruderalis