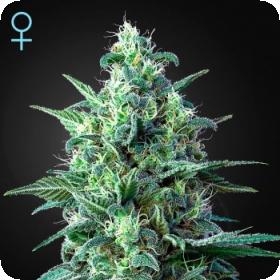 White Widow CBD Auto Feminised Seeds
White Widow Auto CBD has a THC:CBD ratio of 1:1 at 5 - 8%. 
The original strain requires no introduction because it is one of the great success stories of modern cannabis breeding and is revered around the world. 
This strain is the result of a cross between White Widow and a ruderalis parent plant, as well as a high-CBD strain. 
This is a very well-balanced strain, with 40% indica and 40% sativa genes, and the remaining 20% being auto-flowering ruderalis genetics.
This strain can produce indoor yields of up to 500 gr/m2 in just 9 weeks from seed. 
It is recommended that plants be exposed to 18 hours of light per 24 hours for the best indoor yields. Outdoors, approximately 60 g. per plant can be harvested. This one, like most automatic strains, stays nice and compact at 70-80 cm. 
It hits quickly, as with the original, with a noticeable body-effect followed by a more cerebral feeling, albeit tempered by the CBD content. 
The high is far more mellow than the original 1990s strain, and it is also quite short-lived.
White Widow Auto CBD is likely to be therapeutically beneficial due to its high CBD level, though we have no specific recommendations.