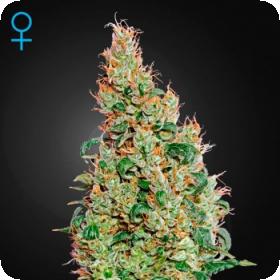 Green-O-Matic Auto Feminised Seeds
Green-O-Matic is a self-blooming cannabis strain developed from Lowryder with the addition of additional ruderalis, Moroccan and White Dwarf genetics.
This plant will be ready to harvest only 55-60 days after germination.
Green-O-Matic is 80 per cent indicative, 10 per cent sativa and 10 per cent ruderalis.
It will mature nicely with between 12-18 hours of light per day indoors yielding as much as 800 g/m2 in the SoG set-up.
If grown outdoors, a short plant, between 30-40 cm, will remain, yielding about 30 gr/plant.
A great advantage of this strain is that as long as there is sufficient daylight and at a temperature of at least 10°C, it can be blossomed and matured at any time of year, allowing for multiple stealth crops.
The production of THC is very healthy, especially for automatic plants, at 15.43 per cent, with CBD at 0.09 per cent and CBN at 0.22 per cent.
Despite being fast-acting, the effect is quite gentle, and this leads to a long-lasting, stoned feeling.
Genetics:
Ruderalis x Moroccan x White Dwarf x Low Rider