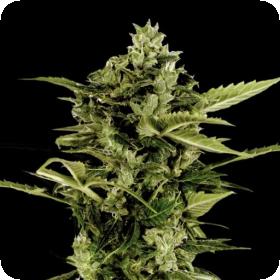 Auto-Bomb Feminised Seeds
Auto-Bomb Feminised seeds are the result of Green House Seeds Company combining two of their very popular and successful auto-flowering seeds: Green-O-Matic and Big Bang Auto-flowering.
This auto-flowering strain is a highly regarded as it produces an extremely potent plant in a very short growing time.
The plant itself will grow to a medium size of around 120 cm therefore if it is given room to grow you can expect a very satisfying return.
Also, due to the fact that the plant is an auto-flowering strain it is fairly light in terms of maintenance, which means you will be able to garner a great yield with very little space or time.
This plant does not fail to deliver in any way as the resultant high hits extremely quickly and powerfully leaving a very relaxed and body-stoned feeling.
For those of you who are growing indoors this auto-flowering strain can yield in just 7 weeks and can be flowered at any photoperiod between 12 and 18 hours of light a day.
Outside the plant will also be ready to be harvested at around the 7-week period with a production of 50 grams per plant. The plant can be flowered under these conditions at any time of the year provided the temperature does not drop below 10 °C.
Please remember that the growing of cannabis plants and the cultivation of seeds is illegal in some countries - please check the laws of your country and don't be growing any plants if it is against your country's laws.
Genetics:
Green-O-Matic x Big Bang Autoflowering