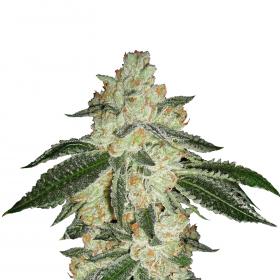 Green Crack Autoflowering Feminised Seeds
Green Crack Autoflowering is more than a bit special. It combines ease of cultivation with great yields, superb fruity taste and energetic high.
Green Crack Auto is an indica/sativa/ruderalis hybrid which does have some more Afghan pheno-types. Plants will remain quite short with a height of between 60 - 90 cm. Buds become totally white with resin during the later stages of flowering. Yields indoors are very good indeed with harvests of dried buds weighing 500 - 650 gr/m2 in 8 weeks from seedling. Outdoor crops are even better with 70 - 300 gr/plant possible.
The aromas and flavour of Green Crack are particularly noteworthy; tart citrus, an earthy background with some spice and finishing with mango makes this a fruit lover's dream. Very High THC with a low CBD content of 0.7% gives an uplifting, euphoric effect that helps lift depression and low moods. It is a motivational strain par excellence.
Therapeutic indications are for the following maladies: Glaucoma, Nausea, Epilepsy, Multiple Sclerosis, Back pain, PMS, Arthritis, Herpes, Rheumatism, Sickle Cell, Expectorant, Stress, Migraines, AIDS, Tumours, Asthma.
Genetics:
Afghani x Skunk #1 x Ruderalis