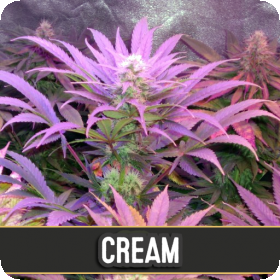 Cream Automatic Feminised Seeds
The Cream Automatic Feminised Seed is an auto flowering feminised hybrid between the Lowryder, Deimos, and Cream Caramel strains. The strain has retained the sweetness of the Cream Caramel whilst also inheriting the stick resinous buds of the Deimos.
A rather lovely combination. It has a medium THC content and there for has a rather calming or mellowing effect.
These seeds are both auto flowering and feminised.
The feminised aspect means that they only grow female seeds. To people everywhere this is a very useful and desirable trait as few find the male plants at all useful, all they do is take up space and cause growing the desired number of female plants all the more expensive.
Feminised seeds tend to have a higher level of uniformity and potency.
Auto flowering simply means that at a certain time in a plants life it flowers without the help of a strict light schedule.
They do not go through the vegetative stage and so they come to maturity much faster than other strains of plant, they also save space as usually a crop will need separate areas for the vegetative and flowering stages.
These seeds, since they have such a short life cycle, can grow in most conditions. However with this specific seed, if they grow outside, they are prone to mould.
This is because the central bud is quite large and so if there is a lot of damp in the air it can become trapped and turn into mould. As long as they remain completely dry this should not become an issue.
The seeds yield is 80-110g, the plant height is around 80-100 cm, its flowering time is 65-75 days, and they can be grown both indoors and outdoors.
Please remember that the growing of cannabis plants and the cultivation of seeds is illegal in some countries - please check the laws of your country and don't be growing any plants if it is against your country's laws.