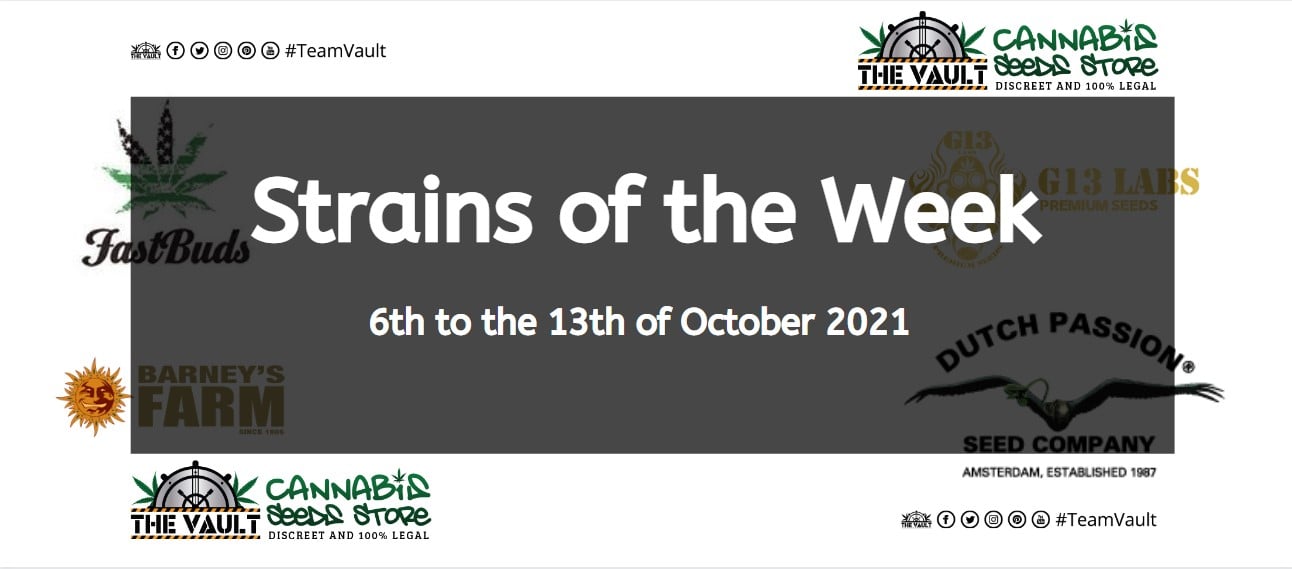 Hello there, Team Vaulters!
I'm glad to introduce our latest pick of Strains of the Week! A great chance to get popular strains at an incredible price available from Wednesday 6th to Wednesday 13th of October.
This week we couldn't take our eyes off top-seller brands such as Barney's Farm, Dutch Passion, G13 Labs, FastBuds Seeds or Grand Daddy Purple, so we decided to include them within our selection. Three feminised and other three auto seeds at 15% off their original prices.
Not only that, but we are also running on-purchase promos with several of these brands, so your purchase can include also more freebies than the ones we normally offer.
To apply the 15% off the price please introduce the code 'SOTW15' at the checkout.
Both breeders and types of seeds may vary depending on the week and the events taking place at the time. This means no week will be the same as the previous one!
We'll try to please all tastes by selecting carefully strains based on their flavour, THC and CBD content, maximum size, yielding, etc.
The Strains of the Week
Pineapple Chunk Feminised Seeds by Barney's Farm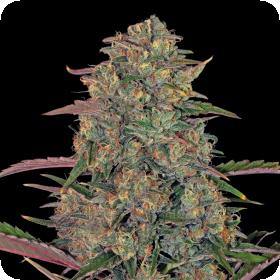 Barney's Farm Pineapple Chunk is an all-indica hybrid of several popular strains: Pineapple crossed with Cheese x Skunk #1. the purpose was to merge the flavours and aromas of these two classic strains into a single, explosive cannabis experience.
The result is this extremely vigorous and stable plant that has, since its introduction, gained notoriety around the world as one of the best that Barney's Farm has to offer.
Its excellent genetics make Pineapple Chunk particularly resistant to all diseases common to cannabis plants, including moulds and fungi. The flowering cycle is short but dramatic at only 55 days on average.
Blueberry Feminised Seeds by Dutch Passion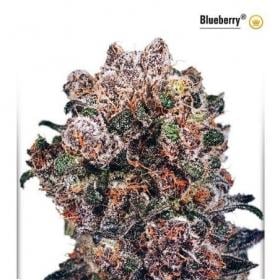 The Dutch Passion Blueberry is a true classic with genetics dating back to the 1970s and there are many reasons why this strain has remained a Dutch Passion favourite. Its makeup is 20% Sativa and 80% Indica.
The mother plants are very easy to take cuttings from whilst maintaining their fantastic quality. Possibly not a strain for new breeders to dabble with as it can be quite fussy when it comes to feeding but for those who are a bit of a dab hand, this strain can produce an extremely impressive crop.
This strain, like many of Dutch Passion's others, has been feminised. This simply means that the seeds will grow into primarily female plants weaning out the often unnecessary males.
Grand Daddy Purple – 5 FEMINISED Seeds by Grand Daddy Purple
This strain is one of the old favourites and was first introduced to the Bay Area in 2003. Not long afterwards it was picked up as a medicinal marijuana strain that became instantly popular in California.
This strain is famous for its gorgeous purple colouration with intense spots of neon green. It also forms incredible, basically hair free, crystals. The buds almost look as though they have been bedazzled, they are just that coated in resin.
Grand Daddy Purple can be purchased in the form of regular seeds. Regular seeds are extremely popular amongst old school growers and breeders. They will create a combination of male and female photoperiod plants.
Smoothie Auto Feminised Seeds by FastBuds Seeds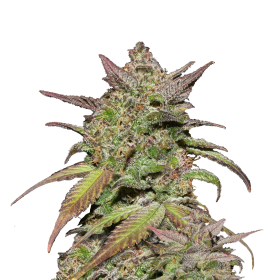 Smoothie Auto is an indica-dominant hybrid of Blueberry and Somango cannabis strains.
Despite its autoflowering habit, it can produce some outstanding quantities of high-THC buds in a relatively short grow cycle.
Smoothie Auto may be grown in any location and will grow to a height of 80 – 110 cm.
Despite its bushy indica structure, it can be easily trained and is thus simpler to conceal outside, despite the fact that it develops one major cola surrounded by tiny branches.
Pineapple Express Auto Feminised Seeds by G13 Labs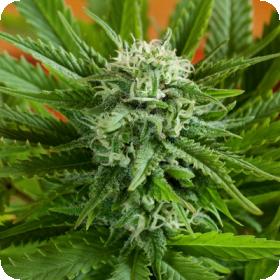 Pineapple Express Auto from G13 Labs Seeds is best described as feminised, autoflowering, and Indica dominant.
This remarkable cultivar provides excellent yields while remaining compact (up to 100cm).
It has a flowering period of no more than 70 days (from 65 to 70).
Because of its strong character, rich and resinous blooms, and wonderful perfume of lemon, wood, and spices, this easy to grow marijuana plant is the biggest seller in the G13 Labs Seeds collection.
Blueberry Cheese (Blue Cheese) AUTO Feminised Seeds by Barney's Farm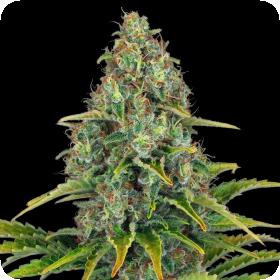 Blue Cheese is an amalgamation of two of the most famous cannabis strains in existence. One being Skunk #1 otherwise known as "Cheese" and Blueberry. The resulting strain is a high yielding Indica which maintains the amazing Cheese taste and scent.
This is an easy to grow strain perfect for beginner and and seasoned growers alike.
This strain is a powerful yet comforting one with very high THC levels and a CBD level of 1.5%. This strain comes highly recommended for anyone suffering from insomnia, anxiety, depression or stress.
This absolutely classic strain is available from Barney's Farm in many forms including the easiest by far to grow, autoflowering feminised.
TERMS
15% Off The Following Strains
This selection of Strains of the Week is valid from the 29th of September to the 13th of October 2021
To apply the price reduction please introduce the code 'SOTW15' at the checkout.
It cannot be combined with other discounts codes.
Newsletter Sign Up
Make sure you never miss another Vault promo – sign up for our newsletter at https://www.cannabis-seeds-store.co.uk/the-vault-newsletter
Remember: It is illegal to germinate cannabis seeds in many countries including the UK.  It is our duty to inform you of this fact and to urge you to obey all of your local laws to the letter.  The Vault only ever sells or sends out seeds for souvenir, collection or novelty purposes.