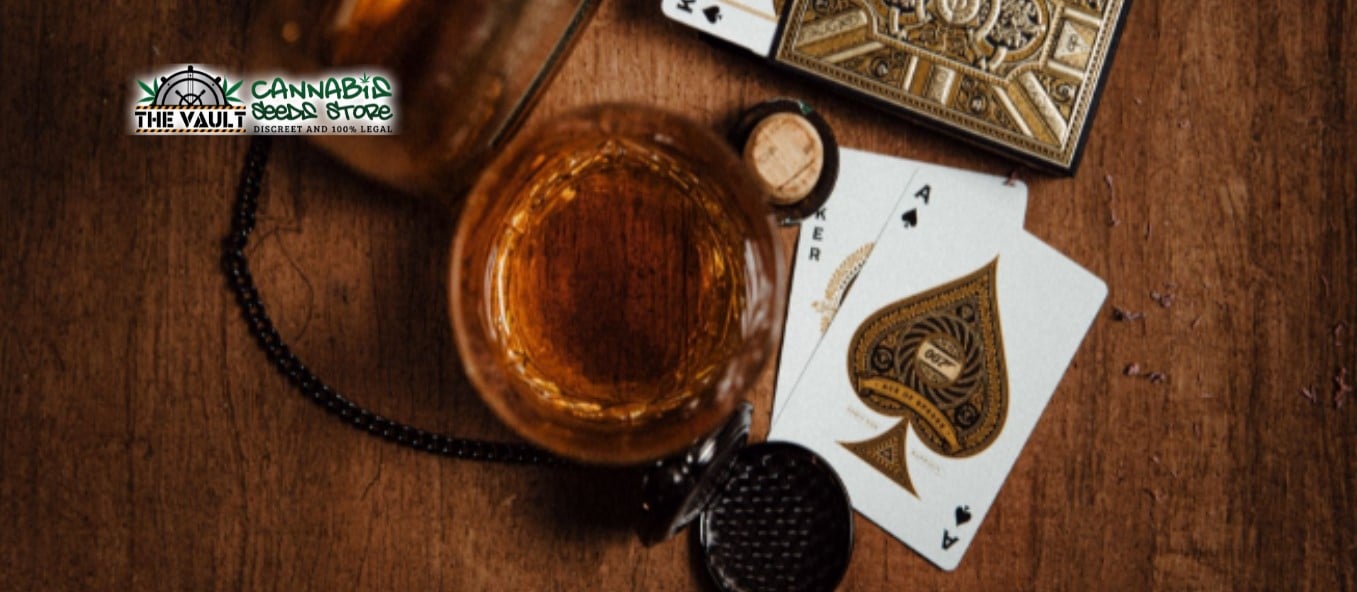 In honour of the new Bond film coming out, which is supposed to be quite the cinematic masterpiece though I personally have lost my faith somewhat. However, if we ignore the last few films Bond has certainly been on some classic and much-loved adventures. The character of Bond was created by Mr Iain Flemming in 1953. From there the novels detailing the escapades of the sexy super spy with a license to kill exploded in popularity. Leading eventually to the first Bond film Dr No released in 1962 starring the late Sean Connery. Throughout the 70s, 80s, 90s and 00s there were 25 more films released that varied in popularity. Today we are going to have a look not necessarily at the best Bond films, but the ones that are the most fun to get high to. 
Casino Royale
This is probably the last Bond film I saw that I loved, and from what I've heard quite a lot of people agree with me. If you don't remember this film it is a bit of a romp set at the very start of 007s career. They decide the best way for him to get started is to use the ancient art of poker to bankrupt a terrorist financier. Then, of course, bond falls in love with a sexy side character who has a bizarre name and so on, no spoilers. This film is fun to watch high just because of the directing, the acting, and the action-packed plot that keeps you invested and excited. This is probably the perfect film for getting stoned with your buddies and having a Bond night. 
For this film, I'd recommend Super Lemon Haze, a happy and uplifting strain that is ideal for light action and socialising. She also brings on an intense lift in appetite, so great for pizza and snacks. If you want to be in a food coma while you watch Daniel Craig scamper around a casino then this strain is perfect. Its THC level is 18 – 19% so pretty strong but not too intense. Super Lemon Haze has a flowering time of 65 – 70 days and can be grown indoors outdoors or in a greenhouse. 
Goldeneye
This is probably the most famous in the Pierce Brosnan era of a sexy sleek bond that doesn't get his hands dirty. A deadly weapon satellite goes missing, the satellite is named Goldeneye as a homage to Ian Flemming. This film does a real end of the world thing as this weapon is capable of sending a massive electromagnetic pulse towards the earth. In this film, his love affair is with a sexy assassin who also has a mental name and confuses men with her powerful lady parts or something. Either way, she's pretty badass, as is the villain who is smarter than the average baddie. This film is a little more suspenseful than Casino Royal and could benefit from some focus and heightened senses. 
This strain is powerful, relaxing, uplifting, focused and happy, making it the perfect strain for watching this film. It will keep you sharp whilst also allowing you to really experience the tension, the romance, and the various emotional ups and downs of Goldeneye. Medicinally this strain is usually recommended to those suffering from depression or stress. Again the THC level is 19% so not too high to ruin your enjoyment of the film. She is Sativa dominant, has a flowering time of 10 – 11 weeks and can be grown indoors or outdoors. 
From Russia With Love
Now for an actual classic, actually the second Bond film ever released. From Russia With Love came out in 1962 and starred Sean Connery. Following the success of the first film, this picture had double the budget and was a massive success. In this film Bond is on the hunt for a Russian decoding machine that he must find before it falls into the claws of the evil S.P.E.C.T.R.E organisation. This time his lady is a Russian lass with a relatively normal name. There are plans to lure James into a trap and take care of him once and for all. Do the dastardly S.P.E.C.T.R.E succeed? I dunno you'll have to watch the film. This is a great choice if you want some classic Bond action. 
Let's match a classic with a classic. White Widow is not only one of the most famous and most popular strains on the market, it is also thought to go perfectly with film. The effect is potently relaxing but also vigorously upbeat. Perfect for happily lying back and letting the dulcet tones of Connery wash over you without having to think about the terrible things he did. This strain has a high THC content but if managed well will add a real extra layer of enjoyment to your viewing. White Widow has a flowering time of 8 weeks and can be grown indoors, outdoors or in a greenhouse. 
Goldfinger
We should end with Goldfinger, one of the most popular Bond films. This was the film that came right after From Russia With Love. I realise I haven't been very varied with my bonds but I do tend to like the oldies best. Bond is faced with the ultimate evil, the destruction of capitalism…I know, I know. Anyway, a dastardly bad boy (Goldfinger) and his cronies plan to get into Fort Knox and destroy the economy. For me, this is one of the campiest films, Pussy Galore which is my favourite bond girl name for obvious reasons, the fella that throws hats, and a nice lady that gets covered in gold. 
This sexy high energy strain is ideal for a good old fashioned romp. She is a Sativa/Indica cross which gives her a balanced high that will only increase the nonsense fun of watching Bond try to seduce a raunchily named pilot. This strain has a flowering time of 9 weeks and grows basically anywhere. 
Newsletter Sign Up
Make sure you never miss another Vault promo – sign up for our newsletter at https://www.cannabis-seeds-store.co.uk/the-vault-newsletter
Remember: It is illegal to germinate cannabis seeds in many countries including the UK.  It is our duty to inform you of this fact and to urge you to obey all of your local laws to the letter.  The Vault only ever sells or sends out seeds for souvenir, collection or novelty purposes.
Photo by dusan jovic on Unsplash