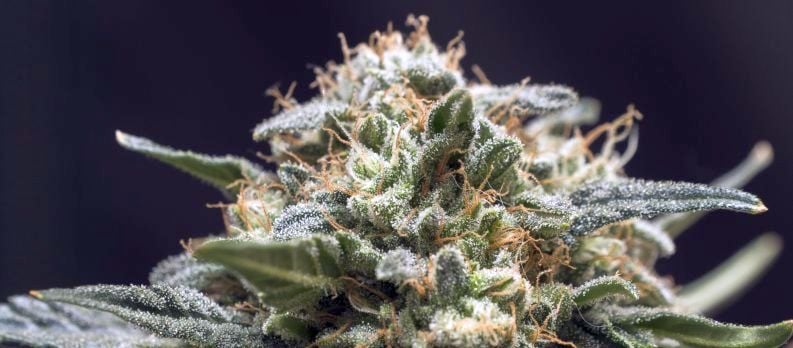 White Widow – classic old-school cannabis strain that became legend
White Widow – an absolute classic. Strong, pungent and a high yielder this legendary cross is must try for every cannabis lover. As with any other 'old-school' strains, the tales of its origin are somewhat clouded in smoke and surrounded by miss-information – but with all available evidence we believe that the creator of the original strain was Shantibaba, a partner and breeder in Green House Seeds at that time. It's said that the strain got it's name from being white with resin and it has a reputation for being one of the powerful strains ever created. White Widow is around 30-35% Sativa and 65-70% Indica hybrid.
Today, almost every seedbank has it's own White Widow variety but most of them are very distant relatives to the original strain, to say the least. Some of them are very good plants, and show great quality and have even won Cannabis Cups but it's just not the White Widow that people think of. A great commercial success since it's release in 1994. White Widow remains one of most wanted and sought at strains of all times. Known for its earthy and woody smell and sweet and floral flavour this strain has been winning cups and selling out at all Dutch coffee shops since it got released.
A mixture of landraces
The strain genetic origin is more or less agreed upon – Green House Seeds bred Brazilian Sativa – most likely a known pure sativa landrace – Manga Rosa as a mother and a Indian Indica dominant hybrid, that Shantibaba has collected on his travels to the mountains of Kerala – South India, as a father. The following year – 1995. White Widow won it's first High Times Cannabis Cup and has been collecting them ever since for numerous seedbanks and breeders. During his time working in GHS Shantibaba worked with another excellent breeder Neville Schoenmaker (who later founded Sensi Seeds) on joint projects and later started Mr. Nice Seedbank with him and Howard Marks.
Reportedly in 1996, both the Nirvana and Dutch Passion seed companies purchased a single pack of White Widow seeds from Shantibaba himself at the Green House Seed Company and within a year released their own versions of the Widow. Shantibaba changed the name to Black Widow and is still selling it under Mr. Nice Seedbank, GHS has it's own, Sensi has it's own, Nirvana and Dutch Passion (although they claim that their original strain dates back to 1980′) have it's own. Dinafem have an inbred version of their own, Sumo seeds have an 'upgraded' version of their own and pretty much anyone else is trying to sell its own version.
The second story about White Widow origins includes a guy named Ingemar who worked for GHS in the past. He claims he found some seeds in hand rolled hash that he had access to. He then planted thousands of seeds and the best specimen were subsequently selectively inbred for at least six years. According to Ingemar, the GHS now uses his White Widow lines with express permission given solely to Arjan, the owner of GHS, to use the name White Widow. Ingemar entered the strain on various cups under different names – such as Peacemaker but for a long time, it was a clone-only strain and Shantibaba was the only source for the seed version of the strain. When he left GHS, he took the parent plants with him and the seed version of the original is still available at Mr. Nice Seedbank as Black Widow.
Long time coffee shop favourite and a cornerstone of Dutch cannabis genetics
The strain is known for it's high THC content often reaching more than 20% and heavy and dense buds covered with trichomes. The high is strong, cerebral, uplifting, energizing and long lasting. White Widow is also preferable with many growers, it finishes indoor in about 8-9 weeks and at the end of October outdoors. It needs a lot of sun outdoors so greenhouses are you best solution if you're not living in sunny and warm climates and is suitable both for SCROG and SOG methods indoors. Growers like to shorten the light cycle for the last two weeks of flowering to 8 hours, which prevents regrowth of buds and stress induces better resin coverage. To prevent mildew and to preserve flavour profiles you should avoid over watering and fertilization. The strain is easy to grow, resistant to mold and pests and well suited both for new and expert growers. The plant is compact and has a high flower to leaf ratio.
White Widow has been a cornerstone of Dutch cannabis genetics since its creation and winning the High Times Cannabis Cup in 1995. Easy to grow in all environments and setups, compact and bushy provides for a great yield of highly potent buds. Since its creation, White Widow has been winning cups and awards around the globe. This award winning strain has since become a breeding stone to many other famous and legendary strains.
With almost every seedbank and coffee shop offering White Widow it's no surprise that autoflowering strains how emerged and like the original they can be found everywhere. The strain has also been a father/mother to numerous excellent strains like Blue Widow, White Russian,  White Rhyno/Medicine Man, White Shark, ICE, La Nina, Moby Dick and a whole 'White' family.
Some of the best White Widow strains at the Vault are:
White Widow from Nirvana Seeds is a true old-school classic and a world-wide favorite for both growers and users, it finishes flowering in 8-10 weeks with yields that go up to 450-550g/m2 and usually test at 14-18% THC. White Widow's effects are strong and fast-hitting, balanced between cerebral and body buzz, happy and uplifting, transitioning into a full body relaxation. It's used medicinally to treat stress, depression and pain. It's aromas and flavors are pungent and strong, a mixture of earthy and woody with hints of skunk, herbs and spices.
White Widow from Seedsman Seeds is a Indica/Sativa cannabis hybrid, well known to the cannabis community since its introduction to the Amsterdam coffeeshop scene in the early 1990s. Available as regular seeds, this easy to grow Dutch old-school classic with finish flowering in 8 weeks indoors or by the end of October outdoors and usually test at 15-20% THC. White Widow's effects are strong and fast-hitting, cerebral at first – creative, uplifting and euphoric, transitioning into a more body soothing relaxation, sleepiness or even couch lock. It's used medicinally to treat pain, stress and anxiety. Its flavors and aromas are fruity and earthy with hints of pine, hash and citrus.
White Widow from Greenhouse Seeds is one of the best known cannabis strains. This Indica-dominant (60%) hybrid finishes in just 8 weeks indoors with yields up to 800g/m2 or by the end of September outdoors with yields up to 900g per plant and usually tests at around 18% THC. White Widow effects are strong, fast hitting and long-lasting – happy, euphoric and uplifting, leaving you relaxed and stress free. Its flavors and aromas are not among the strongest or most pungent but give away a stinging, ammonia-like scent with hints or pine and earth with incense-like undertones.
White Widow Auto is a world famous and classic strain that has been winning numerous cups and awards since its introduction and Pyramid Seeds have crossed it with a Ruderalis plant and made an autoflowering version of the latest generation. Usually staying short and compact below 100 cm but can easily reach more than 150 cm if provided with optimal conditions. It finishes in 8-9 week from sprouting providing for a great yield up to 500g/m2 or 40-200g per plant, that usually test at around 17% THC.
Black Widow, available in regular seed form from Mr.Nice Seedbank is a world-renowned old-school classic, an Indica-dominant cannabis hybrid that has been winning awards and cups since its introduction as White Widow in 1995. It finishes flowering in 8-10 weeks indoors or at the beginning of October outdoors with yields going up to 350-450g/m2 or 300-400g per plant. Black Widow's aromas and flavors are strong and pungent – earthy and piney with sweet and fruity undertones and hints of spices. It's effects are uplifting, euphoric, energetic and will leave the user feeling happy, sleepy and hungry.
White Widow from Royal Queen Seeds is a backcrossed version of the original they obtained in the 1990s. Finishing in 8-9 weeks with yield up to 600g, it's tasty and potent. Effects are strong, mostly cerebral, euphoric, uplifting, energetic and talkative. Flavors are sweet, fruity and spicy with earthy and herbal undertones. Aromas are pungent, piney and earthy with hints of wood and spices.
You can check out other White Widow strains available at the Vault and let us know which version do you prefer.
Why not head on over to The Vault Cannabis Seeds Store and pick up some cannabis seeds now, whilst taking advantage of the discount codes VAULT15 for 15% of your order total and don't forget to check out our discount cannabis seeds page for all the latest offers, promos and competitions!

Make sure you never miss another Vault promo and sign up for our newsletter at https://www.cannabis-seeds-store.co.uk/the-vault-newsletter
Remember: It's illegal to germinate cannabis seeds in many countries including the UK. It is our duty to inform you of this important fact and to urge you to obey all of your local laws. The Vault only ever sells or sends out seeds, or seed voucher prizes for souvenir, collection or novelty purposes.