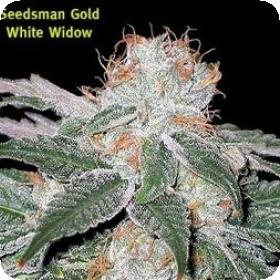 White Widow Regular Seeds
One of the world's most popular cannabis trains, White Widow has gone through countless experiments to re-invent it, and breeders the world over love being able to take advantage of its amazing qualities when developing new strains.
This strain has a distinct genetic makeup. Regardless of the breeder, the quality and stability are always going to be consistent, even in feminised and automatic varieties.
Seedsman Seeds White Widow Regular is one is for the purists - the growers who like having full control over the cultivation of their plants and the versatility of embarking on their own hybridization projects.
One look at the plants is sure to impress even the hardcore grower or breeder. Their thick coat of resin and vibrant colour are almost majestic in and of themselves. The plants produce a strong aroma that increases as the plants mature.
When lit, that aroma intensifies and mixes with notes of high-quality incense. The flavour is fresh and floral evoking thoughts of comfort and warmth. It is also a very easy smoke with no harsh effects.
White Widow is a cannabis purist's dream. It delivers an effect that well represents what the experience of a great marijuana ought to be. It has a very powerful, yet very relaxing effect, and it invigorates at the same time.
It presents each aspect of its personality perfectly, both in appearance and delivery. Some users even say they get an immediate burst of energy when they smoke it; others report that they become so relaxed they just want to bask at the moment.
No matter how it affects you, it is certain not to disappoint.
Growers generally find White Widow easy to handle; it grows well indoors or outdoors and provides very impressive yields. The end product has a respectable shelf life as well when properly dried and cured.
Please remember that the growing of cannabis plants and the cultivation of seeds is illegal in some countries - please check the laws of your country and don't be growing any plants if it is against your country's laws.