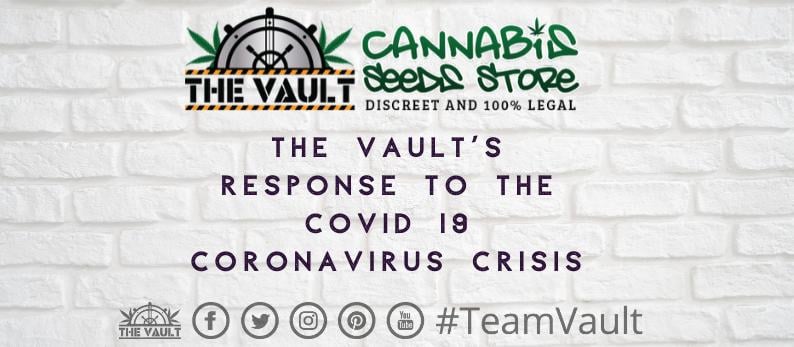 Hi #TeamVault,
11/05/21 Asides from occasional delays from 3rd party shipping partners everything is up to speed and operating as normal.
1/04/21 –  Service Disruption Update |  Scheduled System Maintenance – Complete
Please note – Since our systems were brought back online, the packing team have been working hard to get order processing back up to speed as quickly as possible.   However, please keep in mind that we are entering into the Easter Bank Holiday Weekend, and our mail is not collected during public/bank holidays.
A number of these orders have already been shipped yesterday, but if you placed your order when this work was ongoing and have not had your tracking number yet, I would expect you to have a shipped email early next week.
Thanks again for your patience and stay safe.
29/03/21 –  Scheduled System Maintenance will commence at 12:00 (noon).
We expect the technical work to be completed in around 48 hours, and are advising customers to expect some order processing delays during the time this work is ongoing.
Over the following couple of days, we expect our order processing times to be slower than normal as the packing team work on getting caught up, they will be shipping orders oldest to new, and will get them all shipped as quickly as we can.
Thanks for your patience and understanding during this time.
14/01/20 Due to Covid there are still delays with shipping companies but we are dispatching orders still, worldwide.
Brexit adds new hurdles too, but of course The Vault are on top of this.  You can check out a message from our CEO regards this HERE.
11/11/20 Some of our couriers are again reporting delays in delivery.  Unfortunately this is out of our control and is something all companies are facing.  We continue to process and send orders very fast but we request you show patience and allow more time for delivery during these difficult times.
Stay Safe!
02/11/20 As the UK goes further into another lockdown scenario we would like to reassure our customers that The Vault Cannabis Seeds Store are still open for business and our orders are shipping as normal.
Our team is currently split between working from home and working from the office and currently we have no delays in customer response time.
Please remember that even though we are still dispatching orders super fast, various postal services and logistics may cause some delay in your order reaching you so please allow some extra time before contacting us regards deliveries.
To ensure the safety of our staff and customers we have all of the appropriate measures in place to offer a COVID-Secure service. Any further important changes to our service will be updated here.
OLD / PAST UPDATES
29/04/20 We have now re-opened our Spanish warehouses and are now back to operating with a (almost) full stock inventory.  This may delay orders being sent for the next day or 2.
Also please remember the postal services worldwide are under a lot of pressure so again, allow a few more days than usual for your delivery.
Our support team are under a lot of pressure so please only email us if you need help, and only if it is urgent.  I can assure you we are dispatching orders quickly but we cannot predict delays from the postal services so please allow us more time than usual.
07/04/20 We are now almost back up to speed with orders and have the UK working well.  This means our UK orders will be getting dispatched quicker than usual but please still allow extra time for the postal services.
For orders outside of the UK we are back to normal dispatching times and again, please allow extra time for the postal services.
02/04/20 Like many other Seedbanks we have had to temporarily close our Spanish based warehouses, this means we are working off a reduced stock for now from the UK.
The Breeders that we still have stock for are as follows, nearly all of these breeders have On Purchase Promos live now as well so you will still get plenty of freebies with your order.  Click the breeders name to view the available stock:
Our freebies remain as advertised.
Our customer service team are all working from home and experiencing high levels of inquiries. We ask if you can refrain from contacting support unless it is urgent. We will contact you if there is any issue with your order.
We are still able to dispatch orders worldwide but please be aware your local postal services may be experiencing some delays so please allow extra time for this. We are unable to guarantee express delivery times.Thank you for your understanding and for choosing The Vault Cannabis Seeds Store.
Stay safe!#TeamVault
02/04/20 We are still dispatching orders but some postal services are experiencing delays so please allow extra time for shipping.  You can check the recent Royal Mail updates HERE.
We are not accepting inbound phone calls at the moment as we are inundated with customer questions, we would like to assure you that our team (all working from home) are progressing through the emails and will get back to you just as soon as they can.  Please help us out by only contacting us for urgent enquiries at this time.  If there are any issues with your order, rest assured we will reach out to you.
We are committed to doing all we can to stay open and continuing to dispatch your orders.
31/03/20 we are currently out of stock for Humboldt Seeds and Dinafem Seeds and may not be able to get these back in stock for a few weeks, everything else on the site is currently well stocked though.
19/03/20 We are still open for business, accepting and dispatching orders online only.  Please be advised though that not all breeders are open and may not be re-stocking so there may be issues with stock availability on some strains as these sell out.
Our stock level updates regularly throughout the day though so the website remains more or less current but we do apologise if you are finding a larger number of out of stock products than usual, within each category you can use the filter to hide the out of stock items, you can also enter your email address to be notified when they are back in stock again but in light of the current situation we cannot predict when each breeder will be able to re-stock so we would not recommend waiting on them at this time and would suggest you choose an alternative to complete your order.
During the current difficult and uncertain times throughout the world in dealing with the coronavirus pandemic we wanted to share an update with you to address the questions and concerns we have been receiving from our customers.
We have already actioned a business continuity plan:
Where possible our staff are remote working from home.  This hasn't been too difficult a transition for us as we already employ a lot of freelancers and remote workers, and the customer services team have been set up at home with all the necessary tools to continue to look after you.
We are not accepting unnecessary on-site visitors.
Ensuring we do everything we can do to keep hygiene at a high level at all our locations, especially for our warehouse staff who cannot work from home.
Where appropriate we will segregate our staff to minimise any risk of cross contamination.
As an online shop we are able to continue to work without too much disruption and with various options available to us via our shipping partners we will continue to process and send orders in typical Vault, speedy fashion.  However, please take note that there may be slight delays due to certain things outside of our control.
We are of course closely monitoring government and regulatory advice and following any recommended actions and are prepared to adjust if necessary.
We appreciate your understanding throughout this pandemic and hope you and your family's all remain safe.
We will continue to monitor the issue and will keep you informed of any significant changes to our regular procedures.
Feel free to take this opportunity to share and discuss how you are dealing with this in your local area in the comments section below
Stay safe, look after yourself and others.
Love,
The Vault