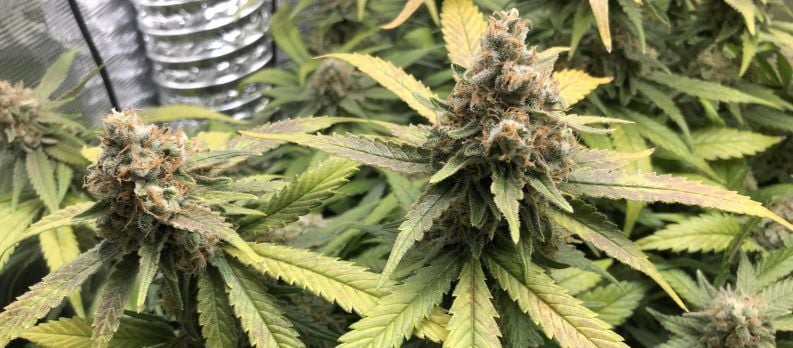 Legendary Northern Lights
As with almost all 'old' and classic strains, the tale of Northern Lights is somewhat clouded, but it's a good one. Northern Lights is a classic Indica strain with strong and noticeable Afghani heritage. Later hybridized with some Sativa strains this strain is (grand)parent to many great strains like Shiva Skunk, Super Silver Haze, Jack Herrer and Neville's Haze as well as one of the first autoflowering strains – Low Rider.
The strain is remarkably stable, mostly with Indica phenotypes but a Sativa one can pop up from time to time showing Thai genetics that were later introduced in the strain. Afghani influence is experienced in short, compact dark green plants with many strong branches that fill up with big, heavy and very resinous buds that sometimes show purple hues on the edges. Northern Lights is well suitable both indoors and outdoors with heights reaching from less than a meter indoors to meter and a half outdoors.
The Sativa influence can be found in an intense cerebral high and fruity taste that some varieties show. Flowering fast – round 50 days, having high calyx to leaf ratio and giving heavy yields the plant is obviously been both the growers and consumers long time favourite. The flavours are sweet, spicy and earthy and the the smell is pungent – a fair warning about it's potency which can vary but rarely come below 15% THC.
As with almost any pure Indica and especially Afghani strains – the compact buds make it suitable for mold issues in humid climates. Its heavy Indica ancestry is great for pain management, stress and anxiety relief and a good night sleep, making it an excellent night time strain. The appetite inducing effects, or the munchies. make it also a great strain for all eating disorders and loss of appetite side effects of other medicines. The high is strong and long lasting.
The origin story
Its origins date back to the '70s to a breeder called "The Indian" on an island near Seattle, WA. According to most sources The Indian bred the strain himself, probably using pure Afgani landraces which, at that time, have emerged in the US and combining them with other Indica strains. The other story has it that the strain existed before he started using it – originating in Michigan and/or California spreading to Pacific Northwest.
So, anyways… The Indian had 11 Northern Lights plants and had just labeled them with numbers, number #5 and #1 being the best out of the bunch. They were all pure Afghani Indicas – short, bushy, dark green with purple finishing with big and resinous buds. Also, the plants were excellent genetics, resistant and proven to be stable, with just simple variations of the phonemes. Resinous buds were and still are  – a source for many hashmakers and many great and strong products.
The story goes Neville Schoenmaker who at that time was managing The Seedbank (which later became Sensi Seeds) – first cannabis seedbank, got in possession of female plants of Northern Lights. The genetics that he used to create his version of Northern Lights are not known, but it's said that the #1 line was the 'purest' Afghani – IBL (inbred line) and contained no Thais Sativa genetics that had been added to other lines. It is also said that the #5 line which was the best, was never sold in seed form and remains closest to the pure #5 genetics. #2 was a potent hybrid of NL #1 and Hindu Kush, which was being offered as Oasis from Dutch Passion. The males for #1 probably came either from males that were also given to him, or he used some other Afghani strain to (in)bred the new strain.
A breeding stone for many legendary and award-winning cannabis strains
Northern Lights was used to produce numerous new strains and has won numerous cups and awards since its introduction. With the plants excellent and stable genetics it's no wonder that numerous companies offer their versions of Northern Lights. Many of them have used the technique called back-breeding, combining different hybrids of the plant to produce their version of the strain.
Sensi Seeds currently offers an unnumbered version of Northern Lights which is, according to their own description a mix of three variants of Northern Lights that they had gathered in the past. Also many hybrids are being said to include the original Neville's genetics – like NL#5 – Haze and other NL#5 strains from Mr. Nice Seedbank and the legendary Shiva Skunk (NL#5 x Skunk #1).
British Columbia Seed Company offers their version which is said to be NL#5 and NL#2 hybrid made at Sensi Seeds by Neville himself. Reeferman, Joey Weed, Dr. Atomic and numerous others offer their own varieties of Northern Light, some being close and some being hybridized versions of the original. Others like Royal Queen Seeds, Nirvana and Vision Seeds also have their own varieties of the strain. On top of that, there are also numerous versions of the autoflowering Northern Lights that are gaining popularity.
There's also a story of a private cutting that has been said is the 'original' NL genetics known as P91 – Poway Class of '91 in Poway San Diego, but there's no way to confirm the story and its genetics. It is said that it's the last version of the original strain #5 originating in the US and it's believed that it's a inbred or cubbed version of NL#5.
Some of the best Northern Lights cannabis strains on the Vault are:
Northern Light from Royal Queen Seeds is a pure Indica, originally a result of crossing Afghan landrace and heirloom strains. It's easy to grow both indoors and outdoors, reacts well to all types of training and is ready for harvest in just 7 to 9 weeks. Easy to grow, resilient and fast finishing. Effects are balanced between cerebral – euphoric and happy and body buzz, calming, relaxing and couch locked, leaving you sleepy and hungry.
Northern Light X Big Bud Ryder Auto from World of Seeds is an award-winning Indica-dominant autoflowering cannabis strain, best known for producing massive yields going up to 600g/m2 or 200g per plant. It usually finishes in 10 weeks from germination and tests at ~21% THC which makes it one of the most potent and most medicinal autoflowers WoS has to offer. Due to high level of THC, effects are strong and long-lasting, mostly physical – body relaxing, happy and calming, melting away tension, stress and anxiety. Strong sweet aromas of pineapple and citrus fruits are accompanied by musky undertones.
Northern Light is available from Nirvana Seeds in regular and feminized seed form. This all time favorite Indica-dominant cannabis hybrid usually finishes flowering in 7-9 weeks with yields going up to 400-500g/m2 and usually tests at 14-19% THC. The strain is easy to grow in all mediums and environments providing for a quality harvest every time. Its aromas and flavors are not the strongest but they do deliver a pleasant and balanced sweet and spicy odor with earthy and piney undertones. Its effects are typical Indica – happy and euphoric, sleepy and relaxing.
Northern Lights Automatic from Royal Queen Seeds is an Indica dominant cross between famous Northern Lights and high performing Ruderalis strain, that's responsible for extra resistance and its autoflowering trait. Growing fast and vigorous and finishing in just 9-10 weeks it's an excellent choice for beginners. Effects are well balanced between uplifting and relaxing with a nice body buzz, leaving you calm and happy. Smells are pungent and earthy with sweet undertones. Flavors are fruity and sweet.
Northern Lights from White Label Seeds is an Indica dominant strain, backcrossed original Northern Lights with its Afghani parents. Not the easiest strain to grow but once mastered, it will reward the grower with a decent yield of high quality, potent buds.Known for its strong, almost narcotic effects, it should be handled with care. It's very relaxing and sociable but can put you to sleep at higher doses. Aromas are strong and pungent, earthy with hints of pine and flavors are sweet and spicy with earthy undertones.
Check out the rest of the Northern Lights cannabis strains at the Vault and tell us what's your favorite Northern Lights strain.
Why not head on over to The Vault Cannabis Seeds Store and pick up some cannabis seeds now, whilst taking advantage of the discount codes VAULT15 for 15% of your order total and don't forget to check out our discount cannabis seeds page for all the latest offers, promos and competitions!

Make sure you never miss another Vault promo and sign up for our newsletter at https://www.cannabis-seeds-store.co.uk/the-vault-newsletter
Remember: It's illegal to germinate cannabis seeds in many countries including the UK. It is our duty to inform you of this important fact and to urge you to obey all of your local laws. The Vault only ever sells or sends out seeds, or seed voucher prizes for souvenir, collection or novelty purposes.