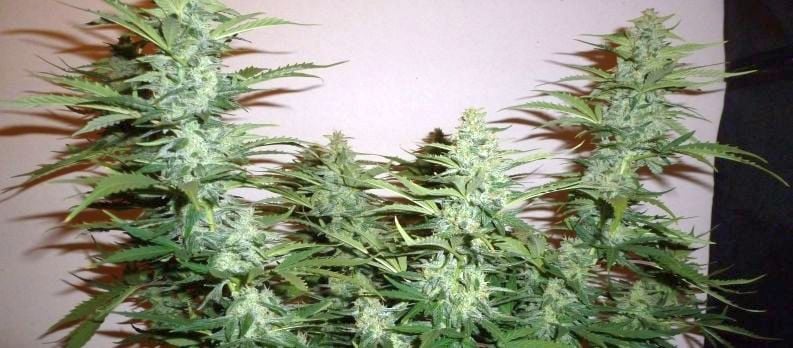 Lowrider – the strain that started the autoflowering revolution
Lowrider is the first real commercialized autoflowering cannabis strain, known for its dwarf size. It reportedly took 9 generations to create the strain, one that would start the autoflowering revolution and fuel the new wave of indoor and outdoor growing around the world. Lowrider is the hybrid between Northern Lights #2, William's Wonder and Cannabis Ruderalis hybrid (named Mexican Rudy) and has been introduced to the market at the beginning of the 21st century by The Joint Doctor.
Cannabis Ruderalis
All autoflowering strains are created by mixing Indica or Sativa strains with Cannabis Ruderalis, a variety of cannabis that grows small and whose flowering isn't triggered by photoperiod but by maturity alone. Autoflowering is the plants reaction to the harsh climates of Russia and Northern Europe and the trait is recessive in cannabis plants, which was something that a lot of growers later found out.
Original Ruderalis has been called feral cannabis and it contains small and irrelevant percentages of THC. During the 1970s and '80s some Canadian growers started experimenting with Ruderalis plants, as well as Neville in Holland and numerous other growers in the US. They crossed various Indica and Sativa with Ruderalis but the wanted results were lacking – they had trouble with retaining the autoflowering trait and making a potent and stable strain, so most of them gave up on it.
Looking for special and unique traits
But not all gave up, and among them was The Joint Doctor – a grower that grew up on the farm in Canada, where he tended his father's cannabis plants and developed the interest and love for unusual varieties and characteristics in plants, that he bought from exotic places and later gathered from his travels. Tending to his father's patch he learned to love cannabis and started experimenting with strains on his own. He started to breed his own strains that were suited to small places, like his college dorm room where his love and interest in the cannabis plant continued.
According to him, on one of his travels he visited a friend living with his family in a small working class apartment and got to talk to his friend's mother, who developed an interest in cannabis. He had left some seeds with her and she began to grow the plants on her windowsill – something that wasn't practical and hasn't yielded great results but got his interest. He thought of a plant that could be grown with ease on windows, balconies and small apartments – an environment like the one which Ruderalis had in the wild – with limited lighting and space but still managing to finish in time.
Having observed many different cannabis and hemp varieties and many different ways of growing and using the plant, on his travels he learned a lot about cannabis and it's amazing diversity. He believed that anything is possible in regards to cannabis breeding and to create new great varieties all that was needed was some high quality diverse sources of genes, a lot of time and patience, and knowledge to do so of course. He started experimenting with early flowering strains like Mighty Mitte before developing his own early flowering strain called 6-way. The strain never commercialized although he did try to sell the seeds but to no avail. He also experimented with growing methods that could produce small, bonsai-like plants, such as delayed planting, growing in small pots and other types of stresses.
First experiments
About the same time, he began to trade seeds with a new friend called Antonio, a Mexican grower that has been growing cannabis for more than 30 years and has, like JD developed an interest in specific and unusual characteristics and traits in rare plants – from blue potatoes to poppy and hemp. Antonio introduced JD to a strain called Mexican Rudy, a hybrid of Ruderalis and some early finishing Mexican Sativas that has already been growing in Canada for a couple of years before JD acquired it. Although nobody is sure of its origins, JD believed that the strain was created by the US government, possibly at the University of Mississippi which, at the time did some research with different cannabis strains, and the place from where the legendary G-13 hails from, according to legends.
Like all Ruderalis, it's potency was medium at best, but provided a harvest and a stash to Antonio and his friend before regular plants even reached flowering. The strain was fast flowering and short but lacked taste and potency to be considered as a commercial crop. Nevertheless, the autoflowering trait was very interesting and JD continued to cross it with a Northern Lights #2 female. He had gotten some nice, vigorous moms and although they weren't autoflowering, they were quick and compact. Not knowing at the time that the autoflowering gene is recessive, he continued to cross the strain  with the best clones of William's Wonder which resulted in bringing back the recessive gene and a new variety of strains – the autoflower was born.
Willy's Automatic and the birth of Lowrider
The hybrid, dubbed simply Willy's Automatic at first, became the basis for the Lowryder strain finished even with constant 24h light which has led to a whole new market and growing style and commercialized and made possible the growing of cannabis even in climates that weren't sunny and warm. JD continued to grow the strain on a small scale, in the closets during the winter and on a small garden patch during the summer for generations, perfecting it and making it better until he released it. The strain got its name from JD's favourite car magazine Lowrider.
The storm that the strain caused and started is something yet not seen before. Greeted with skepticism at first, Lowrider first reactions weren't great, the taste and the yield were significantly worse than any commercial strain at the time, but the ability to autoflower got the interest of the public. Almost all and every strain has since gotten its autoflowering version and there are numerous new autoflowering cannabis strains coming out every year. Going a long way since its humble beginning, autoflowering cannabis strains can now match most photoperiod strains in potency, flavor, even yield.
The yield and the quality of the Lowrider aren't by any standard high, but that's not something that was in mind when this strain was created, although it was a fairly decent smoke, with quality like with any other strain, depending up to a point from grower to grower. It has been known to test around 12% THC, growing up to ~30cm, producing up to 50g and finishing in just under 60 days this strain was something never seen before and changed the way we think about cannabis.
Taking the critics in mind, JD continued to work on the strain, creating the Lowrider #2 that had much better taste and yield than the original. Unlike the original version, Lowrider #2 was met with great excitement and created an enormous buzz which caused many other breeders and growers to work on their own autoflowering varieties. JD released several other autoflowering strains like Easy Ryder, Chronic Ryder and Diesel Ryder. A collaboration with Dutch Passion called Star Ryder is also available.
You can check out more of Joint Doctor's strains, now under a new name – Doctor's Choice or check out Lowryder from Vision Seeds or BC Lowryder #2 from BC Bud Depot.
Why not head on over to The Vault Cannabis Seeds Store and pick up some cannabis seeds now, whilst taking advantage of the discount codes VAULT15 for 15% of your order total and don't forget to check out our discount cannabis seeds page for all the latest offers, promos and competitions!

Make sure you never miss another Vault promo and sign up for our newsletter at https://www.cannabis-seeds-store.co.uk/the-vault-newsletter
Remember: It's illegal to germinate cannabis seeds in many countries including the UK. It is our duty to inform you of this important fact and to urge you to obey all of your local laws. The Vault only ever sells or sends out seeds, or seed voucher prizes for souvenir, collection or novelty purposes.