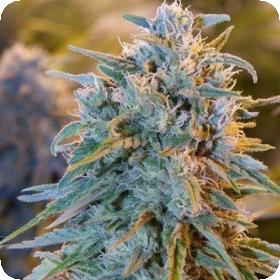 Blue Dream Feminised Seeds
This strain is best known for its potency as well as its overall size and vigour. Beyond any of that, the plants have a unique and nearly hypnotic look, presenting in tantalising shades of blue. They have long internodes that make for enormous tops and grow tight, hard buds from top to bottom.
The flavour of Blue Dream is tangy and sweet with strong notes of blueberry that mingles strangely well with the earthy and peppery undertones it gets from its Super Silver Haze genetics. This is the perfect strain for people who like to remain active and productive while enjoying a nice, relaxing and uplifting buzz.
The plants grow very tall so many growers who work with this strain opt to plant them outdoors. Indoor grow rooms would require very high ceilings and an abundance of grow lights but that's not to say it hasn't been tried. Indoor growing is possible, but the necessary pruning is likely to effect yields.
Outdoors, the grower can allow the plants to stretch which helps maximise yields and produce a better-quality product on average. The flower time for Blue Dream is about 9 weeks and the plants should be brought in by mid-October or before the onset of frost. Giving them a majority of warm summer days will help with resin production which also increases the quality.
Blue Dream is a great starter strain for growers who are new to cannabis cultivation since feminised seeds are naturally less fussy than their regular counterparts and require less maintenance overall. Anyone who is new to cannabis cultivation and has enough outdoor grow space to let the plants bush out should consider these seeds as an inaugural grow project. They are also a great choice for seasoned growers who know how to get the most out of their plants.