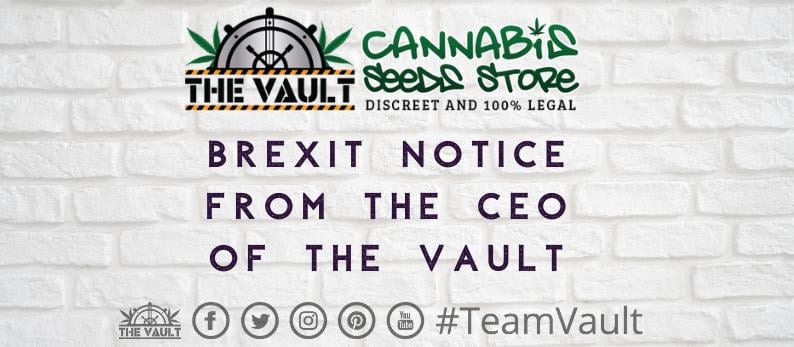 Hi #TeamVault Community,
Firstly, we hope you had a great Christmas and New Year and we kept you happy with our Merry Seedmass Promo!
As you all know, 2020 presented us all with certain challenges due to the Covid19 situation. We met with those challenges and continued to provide our customers with the best possible service in the circumstances. A key way of doing this was / is to keep you guys informed of any updates we had. For that reason we started a blog post on Covid 19 which you can read on The Vault Blog.
As we move into 2021, we are presented with a new challenge and that is Brexit.
As you may know, The Vault is a Spanish company with offices both in Spain and the UK. Our main distribution centre is in Spain and when you order from The Vault your seeds are mainly sent from Spain.
Right now, in Spain, they are also dealing with UK style weather conditions and have had heavy snowfall to contend with. This and Brexit has meant there are slight delays to current orders and we ask for your patience whilst the backlog clears. Once this does clear, we actually anticipate having orders to you quicker than they were back in 2020.
We'd just like to reiterate it's business as usual and you can trust the Vault to look after you as we always do, with things like guaranteed shipping. Please just bear with us if your order takes slightly longer than usual.
A secondary effect of Brexit that is not only hitting us but other companies who deal trade globally is that of pricing. We are doing our best to keep prices as low as possible for you but new taxes and logistics costs means all seed companies, not just us are having to adjust accordingly.  Rest assured though that we will remain open, will ship faster than our competitors and will do our very best to keep costs down where possible.
Our UK customers will now enjoy VAT free shipping so in effect a price drop for you!
With that all said, we do always offer various discounts to help make things affordable for you guys and it's no different here as you can use a 10% discount code of Brexit10 to make a purchase today. We are fully stocked and you can shop from our normal range of seeds. The Vault is very much still open for business.
Some breeders are encountering problems in getting their seeds out due to changing legislation so we would advise that if you are planning to make a purchase in 2021 then do so at your earliest convenience to avoid disappointment as stock levels are going to be inconsistent for a while until we all figure out the best way to get back to "business as usual"
Please keep your eyes on this post for further updates.
George
Vault CEO
Remember: It is illegal to germinate cannabis seeds in many countries including the UK.  It is our duty to inform you of this fact and to urge you to obey all of your local laws to the letter.  The Vault only ever sells or sends out seeds for souvenir, collection or novelty purposes.
Make sure you never miss another Vault promo and sign up for our newsletter at http://goo.gl/Bt2Ba2