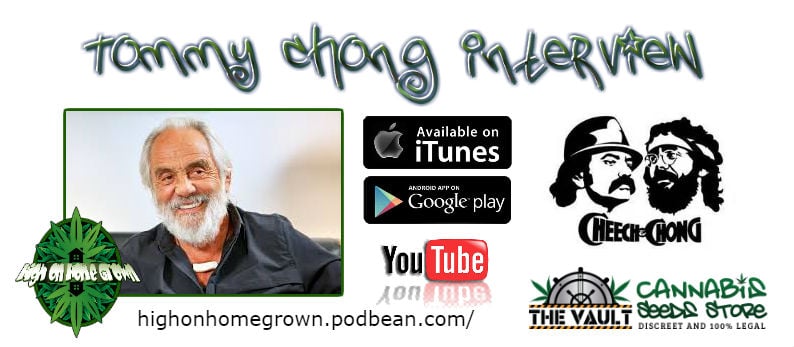 As stoners most of you know who Tommy Chong is. The king of stoners, the original TV smoker and a guy who bought cannabis out of the shadows of reefer madness, and gave people a different perspective on weed.
Tommy Chong has been on many TV shows, starred in many movies, and has been a cannabis activist for over 60 years!
You may remember him from "Thats 70's Show", when he played Leo, or the cult classic, "Cheech and Chong" movies like "Up in Smoke" and "Nice Dreams". He is still going strong in the cannabis movement, and soon we will be seeing " Cheech and Chong Dispensaries" opening up all over the world!
Tommy Chong has come from the days where cannabis was seen as a dangerous drug, on the level of opioids, to days where he was arrested and sent to prison for selling bongs. Now, he is opening legal cannabis dispensaries.
This man has seen so much, he is such an amazing guy, funny, down to earth, and still going hard on cannabis activism and pushing for legislation world wide.
Recently, our friends over at High on Home Grown, were lucky enough to have an interview with Tommy Chong, in episode four of their podcast.
For about an hour, the panel sit and talk with Tommy Chong about his life, roles in his movies and tv shows, his wife, his dogs, and of course his up and coming dispensaries with Cheech Marin!
Still, at the age of 82, Tommy Chong is sharp, witty and very funny! It is such a great interview, and gives you so much more of a personal look into the life of Tommy Chong, and you get to feel like you know him a little more.
Listen to the podcast on any of your favourite podcast networks,
Alternatively, you can watch it now on Percys Grow Rooms Youtube Channel:
Thank You To Tommy Chong
There are few people who have done so much for cannabis. Without the awesome movies Tommy Chong made, without the entertainment and laughs he provided, many people will still see cannabis as that dangerous drug they thought it was 70 years ago.
Times are changing, and we can't forget those people who have made this happen. We are closer to world wide legalisation of cannabis than ever. Us at Team Vault would like to thank Tommy Chong for the role he has played in making this happen.
Find out more about Tommy Chong in the interview with High on Home Grown. And of course you can find him on all social networks under Tommy Chong, Twitter is his favourite, he will find him there every day. Follow him and say Hi! He is always happy to talk with fellow stoners.
Enjoy the interview! Don't forget to subscribe to High on Home Grown, so you can stay up to date with their new episodes that stream live every Sunday!
We would love to hear your comments below too.
Why not head on over to The Vault Cannabis Seeds Store and pick up some cannabis seeds now, whilst taking advantage of the discount codes VAULT10 for 10% of your order total and don't forget to check out our discount cannabis seeds page for all the latest offers, promos and competitions!

Make sure you never miss another Vault promo and sign up for our newsletter at https://www.cannabis-seeds-store.co.uk/the-vault-newsletter
Remember: It is illegal to germinate cannabis seeds in many countries including the UK.  It is our duty to inform you of this fact and to urge you to obey all of your local laws to the letter.  The Vault only ever sells or sends out seeds for souvenir, collection or novelty purposes.