It's promo's a plenty at The Vault right now. Next up are Sumo Seeds, but don't fear, you wont be turning into a Sumo with this seed: The 'AppleBerry'. Sounds great doesn't it?
About Sumo Seeds
Sumo Seeds has his roots in Holland. After years of research and experience they managed to create a diverse cannabis seed collection. During their trips all over the world they managed to collect indigenous strains a-plenty. Their research team is always on the road to find that special cannabis strain everybody is craving for. They love to bring the best feminized or auto flowering cannabis seeds to market and continuously check the quality, genetics, effects and health of our marijuana seeds.
About The Seed
Appleberry Seed from Sumo Seeds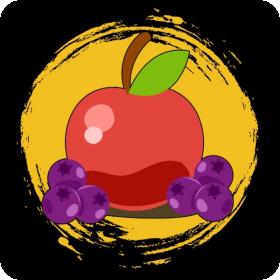 The Appleberry cannabis strain…. With monstrous yields and fruity buds makes it a popular cannabis strain for Indica lovers. Smoking this strain will give you a long-lasting body stoned feeling with euphoric happiness all around. It's a very stable strain and therefore easy to clone. Sumo Crossbred the Dynamite ( Super Skunk x White Widow) with a highly potent Bubblicious ( Mexican, Columbian and Afghani genetics) which produced the Dynalicious. To further stabilize this strain it was crossbred with the White Widow Original The Asian and South-American heritage of the Dynamite combined with the Mexican Sativa, Indiana bubblegum and Afghani genetics of the bubblicious makes it a favorite among growers for its sweet fruity taste and big yields. We noticed a slight apple, berrylike flavour hence the name appleberry.
It's a very homogenous strain with little variations between the phenotypes. 1 phenotype is compact and short another phenotype noticed has a slightly more sativa look with more stretched plants. You can use the appleberry cannabis seeds for growing in a "SOG" or "SCROG". You can either grow the Appleberry indoors or outdoors in both cases it will grow into a beast!
How To Win This Fruity Beast

To let you get your hands on some seeds from Sumo, all you need to do is follow the instructions below! You have 8 chances to win this time, with x3 seeds up for grabs per platform! We will also throw in a Vault Goodie Bag which includes a T Shirt. What's not to love Vault Community?
Facebook – x3 Appleberry
Simply Like & Comment on The Post
Won by 'Win Farmer'
Instagram – x3 Appleberry
Simply Like & Comment on The Post
Won by 'at0mant80'
Blog Post – x3 Appleberry
Simply Comment on this Blog Post
Won by 'Juan'
420 Magazine – x3 Appleberry

Won by 'Master of None'
Grasscity Forum – x3 Appleberry
Won by 'Reikox'
Overgrow Forum – x3 Appleberry
Won by 'TheTown'
IC Mag Forum- x3 Appleberry
Won by 'Indabongo'
Roll It Up – x3 Appleberry
Won by 'Hydo Dan'
Important Details
The competition starts on Thursday 26th July and will close on Monday 6th August with winners being announced announced on Tuesday 7th August.
Head Over to The Vault Website to Browse the Full Range (And Get a Discount Code)
Treat yourself to a 10% discount if you purchase Sumo Seeds on The Vault using discount code 'Sumo10?.
Legal Disclaimer: The competition winners will have their prizes sent to them via recorded delivery.  If you win the competition but don't receive your prize, we cannot resend competition prizes, so you'll have to raise this with your local delivery service (In the UK, for example, this would be Royal Mail).
Remember: It is illegal to germinate cannabis seeds in many countries and some remote, less enlightened planets outside the core systems.  It is our duty to inform you of this fact and to urge you to obey all of your local laws to the letter.  The Vault only ever sells or sends out seeds for souvenir, collection or novelty purposes.
Make sure you never miss another Vault promo and sign up for our newsletter at http://goo.gl/Bt2Ba2
#TEAMVAULT