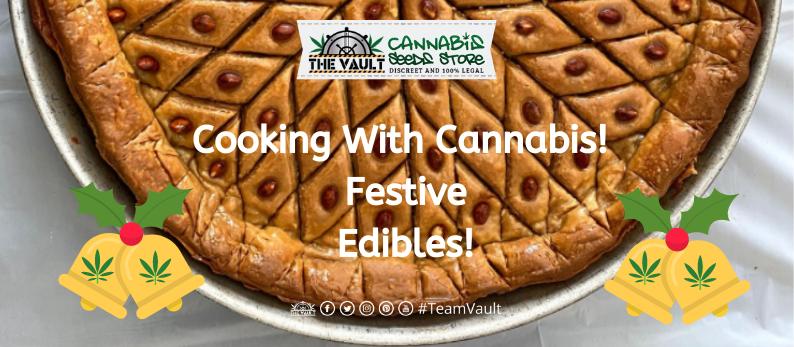 It's the most wonderful time of the year! Well for some people, for others it's a nightmare of extended family and overspending. No matter how we feel about the Christmas season, we can always make things better with festive edibles. This is just a few of my favourite holiday recipes. No matter the Christmas you're having, especially in 2020, these are guaranteed to jingle your bells and so on. We could just go for gingerbread and cookies shaped like reindeer, but let's try something a little more ambitious. If you don't know how to make cannabutter and cannabis oil read this article.
This is a recipe that I absolutely love and have altered to be 420 friendly, thanks to the Hairy Bikers for the original. Baklava is a traditional Turkish dish that is sweet, sticky, flaky and generally delicious. If you are looking for something a little different to make for Christmas this is the boy. 
Ingredients:
Filling
500g Walnuts 
1tsp of Cinnamon 
Zest of 1 Orange 
50g of Melted Cannabutter 
Pastry
200ml of Melted Butter 
24 Sheets of Ready Made Philo Pastry 
Syrup
250g Granulated Sugar 
100g Honey
Thinly Sliced Orange Peel (just a few bits)
Cream
400ml of Double Cream
½ tsp of Finely Chopped Orange Zest 
1 tbsp of Icing Sugar 
½ tsp Cardamom Powder 
Instructions: 
Preheat the oven to 180 C or 160 in a fan oven. 
To make the filling grind up 150g of the walnuts, make sure they don't get to powder stage. Then chop the rest of the walnuts and mix with the ground up fellas. Then add the cinnamon, zest and butter, stir together and pop to the side. 
You will then need to get a large baking tray and line it with baking paper, or the baklava may not want to come out later. Butter up the baking paper and then cut a piece of pastry to fit the base. Once the base is covered butter that pastry and repeat until there are around 6 layers. 
Cover the top layer with the filling, don't push down we want that pastry to be fluff central, then cover with 6 more layers of buttered filo pastry. 
Score the top of the pastry with diagonal lines one way and then the other, creating diamond shapes. 
Bake the baklava for 35 minutes. 
While it is baking let's make the syrup. Put the zest, honey, and sugar into a saucepan with around 150 ml of water. Heat until the honey and sugar melt, then simmer for 10 minutes. Once it is syrupy and the baklava has come out of the oven and cooled a little, pour it over the top of the pastry and set the whole thing aside to cool for about an hour, longer if possible. 
Finally, make the cream by combining the cream and orange zest in a bowl. Hand or electric whisky until mad fluffy, then add the sugar and cardamom. 
Take the baklava out of the tin, cut through the scores and serve with the cream. The most delicious, festive and flakey cannabis desert out there. 
For anyone who prefers something chocolatey, this is the ultimate Christmas edible. Personally, I've always hated fruit-based pudding, so chocolate roulade was always my Christmas favourite. 
Ingredients: 
175g of Good Dark Chocolate (I go for Belgian)
300ml of Cannabis Double Cream (use the same method for making cannabis oil, then add 1tbsp of sugar and 1tsp of vanilla essence)
6 Free Range Eggs
175g of Caster Sugar
2 tbsp of Cocoa Powder
Icing Sugar (for dusting) 
Instructions: 
Preheat the oven to 180 C or 160 C in a fan oven. 
Melt the chocolate then set aside to cool. 
Whisk the egg whites in a large bowl until stiff, if the bowl turns upside down they shouldn't fall out. 
In another bowl whisk the egg yolks with the caster sugar until thick and creamy, then add the cooled chocolate and fold together. 
Add the egg whites slowly, two large spoons stirred in to loosen the mixture and then add the rest. Sift in the cocoa and lightly fold, it should have a slightly gelatinous quality to it. 
Pour the batter into a pre prepared tin and make sure it is level before putting into the oven. Bake for 25 – 30 minutes then leave aside to cool. 
Whip the cannacream until it holds its shape, then place the sponge onto a large piece of greaseproof paper dusted with icing sugar. 
Spread the whipped cream over the sponge, leaving a 2cm border at the edges. Cutting a line halfway up the sponge should help with the rolling. 
Roll the sponge and don't worry about cracking it, it's going to be delicious no matter what. 
Dust with the icing sugar and voila, the best Christmas pudding. 
Last I'm going to go for something simple, delicious and heartwarming which is perfect for snowy nights and cosy fireside cuddling. Cannabis-infused hot cider is super tasty and perfect for anyone that isn't much of a dab hand in the kitchen. 
Ingredients:
1 tbsp of Canna Oil
2 Cups of Apple Cidre (probably go down the American route and go alcohol-free) 
1 Cinnamon Stick 
1 Apple Sliced 
3 tbsp of Sugar 
Instructions: 
Pop the apple cider into a pan and warm on low heat. 
Once it is warm add the tablespoon of canna oil, coconut is best, and stir until it has been fully absorbed into the cider. 
Keep stirring and add the cinnamon stick, keep it simmering for about 10 minutes to allow the flavours to permeate. 
Rim a mug with sugar and pour, this recipe will produce two servings. 
So even though this year promises to be difficult for most of us, maybe an understatement, I hope you can find some comfort in these yummy recipes. Try your best to enjoy the festive season and happy holidays to all of you. 
Remember: It is illegal to germinate cannabis seeds in many countries including the UK.  It is our duty to inform you of this fact and to urge you to obey all of your local laws to the letter.  The Vault only ever sells or sends out seeds for souvenir, collection or novelty purposes.