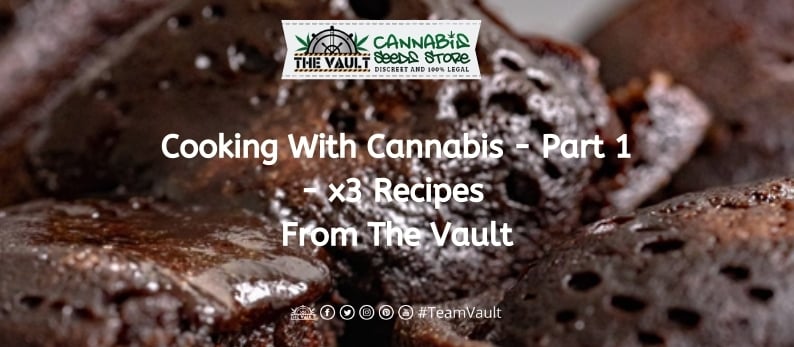 Cannabis is not only popular because of its amazing effects, but it's versatility. It can be smoked, vaped, turned into oil and even eaten. Cooking with cannabis isn't limited to brownies, although they are also amazing and will be included in this article. There are loads of different ways that those of us who love weed but hate smoking can include cannabis in our diets. Cannabis can be infused with a number of base aspects used for cooking such as butter and oil. This means you can go to town in the kitchen and make pretty much anything your heart desires! The sky is the limit as I believe they say.
Before we start on the recipes we need to look at how to make our basic ingredients.
Cannabutter 
All you need ingredients wise to make this is 7 – 10 grams of cannabis and about a cup of butter. Then you'll need a saucepan, a funnel, some cheesecloth and a container for your final product. Before we do anything we need to decarboxylate our weed, a basic scientific method that allows the release of the THC and CBD in the cannabis. The weed will be layn out in an ovenproof tray that has been lined with baking paper and foil then placed into the oven for 15 mins at 105 degrees to remove moisture. It will then go into the oven for 1 – 2 hours as 100 – 110 degrees. Once the weed is done it will have lost a little volume and will be a touch brown, this means it is ready to go into your butter.
Next, it is important to grind the decarbed cannabis thoroughly before placing it aside to add to the butter. The butter will go into a saucepan with an equal amount of water and will be slowly melted over a low temperature to avoid burning. Once the butter has melted and the water boiled off just add the cannabis and stir thoroughly. Keep it on an extremely low heat for 2 – 3 hours and stir regularly. Then let it cool to room temperature and use the cheesecloth to strain the still liquid butter into a container then refrigerate.
Cannaoil 
This is extremely simple, we start off with the same decarbing method as before and then simply add the ground cannabis and oil together in a saucepan. Heat on low for three hours and then once room temp strain into a container. Easy peasy.
Now that we have our basics we can move on to a few of my absolute favourite recipes.
Fettucini Alfredo – 6 servings
I may be coming out of the gate with something a little unconventional but it is a delicious way to utilise cannabis cooking.
We will need:
a large bag of fettucini (about 600g)
227grams of cannabis butter
330ml of heavy cream
170grams of grated romano cheese
114grams of parmesan cheese (replace with vegetarian if necessary)
1 pinch of garlic salt
Salt and pepper to taste
Start off by simply cooking the pasta for 8 – 10 minutes in boiling water then set aside. Melt the cannabutter and cream together on a low heat adding salt, pepper and garlic along the way. Stir in the grated cheese until it has fully melted into the sauce. Finally, just add the pasta to the sauce and stir thoroughly then serve. An extremely easy and thoroughly delicious savoury cannabis recipe, perfect for a date night or a dinner party.
Pancakes
If we want something a little more breakfasty this is the perfect recipe.
We will need:
43 grams of cannabis butter
341grams of flour
3 tsps of sugar
1.5 tsps of baking powder
355ml of milk
½ tsp of vanilla essence
2 large eggs
Pinch of salt
First, combine all of the dry ingredients into a large mixing bowl, and separately mix together the eggs milk and vanilla essence. Make a dent in the centre of your dry bowl and slowly add the wet ingredients stirring as you go. It's alright for there to be a few lumps as this will just add to the fluff of the cakes. From here on out it's just simply pancake making. Add some oil to a pan, wipe round with kitchen roll to make sure it isn't too oily, and get the pan to high heat. Drop-in a scoop of your batter letting it get bubbly on the top side before flipping. Then add pretty much whatever you like as a topping, I'm definitely one for mapel syrup with these fluffy buddies.
Brownies 
Of course, you can't have a list of edibles without including brownies. An extremely easy but awesome recipe for chocolate cannabis brownies.
We will need:
40 grams of cannabis butter
106 grams of butter
228 grams of sugar
170 grams of dark chocolate
227 grams of plain flour
2 large eggs
1 tsp of vanilla essence
½ tsp of baking powder
Pinch of salt
Preheat the oven to 350 F and grease a baking pan, roughly 8 inches diameter. Melt the butters and chocolate together in a pot or bain-marie until they make one smooth liquid. Allow this to cool while combining the flour and baking powder into one bowl. Then whisk the eggs, vanilla, sugar and salt together in a larger bowl until fluffy. To this add the cooled chocolate-butter mixture and combine, then add the flour and baking powder. Mix everything together until it's lovely and smooth. At this stage, you can add any extra bits you like such as chocolate chips, nuts, berries etc. Pour into the pre-greased pan and bake for 20 – 25 minutes until they seem to be fluffy in the middle.
These are just a few of my absolute favourite cannabis recipes to get started with and in part two we will explore the world of culinary cannabis even further!
The Vault Cannabis Seed Store
Why not head on over to The Vault Cannabis Seeds Store's CBD range and pick up some medical cannabis seeds now, whilst taking advantage of the discount codes VAULT15 for 15% of your order total and don't forget to check out our discount cannabis seeds page for all the latest offers, promos and competitions!

Make sure you never miss another Vault promo and sign up for our newsletter at https://www.cannabis-seeds-store.co.uk/the-vault-newsletter
Remember: It is illegal to germinate cannabis seeds in many countries including the UK.  It is our duty to inform you of this fact and to urge you to obey all of your local laws to the letter.  The Vault only ever sells or sends out seeds for souvenir, collection or novelty purposes.