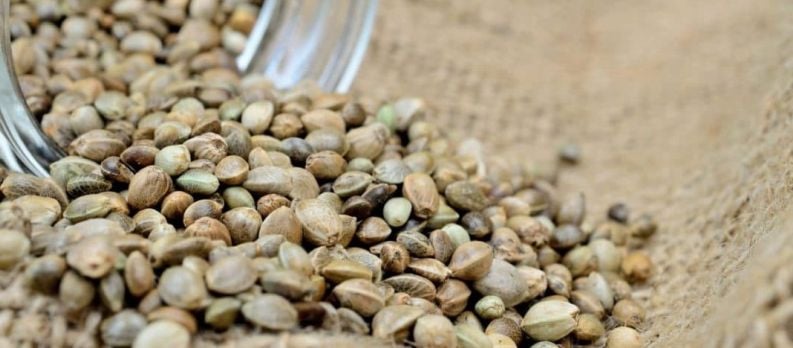 In this series of articles we're going to introduce seed banks, breeders and their most popular strains. Get to know them a bit better, how, when and why they started, what they're about and what makes them going.
Sensi Seeds
Established in 1985 in Holland by Ben Dronkers, Sensi Seeds is one of the oldest and certainly the biggest commercial cannabis seed banks, now offering more than 500 different cannabis strains. Their story started in the early 1970's when Ben traveled the world looking for hemp clothing. During his travels he was introduced to many cannabis growing regions and cultures from Hindu Kush, Himalayas and South-East Asia which got him interested in various properties of the cannabis plant.
What started out as a passion for collecting seeds soon turned into cultivating seeds and Donkers started crossing many varieties that he has collected during his travels and made the first cannabis hybrids. During the 1980's and 1990's Sensi continued to grow, developing their own strains and buying other seed companies like Flying Dutchmen or The Seed Bank and their stock. Working with the world's best breeders has brought Sensi many legendary cannabis strains, which they upgraded and developed as commercially available seeds. Many american legends such as Skunk, Haze and Northern Lights were first introduced to european breeders by Sensi.
Sensi Seeds has won the most awards and cups out of all cannabis seed banks which just tells you about the quality of their work. They keep all of their mother plants from all the strains they have in their catalog in a "Cannabis Castle" in Nijmegen, some over 30-40 years old. Sensi have also been selected as a partner for developing cannabis genetics and supplying the pharmacies with medicinal cannabis in Holland since the establishment of their medical cannabis program. They've also started offering their strains through two sister companies – White Label Seeds and Sensi Seeds Research.
Along with cannabis research, activism and cultivation, Sensi have pioneered and relaunched the hemp industry, founding a sister company HempFlax in 1993. HempFlax is among the leaders of the hemp industry, that's making a comeback, with their products being used by Mercedes, BMW, John Deer and other leading agricultural, textile, food and construction manufacturers.
Sensi have also opened the Hash Marijuana & Hemp Museum in 1985, whose aim is to normalize cannabis use and bring more recognition to all aspects of cannabis use. They're also regularly hosting the Cannabis Culture Awards, which celebrate those who have taken a stance for the acceptance of cannabis.
Some of the most popular Sensi strains include:
Dutch Passion
Dutch Passion was formally established in 1987 in Amsterdam by Henk van Dalen, who has been collecting and breeding cannabis strains since the 1970's. Henk was a biology student at Amsterdam University, interested in the effects of psychedelics and other drugs so his interest in cannabis came as no surprise. He started reading and researching to complement his academic knowledge and he started to grow his first cannabis plants.
Taking advantage of the fact that Amsterdam was at the time the centre of cannabis culture with various cannabis strains coming in from all parts of the globe, Henk started growing and crossing them together and first strains were born. By the early 1980's Henk was offering cannabis seeds to Dutch growers on a small scale but his reputation grew fast and steadily, just as the popularity of indoor home grows. Back in the day, cannabis market was in its infancy, with all cannabis being imported from traditional cannabis producing countries, so high grade indoor cannabis took the scene by surprise. Passion #1, known as Amstel Gold was regarded as one of the best cannabis strains of the time, measuring at 18% THC.
Dutch Passion are also credited for inventing feminized seeds in the 1990's which was a crucial breakthrough, especially for the average hobby growers. No longer did the growers need to discard their male plants or maintain mother plants and have access to fresh clones in order to produce only female plants. Today feminized seeds account for over 95% of all cannabis seeds sold.
When the autoflowering cannabis strains entered the market, Dutch Passion partnered up with The Joint Doctor – one of the pioneers of autoflowering cannabis, and now offer a wide variety of autoflowers, which account for a large portion of their sales. With the increased need for high CBD strains and other medical varieties that have higher levels of other cannabinoids, Dutch Passion started producing strains for that exact purpose.
In 1994 Henk opened Green Lands, the first Dutch Hemp shop that was selling everything from hemp textiles, clothes, hemp seed oil and hemp seeds as well as hemp-burgers, one of Henk's personal creations.
Some of the most popular Dutch Passion strains include:
Power Plant is a Sativa-dominant cannabis strain, an inbred mixture of South African landraces, released in 1997. It's a fast-flowering, high yielding strain finishing in just 8 weeks with yields going up to 500-600 grams/m2 or 600-900g per plant outdoors. Its effects are typical Sativa-like – cerebral, uplifting and creative, leaving you happy and energized. Aromas and flavors are spicy, earthy and sweet and rather pungent. The strain became an instant hit and was one of the long time Amsterdam's coffeshop favorites, winning multiple awards and cups worldwide.
StarRyder is an Indica-dominant autoflowering cannabis strain, available as feminized seeds. It's a product of collaboration with world famous Joint Doctor who is responsible for creating this powerful gem. Despite its short size of 50-100cm it usually produces 45-100g per plant and tests as high as 19% THC. It's so easy to grow that many beginners choose it as their first strain. StarRyder's effects are fast-hitting cerebral, uplifting, motivating and creative, leaving you relaxed, happy and hungry. It's flavors are smooth and sweet – fruity and citrusy.
Orange Bud is a Sativa-dominant cannabis strain, a member of the "orange family", a true Skunk variety that's stable, potent and easy to grow. It's a true connoisseur strain and a long time favorite and best selling Dutch Passion's strain. It's well suited for all environments, both indoors and outdoors and all growing techniques and methods. With a unique sweet taste with citrus tones of nectarine and ripe orange it will give the user an uplifting and energizing, cerebral feel-good high. Usually testing at 15-20% THC, it's a great strain to use throughout the day.
Strawberry Cough is Dutch Passion's twist on an american classic – a Sativa-dominant cannabis strain that is known worldwide for its unique and memorable strawberry taste and flavor. Finishing in just 9 weeks indoors it will produce medium to large yields of super tasty, mouthwatering dense and large buds. It grows short, bushy and wide but prefers hot and humid climate. Just as its name suggests, Strawberry Cough has soft and sweet strawberry flavor and aroma – sweet and fruity with hints of pepper and spices. Its effects are typical Sativa – strong cerebral high – energetic, motivating, euphoric, talkative and creative. The smoke is almost always harsh, often giving even the most experienced users to watery eyes accompanied by cough.
Why not head on over to The Vault Cannabis Seeds Store now and pick up some Cannabis Seeds now, whilst taking advantage of the discount codes VAULT15 for 15% of your order total!

Make sure you never miss another Vault promo and sign up for our newsletter at https://www.cannabis-seeds-store.co.uk/the-vault-newsletter
Remember: It's illegal to germinate cannabis seeds in many countries including the UK. It is our duty to inform you of this important fact and to urge you to obey all of your local laws. The Vault only ever sells or sends out seeds, or seed voucher prizes for souvenir, collection or novelty purposes.