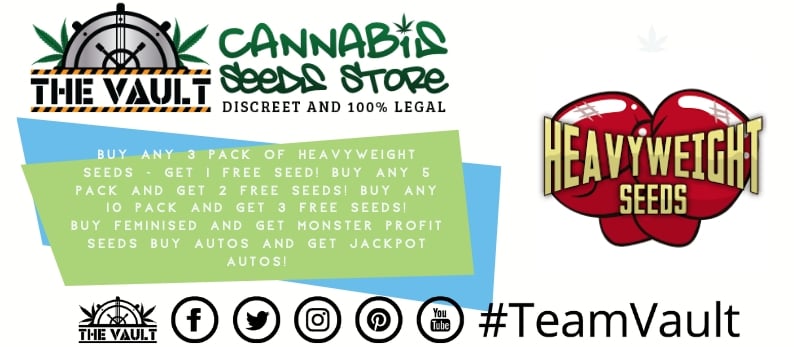 The promos at The Vault Cannabis Seeds Store just don't stop!  The next breeder to weigh in and deliver a knockout deal for #TEAMVAULT is Heavyweight Seeds.
Buy any 3 pack of Heavyweight Seeds and get 1 free seed
Buy any 5 pack of Heavyweight Seeds and get 2 free seeds
Buy any 10 pack of Heavyweight Seeds and get 3 free seeds
Buy feminised and get free Monster Profit seeds, Buy autos and get free Jackpot Auto seeds
This is of course, on top of all the other offers currently live at The Vault Cannabis Seeds Store, check them out on our cannabis seeds offers page.
This Spanish breeding collective is known to produce true knockout strains that will leave your head floating like a butterfly and body buzzing like a bee:
We are, of course, talking about Heavyweight Seeds.
Formed back in 2008, this breeder has built up a strong reputation for producing strains that are highly consistent, stable and of the very finest quality, thanks to their philosophy of only working with the purest, tastiest strains available.
For strains with the best yields and the most potent knockout power, pick Heavyweight Seeds!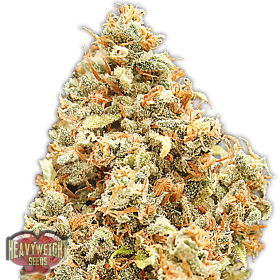 Monster Profit Feminized Seeds
The Heavyweight team looked at one another in awe, the smiles said it all. Not only had the scales tipped just over 800gms, the taste was so smooth, so sweet and exotic; nobody was moving. They said it couldn't be done, but in just over 9 weeks of flowering there it was! A massive central cola surrounded by branches barely able to hold their bountiful buds off the ground, glistening with crystals like a fresh dusting of snow.
Following exhaustive quality tests, Heavyweight are proud to launch the aptly named Monster Profit onto the market. Performing with great distinction under lights or outdoors, this beast cannot be tamed! Simply outstanding results makes Monster Profit the ideal plant for beginners, although commercial growers will undoubtedly want to take advantage of the supreme quality and unrivalled yield this alpha female provides.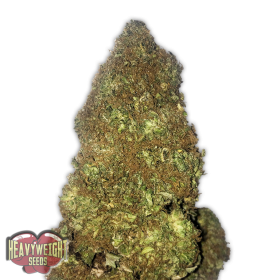 Cross Jack Herer with 2 Fast 2 Vast and you've won the Auto Jackpot!
This indica-dominant auto-flowering strain is very simple and straightforward to grow, so easy in fact that it belies the sheer quality that this strain produces. With a grow time from germination to harvest of between 60 and 70 days it will mature indoors or outdoors anywhere that the daytime temperature doesn't fall below 10 degrees such is its hardiness and resilience.
Its height reaches between 80 cm and 100 cm giving it a useful profile for outdoor gardens where tall plants may be a give-away. The buds from this strain literally ooze with THC-carrying resin the buds being much stickier than many autos.
Expect between 50 to 80 gr. per plant. Like its Jack Herer ancestor the initial effect is quite euphoric and energetic but this stage evolves into a particularly deep, relaxing stone that lasts and lasts. The taste begins with the fruitiness of 2 fast 2 Vast before becoming spicy and earthy like Jack Herer. This automatic strain is your winning ticket to happiness.
Get 15% off all Heavyweight Seeds using discount code Heavy15 in the cart at The Vault!
We also have 2 prizes to be won from Heavyweight Seeds – 5 Monster Profit Feminized and 5 Jackpot Autos.
To enter just leave a comment below telling us if you prefer the Fems or the autos.  Any feedback you have on Heavyweight Seeds and / or their strains would be great to hear as well.
Winners will be announced on the 12th of March.
5 Monster Profit Feminized won by Miles Clark.  Congrats!  i will send you an email to the email address you used to post with to arrange delivery of your prize!
5 Jackpot Autos won by Marc dewinter.  Congrats!  i will send you an email to the email address you used to post with to arrange delivery of your prize!
Newsletter Sign Up
Make sure you never miss another Vault promo – sign up for our newsletter at https://www.cannabis-seeds-store.co.uk/the-vault-newsletter
Legal Disclaimer: The competition winners will have their prizes sent to them via recorded delivery.  If you win the competition but don't receive your prize, we cannot resend competition prizes, so you'll have to raise this with your local delivery service (In the UK, for example, this would be Royal Mail).
Remember: It is illegal to germinate cannabis seeds in many countries including the UK.  It is our duty to inform you of this fact and to urge you to obey all of your local laws to the letter.  The Vault only ever sells or sends out seeds for souvenir, collection or novelty purposes.