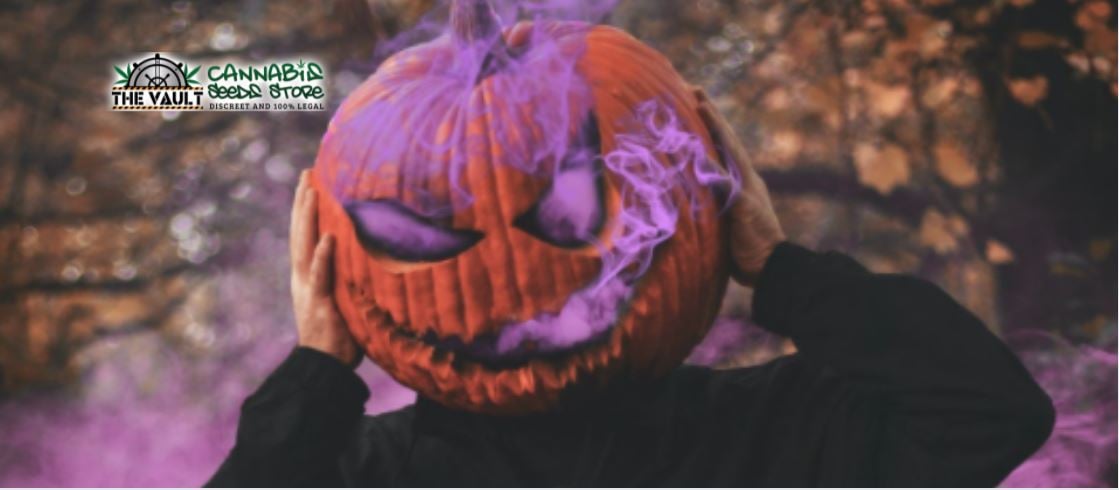 We are getting closer and closer to the big night and it's time to get spooky! I love Halloween and I genuinely don't think there is a better holiday. Whether you spend it watching horror films, handing out treats, receiving tricks, or getting scary at a Halloween party you can always make it a little more interesting. There are loads of amazing strains on the market that were designed specifically for Halloween. They have spooky names and will improve your night like nothing else. Also if you like to spend your Samhain dancing naked in the moonlight and doing rituals to the old gods you basically have to get weed involved. So let's have a look at all of the very best Halloween strains. 
Conjuring images of little glass vials with skulls on them, beautiful women releasing fine powders out of rings into unsuspecting men's drinks and dramatically horrifying yet romantic deaths. This strain is also extremely uplifting, energetic and cerebral which makes it perfect for almost all Halloween activities. It also has a deliciously witchy flavour that is a mixture of haze, aniseed, cloves, liquorice and spices. The bright and cerebral aspect of the strain sets the brain to full clarity which makes it great for really getting into a scary film. This strain is a purebred and is 100% Durban Poison. It has a flowering time of 8 – 9 weeks and can be grown indoors, outdoors or in a greenhouse. 
If you are having a chill night in this year then Zombie Virus is a fantastic choice. Obviously, the name is super scary, especially at the moment with the word virus having a pretty intense effect on our brains. Personally I'm terrified of zombies because I think they are one of the few horror movie tropes that could actually happen. In fact, there are viruses in the animal kingdom that have a similar effect to what we consider a zombie virus. Anyway, enough of that spooky nonsense. Zombie Virus is a powerful, physical and relaxing strain with the power to turn you into a shambling brainless meat bag. Well, not quite but it does have a THC level of 22 – 23%. This strain has a flowering time of 7 – 8 weeks and can be grown indoors or outdoors. 
You might have a lot of sweets left over this year, what with the Covid 19 still going around. So you will need some Jack The Ripper to up your appetite. If you want to have some friends over, binge horror and eat all of the snacks then this is the strain for you. Named after the Victorian serial killer who had a penchant for murdering ladies of the night. Jack Ripper was also featured in the High Times Top Ten List in 2006. The flavours in this strain are fantastic, a combination of lemon, mango, haze, hash and pine. Smoke this baby, eat yourself stupid and watch some slashers. This strain has a flowering time of 8 – 9 weeks and can be grown indoors or outdoors. 
Ok so the only part of this name that is actually scary is the monster bit, sort of undercut by the relatively cute word pebbles. I have chosen this one for all of those who just want to relax on Halloween and ignore the shrieks and squawks of the local children. Monster Pebbles is a strong and sleepy strain with a physically relaxing effect. It is also pretty darn strong and has a THC level of 21%. Close the curtains, brew some tea in a cauldron if possible, run a super bubbly bath, light some candles and read some horror literature. That's a heck of a way to spend Halloween night, especially since it falls on a Sunday this year. Monster Pebbles was created by crossing Somango, Grandaddy Purple and Critical. This strain has a flowering time of 56 – 63 days and can be grown indoors, outdoors or in a greenhouse. 
This tasty scary treat is perfect for all your Halloween activities. It has a chill, couch-lock side to it that comes with a focused, energetic, cerebral, creative, uplifting and happy effect. I would recommend this one for a party especially if you are doing any sort of Halloween crafts, baking or games. The focus on this one is really impressive so I would absolutely recommend playing some horror games as a group. Hyperfocus for something like Amnesia is going to have you leaping out of your seat every time something scary happens. The THC level is around 21% and can hit you pretty hard if you're not careful. So smoke responsibly and try not to get too scared. This is also a fantastic strain for stress, depression, inflammation or muscle spasms. This strain has a flowering time of 56 – 63 days and can be grown indoors, outdoors or in a greenhouse. 
Finally, let's have something nice and sweet although not very spooky. It reminds me of what I cared about during Halloween as a kid, sweeties. Trotting from house to house, my mad chubby face poking out of a pumpkin costume, thrusting a plastic bucket at strangers. This is a great chill strain for the end of the night. It has a very relaxing effect that can bring you down from a long night of partying, or get you ready for bed after a massive movie and food binge. She has a THC level of 18% and medicinally is often recommended to those suffering from insomnia, stress or pain. Candy Kush has a lovely sweet flavour that goes perfectly with its after dinner vibe. The blend of Indica and Sativa means it won't just knock you out or break your brain, instead it'll gently lull you into a bundle of chilled out niceness. Candy Kush has a flowering time of just 7 weeks and grows well indoors or outdoors. 
Happy Halloween and have a great Samhain! 
Newsletter Sign Up
Make sure you never miss another Vault promo – sign up for our newsletter at https://www.cannabis-seeds-store.co.uk/the-vault-newsletter
Remember: It is illegal to germinate cannabis seeds in many countries including the UK.  It is our duty to inform you of this fact and to urge you to obey all of your local laws to the letter.  The Vault only ever sells or sends out seeds for souvenir, collection or novelty purposes.
Photo by Daniel Lincoln on Unsplash