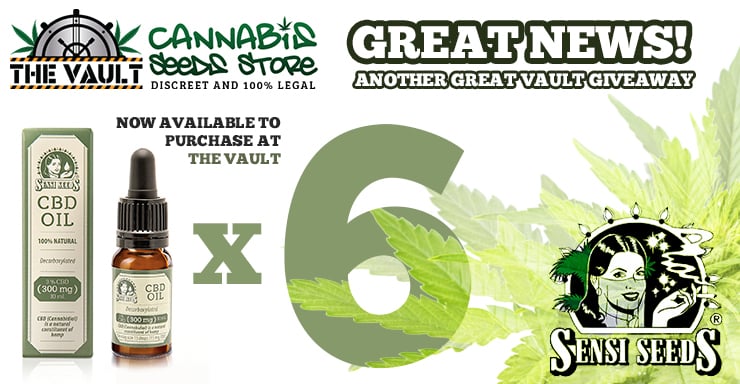 CBD Oil does not contain THC and therefore is 100% Legal.
Sensi Seeds CBD oil is a food supplement based on cannabidiol, a natural constituent of the Cannabis sativa L. plant.
One bottle of 10ml Sensi Seeds CBD oil contains 300mg of CBD (cannabidiol).
This extract is made from hemp plants grown within the European Union, without the use of pesticides or herbicides, in order to produce a safe product of the highest quality.
Sensi Seeds CBD oil contains different phytocannabinoids, the most well-known being CBD, CBC (cannabichromene), CBG (cannabigerol), and CBN (cannabinol).
It also contains terpenes, including Myrcene, Limonene, Alpha & Beta -pinene, Linalool, B-caryophyllene, Caryophyllene oxide, Humulene, Nerolidol and Phytol.
Other natural substances found in Sensi Seeds CBD oil include: alkanes, nitrogenous compounds, amino acids, sugars, aldehydes, alcohols, ketones, flavonoids, glycosides, vitamins, pigments, water and hemp seed oil.
CONSERVATION:
Store away from sunlight, heat and humidity. Refrigerate after opening. Shake before use.
RECOMMENDED USE:
As a dietary supplement, use twice daily. Place up to 1/2ml (15 drops) under the tongue, hold for 60 seconds, and then swallow. 1 drop contains approximately 1mg of CBD.
DISCLAIMER:
Do not take if you are pregnant or lactating. Always consult a medical doctor before modifying your diet or using any new product.
This product is not intended to diagnose, treat, cure, or prevent any disease.
SHIPPING:
To avoid issues we will not be shipping this product along with seeds, so if you are making an oil and seed purchase you will have 2 shipping charges and your packages will be sent separately.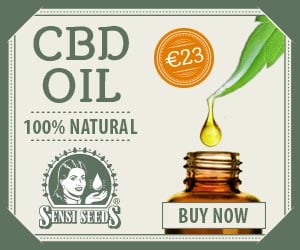 You can buy now from The Vault by clicking the image above.
PROMO GIVEAWAY:
To celebrate this fantastic addition to our product catalogue we have 6 bottles to giveaway.  One winner will be chosen at random from each of the 6 entry methods below.
Via GrassCity by simply commenting on THIS THREAD – Winner is 1220
Via Facebook by simply commenting on THIS POST – Winner is Graham Green
Via Roll It Up by simply commenting on THIS THREAD – Winner is whitebb2727
Via AutoFlower Network by simply commenting on THIS THREAD – Winner is TheSpacePope
Via 420 Connect by simply commenting on THIS THREAD – Winner is DG1959
Via The Vault Blog by simply commenting on THIS BLOG POST below – Winner is Peter Scott, I have sent you an email via the email address you used to comment with requesting details to arrange delivery of your prize.
You can enter via all 6 methods to maximise your chances of winning if you wish but as the prizes are limited, only 1 prize will be delivered per household so if you are super lucky to get your name drawn twice we will hold a 2nd draw to choose a new winner.
Winners will be announced on Monday 18th of April
Legal Disclaimer: The competition winner will have their prize sent to them via recorded delivery.  If you win the competition but don't receive your prize, we cannot resend competition prizes, so you'll have to raise this with your local delivery service (In the UK, for example, this would be Royal Mail).
Remember: It is illegal to germinate cannabis seeds in many countries.  It is our duty to inform you of this fact and to urge you to obey all of your local laws to the letter.  The Vault only ever sells or sends out seeds for souvenir, collection or novelty purposes.