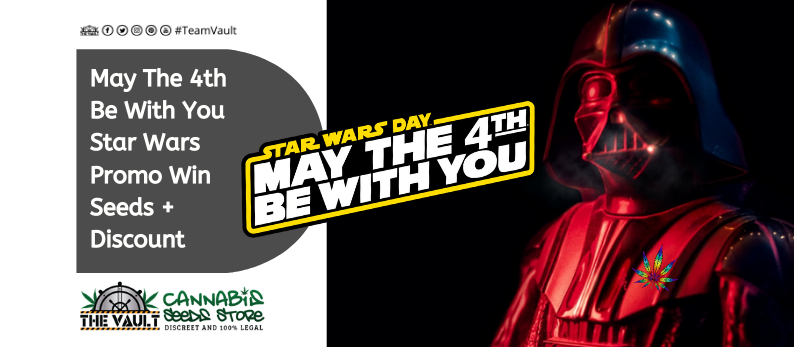 Since the first film came out in the late 70s Starwars has been extremely popular with the cannabis community. Whether you are old school and love the originals or are obsessed with the recent releases there is definitely a Starwars strain you will love. I suppose it's also acceptable if you enjoyed the prequels, but only just. Today is May the fourth, otherwise known as Starwars Day. To celebrate here is a list of Starwars cannabis strains for anyone who loves classic sci-fi and getting high. We've also added in a discount if you would like to make a purchase and some prizes from the guys at Phoenix Seeds too.
Of course, we should start with the main man himself. This strain, which was named after the original films' Luke Skywalker, is a heady relaxing strain. Skywalker is a high yielding strain that provides a full-body relaxing effect with a delightfully soft and chill heady vibe. If you are lucky enough to have May the fourth off work or generally free of responsibility this is the strain to go for. It is very likely that smokers will experience a touch of couch lock. Just make sure you have everything you might need within reaching distance before you toke. Skywalker has a flowering time of 65 – 70 days and can be grown indoors or in a greenhouse.
Skywalker Kush was created by combining the original Skywalker with Kush. She is a potent and relaxing strain that is perfect for chilling out for a May the fourth Starwars marathon. For Kush fans, this is basically all the good parts of OG but with a massively increased yield. Her THC level usually sits between 15 – 20% so she has a bit of a kick to her. She also has a beautifully complex flavour that is sweet and smooth. It goes perfectly with the sweet and smooth chill effect of the strain. This is also a fantastic option for anyone who struggles with stress or anxiety. Skywalker Kush responds really well to topping and if it's done correctly her yields will astonish you. She has a flowering time of 56 – 63 days and can be grown indoors or outdoors.
When White Russian comes together with Lowryder it makes White Yoda. This strain is relaxing and psychedelic with a healthy hint of euphoria. This means she makes a phenomenal recreational strain as well as a medicinal one. It has pretty high THC levels and is definitely Indica heavy so can get a little sleepy if she is overused. The plants are compact but give amazing yields of super resinous buds. The flavour is sweet and earthy with a long-lasting and enjoyable after taste. The euphoria added to the relaxation provides almost meditative happiness that is perfect for anyone who is having a hard time or generally suffers from anxiety. White Yoda has a flowering time of 75 – 90 days and can be grown indoors, outdoors or in a greenhouse.
Another fantastic strain in the Yoda family, a combination of White Yoda and Northern Lights. This strain is made for bedtime, hence the name. Sleepy Yoda is Indica dominant and has all of the comfortable and happy relaxation of White Yoda with an extra hit of soporific snooziness. The THC level sits at around 18% so she is guaranteed to knock out even the most tolerant smokers. This is the perfect strain for insomnia as she doesn't just send you to sleep, but she sends you to sleep in a happy frame of mind. If just a bit is smoked she will provide a comfortable snoozy mood which is great for late afternoon or evening use if you have nothing on. Especially if you have time for a mid-afternoon couch nap while you work through your Starwars marathon. She is very versatile and can be grown in a wide variety of spaces making her great for a bunch of different growers. This strain has a flowering time of 60 – 65 days and can be grown in a greenhouse, indoors or outdoors.
Jedi Kush is a combination of Death Star and SFV OGK F5. This strain is a multi-award winner that has taken the 2013- 3rd Place for Highest CBD at the High Times Medical Cup in San Francisco and the 2014- 1st Place for Best Nonsolvent Hash in Detroit. This strain took on the special dense and round buds that Death Star is famous for along with the amazing Hash flavour. From the other parent, it takes the amazing growing power, providing even more buds and more resin. She has an extremely potent smell so she may need a well-ventilated area to grow in. Usually, the THC sits at around 18% and the effect is happy and euphoric but relaxed. Medicinally it is great for depression, pain, anxiety and stress. This is a great strain for just chilling and enjoying life without focusing on all the stressful bits and pieces in your brain. This strain has a flowering time of 8 – 9 weeks and can be grown indoors or outdoors.
Death Star
This is definitely one of the most popular Starwars strains because of its effect and impressive buds. The name of the strain comes from the large spherical buds that resemble the Death Star. She has a relaxed and euphoric effect that will make smokers both happy and delightfully sleepy. The buzz is powerful and comes on very slowly, so smokers are advised to not go too hard at the start. The THC level is usually around 20% so when it does hit it can hit hard. This strain is perfect for daytime use if you don't have to do anything too active. It is also great for night time to quiet down the brain and help it drift slowly into sleep. This strain is also great for anyone who struggles with stress, depression or anxiety. This strain provides amazing yields and is considered an easy strain to grow. Death Star will flower in 7 – 9 weeks and will grow well indoors or outdoors.
Competition
Also, you can win yourself some seeds as part of this promotion. You can get your hands on a one of 4 five packs of White Widow by Phoenix Seeds.
To  Enter, just type, May the 4th Be With You In the Comments of this blog post.
TERMS
Winners Announced Thursday 20th May
Prizes are picked at random – each winner will be allocated 5 seeds
Social Media or Forums Entries Don't Count
One entry per person. Double entries will not be counted
Entries are verified first so your entry may not show up for 24-48 hours
We will share the news on our social media pages. Winners will also be emailed directly and your details will remain discreet. We will only publish your name on the blog that is supplied with the entry
Prizes must be claimed within 28 days or they will be put into the pot for a future promo
The draw will be random and the results are final
Have fun
GOOD LUCK!
Discount Code
If you would like to treat yourself to any of the above Star Wars strains or any seeds from The Vault, May the Forth Be With You > use code 'starwars14' to get 14% off any purchase you make today.
Newsletter Sign Up
Make sure you never miss another Vault promo – sign up for our newsletter at https://www.cannabis-seeds-store.co.uk/the-vault-newsletter
Remember: It is illegal to germinate cannabis seeds in many countries including the UK.  It is our duty to inform you of this fact and to urge you to obey all of your local laws to the letter.  The Vault only ever sells or sends out seeds for souvenir, collection or novelty purposes.
Legal Disclaimer: The competition winners will have their prizes sent to them via recorded delivery.  If you win the competition but don't receive your prize, we cannot resend competition prizes, so you'll have to raise this with your local delivery service (In the UK, for example, this would be Royal Mail).