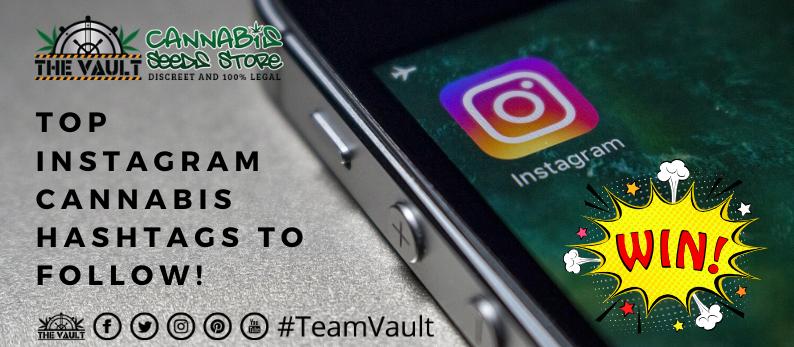 Instagram. Who's on it? Who's not on it, in fact? It's the hottest Social Media platform out there. It might not be as big as its sister page Facebook, but it sure is seen as the cooler sibling. There are influencers (kid on or real, who knows), and there is every topic under the sun to be found there from trainspotting sites to scantily clad women!
There's also a HUGE cannabis community with loads of brilliant pages and content ranging from growers to funny Canna memes. If you run a check on the top Cannabis-related hashtags you get this:
#weed #cannabis #cannabisseeds #weedporn #marijuana #cannabiscommunity #thc #cbd #weedstagram #stoner #hightimes #ganja #smoke #cannabisculture #kush #indica #maryjane #highlife #life #sativa #dank #dabs #smokeweedeveryday #high #highsociety #pot #hemp #bud #stoned #love #bhfyp and of course #teamvault
In this post, we will look at some of the above hashtags and see what cool content is on there for you to follow. Also, scroll to the end of the post now if you want to be in with a chance of winning some seeds on our Instagram account. We run two accounts as sometimes Instagram can close off Canna accounts for no reason. The account of ours to follow is: Vault Cannabis Seedstore Instagram Page.
#cannabis hashtag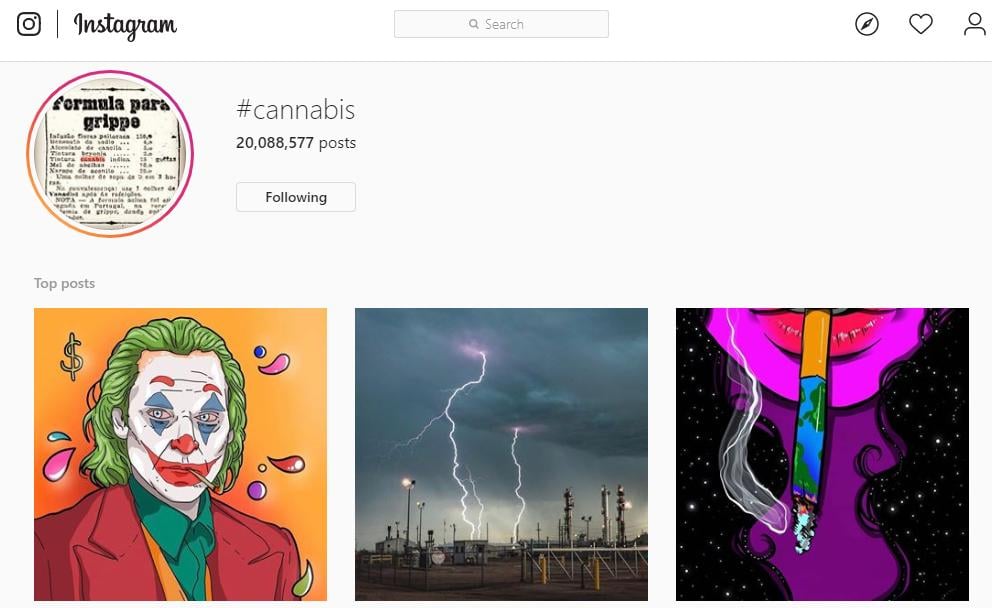 The hashtag #cannabis has been used a whopping 20,000,000 times. Click through and take a look at all the wonderful display of different images there and follow the accounts you think you might be interested in! One thing to look out for is Cannabis Art pages. There are some very cool graphics on that. Check it via the link above.
#cannabisseeds hashtag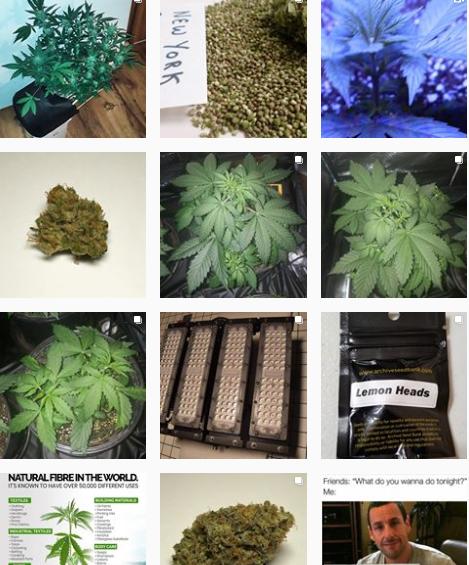 We naturally use this hashtag when we post as it's our bread and butter. On searching here you'll not only find Canna Beans of all shapes, sizes and strains but some cool grow images. Make sure you follow the hashtag and keep you content as fresh as some new bought beans.
#cannabisculture hashtag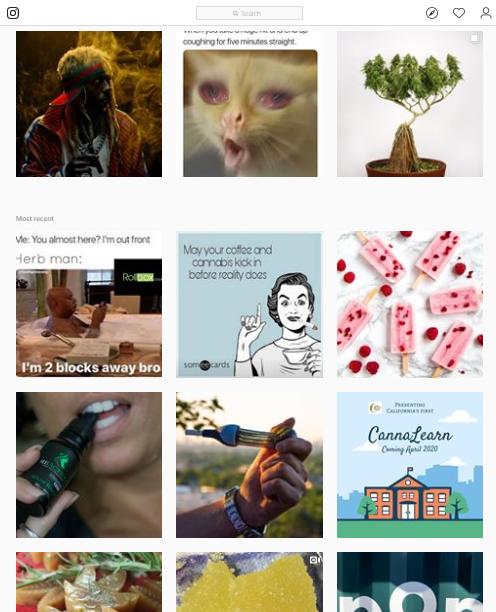 Cannabis in its own right has a great culture attached to it and that's why this hashtag is very popular. There's a mix of memes and art in this hashtag and you'll discover lots of cool new accounts to follow.
#thc hashtag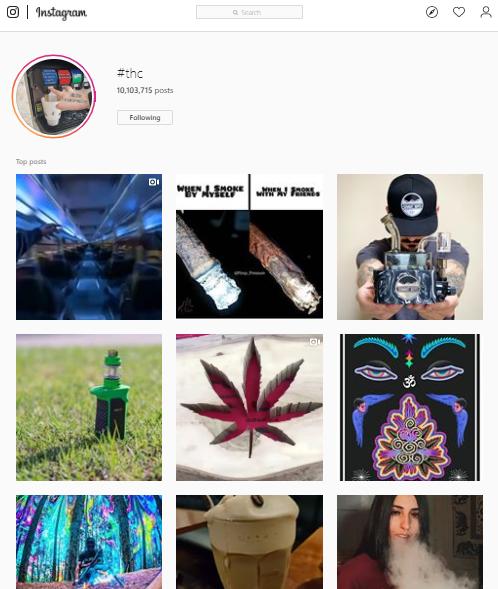 The THC hashtag has been used 10,000,000 times plus. The content is a little edgier as this is obviously the psychoactive side of the plant and the part that we smoke to get high. Some of the images are of a psychedelic nature or edited cannabis images like the maroon image above. Click the link above to enhance your Cannabis experience on Instagram.
#medicalmarijuana hashtag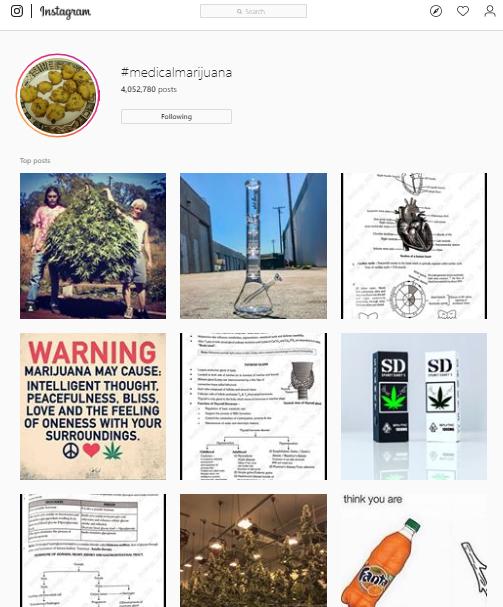 The beauty of Cannabis, or part of it is the medical side. It can be such a wonderful help to those who are ill or have ailments. By following the content here, you'll find some cool products and also images, infographics and serious memes which display the positive aspects of the plant!
#TeamVault hashtag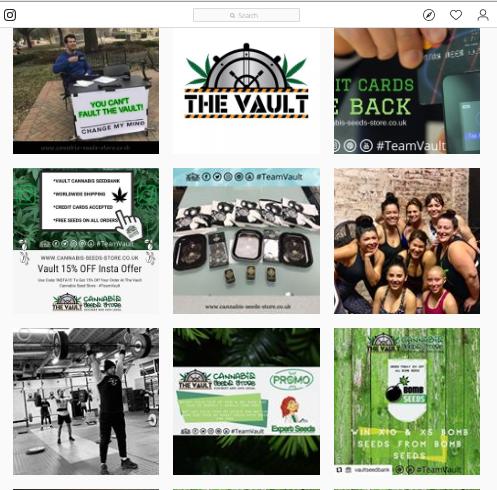 We always tag our posts with the #TeamVault hashtag so take a scroll through this to see our past content. We post a mixture of memes, cannabis plants, promos and cool cannabis art images. Sometimes we use the hashtag to enter competitions too, so keep an eye out for that. Not all of these posts will be from The Vault, as others are free to use the hashtag for their own posts so that's not us in the gym above;).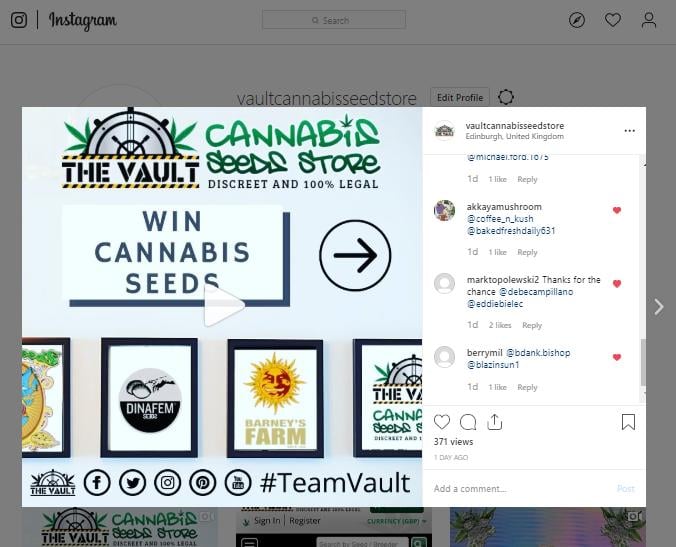 As mentioned above, we have launched a promo on our recently re-established Instagram account. It's dead easy to enter. The prizes are:
First Prize – X6 Tropicana Banana From Barneys Farm (Exclusive seed to the Vault that is not available for sale on any other seedbank website).
Seed Info:
Tropicanna Banana is another totally tantalising addition to the Cali collection. A mesmerising tropical cocktail of fresh and fruity flavours, uncompromising power and extraordinary yield potential. This remarkable hybrid is sweet, sticky, pumped up, highly potent and will leave growers gasping in awe at these high performing genetics.
Barney's Farm have tamed this Sativa Dominant hybrid (60% Sativa, 40% Indica) and garnished it with huge dollops of glistening, sweet tropical fruit-scented trichomes. A perfectly crafted marriage of Tropicanna (Girl Scout Cookies x Tangie) and a twist of Banana Kush infuses a calming Indica influence.
Second Prize – x4 Gorilla from Dinafem
Gorilla is a highly acclaimed feminised cannabis seed in the USA. A descendant of the Chem family, she definitely lives up to her origins with an off-the-charts potency and aroma. This Indica-dominant hybrid has the potential to keep the purest Indica genetics off the podium, as she doubly demonstrated at the Los Angeles Cup and at the High Times Jamaican World Cup in 2014 when she won both of them. Her bag appeal is simply astounding and her light-green flowers seem almost sugar-frosted due to the breathtaking trichomes covering them. Don't be fooled by her hybrid-looking structure, though, for her Indica effect is as strong as a blow delivered by a huge silverback gorilla.
Third Prize – x 2 Sweet Skunk from Sweet Seeds
Feminized and photoperiod-dependent version with an ultra-fast flowering of one of the most famous cannabis families of all time, considered nowadays as a classic of cannabis breeding.
This strain is the result of the hybridization between a selected genetic line of our Sweet Skunk Auto (SWS34) and our Early Skunk elite clone. The F1 hybrid resulting from the cross between the autoflowering and the photoperiod-dependent strains originates a photoperiod-dependent Skunk genetic that features very fast flowering. The aroma of this strain is very sweet and spicy, just like the classic aroma that we usually find within the Skunk family. This strain produces thick buds, loaded with abundant and aromatic resin.
To be in with a chance of winning these seeds simply head for the post and tag two friends plus like the post. instagram.com/p/B5njskYhuQH/
Summary
We know not everyone is on Instagram, so you can follow us on all the other major social media platforms. Check out the links on our website to follow – www.cannabis-seeds-store.co.uk
Newsletter Sign Up
Make sure you never miss another Vault promo – sign up for our newsletter at http://goo.gl/Bt2Ba2
Legal Disclaimer: The competition winners will have their prizes sent to them via recorded delivery.  If you win the competition but don't receive your prize, we cannot resend competition prizes, so you'll have to raise this with your local delivery service (In the UK, for example, this would be Royal Mail).
Remember: It is illegal to germinate cannabis seeds in many countries and some remote, less enlightened planets outside the core systems.  It is our duty to inform you of this fact and to urge you to obey all of your local laws to the letter.  The Vault only ever sells or sends out seeds for souvenir, collection or novelty purposes.