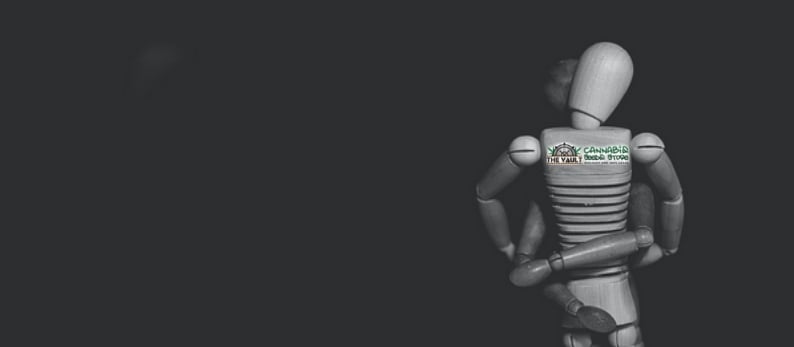 If you love weed, but really love weed, there is a cross over between the world of sex toys and accessories with the world of cannabis. No matter what your pleasure is you can likely find something that will fit you perfectly. Some have practical uses that come from the power of weed, and some are just entirely for fun. Many of these are actually designed with women in mind, but that doesn't mean they aren't also for men. Each of these items is perfect for adults of all shapes, sizes and genders.
This is definitely one designed for the ladies. It is a combination of cannabis and coconut oil, and normally I would not advise the use of coconut oil as a lubricant due to its absorbancy, but when combined with CBD oil it is quite a different experience. Not only does this product keep everything appropriately lubricated but it actually increases sensitivity. This is the work of the CBD oil. Not only does it increase sensitivity in expected areas, but reviewers have claimed that it increased full body sensitivity. She stated that there was a warm intense feeling throughout her body and that the finale was particularly impressive. This CBD "intimacy oil" is also all natural so perfect for any of you who have experienced unpleasant reactions to normal shop bought lube. It's a delicate area, it's definitely worth spending a little more to keep it happy.
Mary Jane Vibrator by Ganja Vibes
This fun product is shaped like a cannabis leaf and each segment of the leaf is….usable. It was designed by a woman and if you are a lady you'll be able to tell. Each of the prongs is ribbed and the coating is made of a textured rubber, which is removable for washing. It also means that it is soft and comfortable while still staying in place. It is controlled by a corded remote so can easily be controlled by you or a partner. It also has an intensity fade on the remote so it can always give you exactly what you're looking for. This is, unsurprisingly, the very first weed shaped vibrator. All of the reviews are 5 stars from both people using it alone and using it as a couple. This is perfect for anyone tired of mainstream vibes and wants something different designed especially for women. Ganja Vibes is hoping to soon produce more women designed sex toys so watch that space.
Custome Handmade Pothead Dildo 
If you're looking for something a little more intense this gorgeous handmade toy with engraved cannabis leaf is perfect. It comes in a variety of colours for those who don't fancy the basic ganja green. For a little extra cash, it can be altered for extra spice, including an internal hole for a bullet. The cannabis leaf is actually raised to create ridges that continue right to the tip. As I said each piece is handmade from premium silicone and all of the reviews are absolutely raving about it. Even though it looks a little intimidating a few reviewers have said that it is great for beginners. It is also the ideal toy for anyone who wants something fully custom and just for them.
As we know hemp is a fantastic and cheap material alternative that is soft and comfortable. Bondage rope can be bizarrely expensive as it is often covered with silk to reduce burns. However, by using a hemp rope you can reduce burns and discomfort without breaking the bank. Hemp is also highly flexible which, combined with the soft texture, is ideal for use over a longer time such as in shibari. For those who engage in artistic tying and suspension, this is a great way to keep your skin safe and comfortable for hours at a time. The added bonus with purchasing hemp ropes is knowing that you're using eco-friendly materials in your fun time. Keep your skin, your partner and the planet safe all at once! Of course, don't engage in any sort of advanced tying using ropes as strong as hemp without a lot of prior practice and research. Play safe people.
Here is one for the fellas, Cannamojo the cannabis-infused enhancement for men. This is a proven effective supplement for men that has been combined with the extra arousal power of THC. They boast increased endurance and control as well as increased size but I'd always take that with a pinch of salt. This isn't just for men experiencing erectile dysfunction but just to maximise the general sexual experience. They also boast that this super-potent supplement comes with no side effect. It is just a vasodilator which essentially means it naturally increases blood flow. Probably not ideal for anyone with blood pressure or heart problems. Cannamojo is supposed to increase sensitivity, increase pleasure, increase endurance and provide unusually intense orgasms. Seems pretty perfect, which makes sense as they claim it is a one of a kind product.
420 Paddle by Butts McSpanks
I'll be honest this one I just thought was funny. This is the ideal prop for anyone who enjoys giving or receiving pain but also wants to let people know they smoke. This cute paddle is hand made from maple wood and hand-printed to be covered in little cannabis leaves with a bold 420 across the body of the board. I have to say I also just thought the name of the seller was adorable. Maple is a soft and giving wood so perfect paddling material. Once again this is definitely a toy to be careful with. Also maybe don't smoke before using as it's important to be fully aware of your pain receptors. 40 customers have reviewed this product and it has received nothing but 5 stars. So if you're into smoking weed and impact play this could be the perfect statement piece for your collection. However, and I cannot stress this enough, play safe!
Newsletter Sign Up
Make sure you never miss another Vault promo – sign up for our newsletter at https://www.cannabis-seeds-store.co.uk/the-vault-newsletter
Remember: It is illegal to germinate cannabis seeds in many countries including the UK.  It is our duty to inform you of this fact and to urge you to obey all of your local laws to the letter.  The Vault only ever sells or sends out seeds for souvenir, collection or novelty purposes.
Photo by Hennie Stander on Unsplash