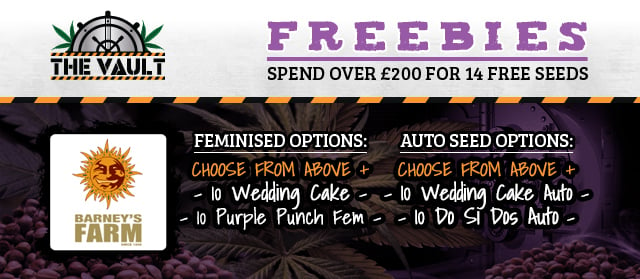 Ring the bells – it's another day, another deal here at Vault Towers in Edinburgh. Our good friends at Barney's Farm have been flirting with us back and forward over the years and we think they're trying to drop hints with this new offering. They've stocked us up on some super awesome freebie seeds and sent us some 'Wedding Cake' beans to offer up as a prize. Woot woo!
Barneys Farm already give a free cannabis seed away to all orders (with even more new seeds in the post) but now they are continuing to give all customers that spend over £200 at The Vault a free 10 packs of seeds as well!
We are totally buzzing that all customers at The Vault that spend over £200 will now get at least 14 free seeds including a pack of 10 from Barneys Farm and free shipping.
This, of course, is on top of all the other cannabis seeds offers, promos and deals we have live which can be viewed on our discount cannabis seeds offers page so go ahead place your order now and watch those freebies start to stack up in your cart.
You can choose your 10 seeds from any of these amazing strains: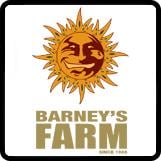 ABOUT BARNEYS FARM
It was the late 1980s and high atop the Himalayas, heavy snow hurling its way down from the skies, a small group of breeders began to cross-breed marijuana strains carefully selected from every corner of the Middle East and Asia. Bountiful harvests of Sativa and Indica cultivars kept the group's spirits up during a 3 year stint in the rural, desolate mountains. One member of this talented group would go on to create one of the most prominent cannabis seed production businesses in the world. That business is Barney's Farm and the man who started it all is Derry.
After his period of successful cultivation in Asia, Derry returned to Amsterdam in 1992 with his newly created cannabis seeds and took the helm at Barney's Coffee Shop. The popularity of his strains made Barney's the must- go-to place for interested parties worldwide.
The unique nature of the beginnings of a company like Barney's Farm only adds to its already vast popularity. The winner of countless awards and a never ending desire to produce 'new and exciting' strains of cannabis, it's no wonder that there is an international demand for Barney's Farm creations.
Over the last decade, Barney's Farm have produced some of the world's most popular varieties of cannabis, Winning the Cannabis Cup and Indica/Sativa Cups with G13 Haze, Liberty Haze, Amnesia Haze, Willie Nelson, Cookies Kush, Pineapple Chunk, Tangerine Dream and many more, and Critical Kush becoming a bestseller within months of release.
Despite a history spanning nearly 30 years, Barney's Farm's popularity has never diminished. New strains are frequently released, allowing for an ever-increasing audience to continue to enjoy high quality seeds from a company that started, literally, at the top and has remained there ever since.
Cannabis Seeds Competition
In keeping with The Vault style we are of course celebrating this new freebie addition with a Barneys Farm Seed competition too!  We have a Star Prize of x10 Wedding Cake Fems on offer.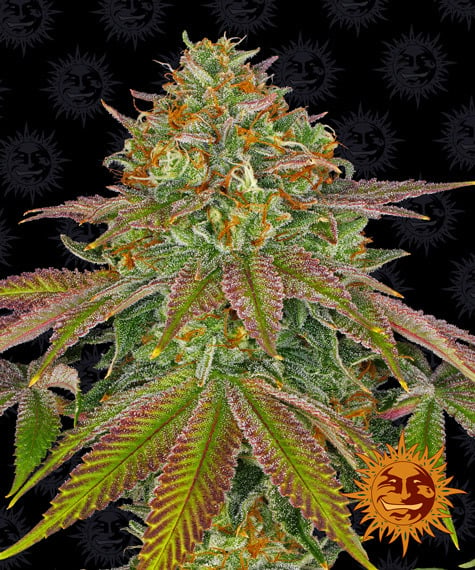 Simply leave a comment 'WEDDING' in the comments section below to enter! We are keen to hear your feedback on Barneys Farm and their strains too, so feel free to add any comments too.
Winners will be selected using random number generator and announced on the Thursday 15th October!
WINNERS:
BENJAMIN BROOME
LADY JANE 420
Well done, you will get an email from us shortly in order to claim your prize.
Why not head on over to The Vault Cannabis Seeds Store now and pick up some Barneys Farm Seeds now, whilst taking advantage of the discount code VAULT15 for a whopping 15% discount off your order of Cannabis Seeds.
Make sure you never miss another Vault promo and sign up for our newsletter at https://www.cannabis-seeds-store.co.uk/the-vault-newsletter
Legal disclaimer: The competition winners will have their prizes sent to them via recorded delivery. If you are chosen as a winner but don't receive your prize, we cannot resend competition prizes, so you'll have to raise this with your local delivery service (In the UK, for example, this would be Royal Mail).
Remember: It's illegal to germinate cannabis seeds in many countries. It is our duty to inform you of this important fact and to urge you to obey all of your local laws. The Vault only ever sells or sends out seeds, or seed voucher prizes for souvenir, collection or novelty purposes.