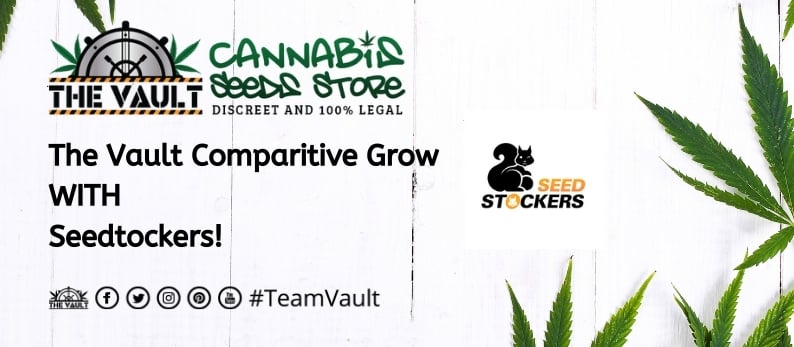 The Vault Cannabis Seeds Store is back for another mind-blowing Comparative Grow, this time in partnership with Seedstockers who have kindly provided us with not one, but TWO fantastic strains that you can choose from.  Thanks Seedstockers.  – You Rock!
We want the Comparative to be open to as many of you as possible, so we are absolutely thrilled to tell you that there is a Feminised (Photoperiod) or Autoflowering option. *There are qualifying conditions below, please be sure to read these to ensure you qualify.
The purpose of the Comparative Grow is for breeders to have an opportunity to put some of their strains to the test by getting you to grow them out using your own methods and report back on the results.
To enter the Comparative Grow, you must follow all the instructions and agree to post pictures and comments about your grow to the relevant forum.  – In return, you will get FREE seeds, FREE shipping and a FREE Vault T-Shirt!
How to enter the Comparative Grow:
Simply visit this page: Enter here, and chose your SHIRT size
Once you have selected your shirt size, please add the T-Shirt to the cart along with any additional seeds that you would like to purchase.
Any additional seeds purchased will be sent with FREE WORLDWIDE SHIPPING.
Our normal FREE SEED offers, and promotions are also still valid when purchasing any additional seeds with your Comparative entry.
When you are ready to complete your entry, go into the cart and follow the on-screen steps.
Please ensure when you reach "Your comments:" that you leave a note to tell us which forum you are entering from, your forum username and which Comparative seeds you would prefer. – For example: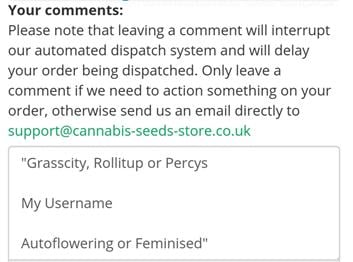 You can then proceed to check your order/entry out.
If you have any paid for seeds, please choose your preferred payment method from the options shown in the cart.
If you have not added any extra seeds, please check out with "Cash Payment".
Please Note –
Entries will be checked and verified once per week on Fridays, if you have not had your entry verified the Friday after you applied please feel free to contact us.
If you do not enter your Username and Forum you cannot be entered for the Comparative Grow.
*Entry Conditions:

This Comparative Grow is only open to genuine, active forum members. Only members with profiles older than 2 months, with 50+ likes and with more than 100 comments/messages will be eligible to enter.
Additionally, participants will not be considered unless they have completed at least one decent quality grow diary
To participate in the Comparative Grow you MUST post pictures and comments to the Comparative threads located at Grasscity, Roll It Up or Percys – failure to do so will rule you out of any future Comparative Grows.

Delivery information for free Comparative Grow packages:
Comparative Grows are not sent by tracked delivery (this helps us to keep costs down so we can continue to offer such kick-ass free giveaways to the community!), meaning these free seeds and shirts will not come with guaranteed delivery.
Don't worry, we will treat any entries containing paid for seeds as if you are purchasing a normal order with The Vault, as such tracking will be available if requested.
Your buds here at The Vault hope you have loads of fun with this Comparative Grow – remember to share the love with all your buds.
Most packages should arrive within normal timeframes, but during the pandemic delays are possible, it is advisable to check with your local postal service for their latest COVID updates.
Hold on – does this mean free seeds?
Eligible entrants will receive free Seeds Stockers cannabis seeds from The Vault, along with an awesome free Vault t-shirt, so they can participate in the Comparative Grow in style!
Let's have a quick look at the fantastic strains at the centre of this awesome Comparative Grow…
Sherbet Feminised Seeds– 5 Seeds (Seed Stockers)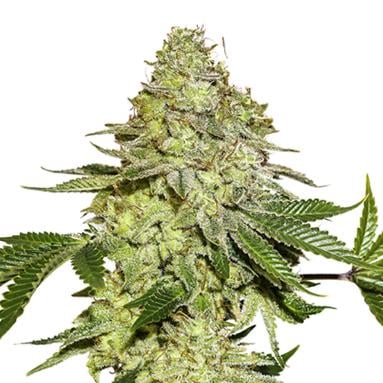 This is a powerful THC rich variety with prize-winning Sherbet genetics.
This Sherbet strain has an unusually fruity taste and aroma with melon and mango being two of the sweeter fragrances.
It's indica genetics have their origins in Girl Scout Cookies Sherbet is a real knockout with THC levels over 20% in good conditions, other genetics involved are Cherry Pie, OG Kush and Durban Poison.
The buds are firm and dense with a sticky feel and a sparkling frosty appearance. This is a stable, high performance indica for the home grower who is looking for consistently high quality and an easy fool-proof grow.
Sherbet grows well in any grow medium/system and should deliver yields that are above average.
This variety takes around 9 weeks in bloom, and delivers a creative stress-busting high with a strong body stone.
Popular with medical users and recreational growers.
The plants stay bushy with a low/medium height.
Blackberry Gum Auto– 5 Seeds (Seed Stockers)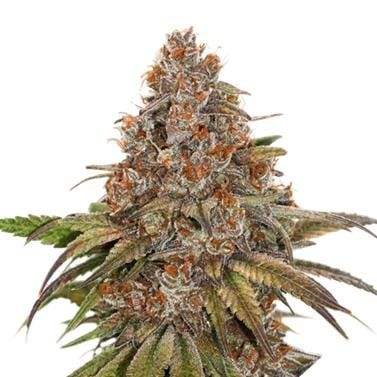 Blackberry Gum auto is one of the best-looking autos that we have seen with a rich fruity taste and aroma to match.
The Blackberry Gum auto will be the first jar you reach for in the evening, it's a very powerful smoke with THC levels of 22%+.
The buds are colourful and appealing, with blue colours often present in the buds along with a deep powerful aroma and a fast-hitting high.
The high is euphoric with a relaxing feel-good anti-anxiety high and a long-lasting effect.
Grows well indoors or outdoors with any grow method.
#TEAMVAULT
Why not head on over to The Vault Cannabis Seeds Store now and pick up some Cannabis Seeds now, whilst taking advantage of the discount code VAULT10 for 10% discount off your order of Marijuana Seeds.
Newsletter Sign Up
Make sure you never miss another Vault promo – sign up for our newsletter at http://goo.gl/Bt2Ba2
Remember: It's illegal to germinate cannabis seeds in many countries.  It is our duty to inform you of this important fact and to urge you to obey all of your local laws.