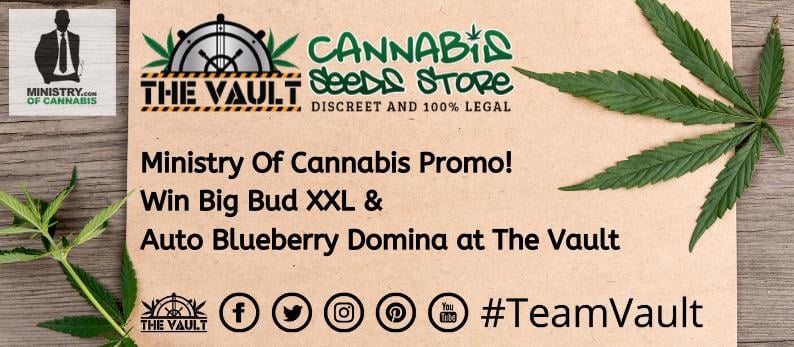 The Vault have teamed up with the Ministry of Cannabis to bring you this cannabis seed competition where you can win some of their awesome Big Bud XXL feminized seeds and Blueberry Domina auto feminised seeds for free!  How cool is that?

This top-class breeder has operations in the Netherlands and Spain, making them a truly international specialist in cannabis genetics.
With their vastly experienced team, the Ministry of Cannabis offers an incredible selection of seeds, with an emphasis on preserving classic genetics whilst innovating with bold new strains.
Their cannabis seeds are top quality on the market. With more than 15 years of expertise in genetic development and test rooms in three different countries.
Beyond expanding their seeds range offer, they listen to their clients and tailor thier services to meet their individual needs at all times. Since 2008 they have been pioneers on a worldwide scale introducing to the market their line of autoflowering seeds.
Their project follows three main lines. The first one, is to maintain a continuous availability of classic cannabis strains (for example, the White Widow variety) in its female form. The second one, is to improve classic strains such as Big Bud from which they developed Big Bud XXL achieving a higher production. Finally, to innovate and offer strong original strains developed over the years.
Out of this effort, MOC are very proud to have introduced popular strains such as Carnival, Zensation and God's Glue into the global market. They strive for the acceptance of cannabis around the world.
Ministry of Cannabis: "Making the world greener is a game we can only win together"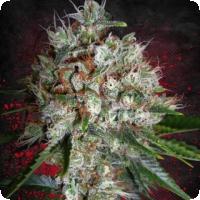 Big Bud XXL Feminised
This plant is almost a pure indica strain with a happy effect and it is available only in its female version. It's the biggest producer of our collection and it can reach this result without compromising quality. The structure of the plant is typical of indica, not very tall, and it performs well both in seas of green or as a bigger individual plant. It grows well outdoor in the right condition (temperate climate only) where its early flowering can be the winning point.
Type of seeds: Female
Indoor/Outdoor
80% Indica 20% Sativa
Flowering Time: 7-8 weeks
Yield: 600-900 gr per sq. mt. indoor, up to 2 KG per plant outdoor
Flavor: sweet
Effect: happy
THC: 15%
CBD: low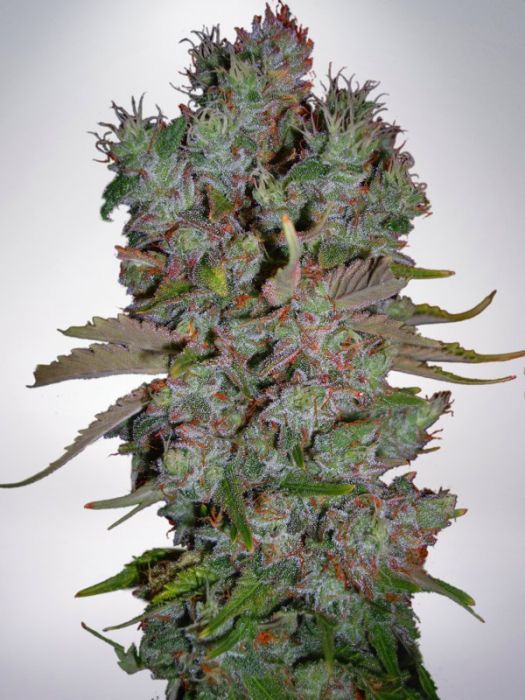 This powerful indica is the result of the cross between Blueberry and Black Domina in its autoflowering form. Only 65 days are requested to grow thick, heavy buds, frosted with resin, with a powerful berry aroma and a hashy aftertaste. The Black Domina is clearly more dominant in this crossing than the Blueberry, this expresses itself in the spicy flavor of the strain, the wide fingered leaves and the effect that is intense body stone.
The buds will be covered with a layer of sticky resin on the buds. Auto Blueberry Domina is surely an Automatic strain worth of sowing, growing, harvesting and glowing.
Type of seeds: autoflowering female  Indoor/Outdoor  10% Sativa 70% Indica 20% Ruderalis
Total Growing Time: 9,5 weeks
Yield: up to 110 gr per plant indoor, up to 220 gr per plant outdoor
Flavor: berry aroma and a hashy aftertaste
Effect: intense body stone
THC: 17%  CBD: 1%
Win some Ministry of Cannabis seeds for free:
We will have 8 winners in this promo!
4 winners will receive 5 Big Bud XXL Feminised and a Vault T Shirt
Winners are:
Chris
John Pippin
Elaine Lasky
Nick
4 winner will receive 5 Blueberry Domina Auto Feminised and a Vault T Shirt
Winners are:
Julianne
Brian Wall
Ariel Guttmnan
ian
Simply leave us a comment below to be entered in the draw to win, let us know if you want to be entered to the draw to win the fems or the autos or don't mind which, maybe tell us about your experiences with Ministry of Cannabis and or their strains.
Winners will be announced on Thursday the 30th of July – All winners will be contacted via the email address they used to comment with to arrange delivery of their prizes

Discount Cannabis Seeds Code
Why not head on over to The Vault Cannabis Seeds Store and pick up some cannabis seeds now, whilst taking advantage of the discount codes Ministry15 for 15% of all Ministry of Cannabis Seeds and don't forget to check out our discount cannabis seeds page for all the latest cannabis seed offers, promos and competitions!
Newsletter Sign Up
Make sure you never miss another Vault promo – sign up for our newsletter at https://www.cannabis-seeds-store.co.uk/the-vault-newsletter
Legal Disclaimer: The competition winners will have their prizes sent to them via recorded delivery.  If you win the competition but don't receive your prize, we cannot resend competition prizes, so you'll have to raise this with your local delivery service (In the UK, for example, this would be Royal Mail).
Remember: It is illegal to germinate cannabis seeds in many countries including the UK.  It is our duty to inform you of this fact and to urge you to obey all of your local laws to the letter.  The Vault only ever sells or sends out seeds for souvenir, collection or novelty purposes.
About George Seeds
I manage a lot of the day to day activities @ The Vault Cannabis Seeds Store, especially marketing which I love and of course I write most of the blog content for The Vault as well as occasionally guest blogging for other companies in the industry. I am also passionate for the use of cannabis extract medicine to treat cancer and the reform of the current laws. However I do not recommend anyone to break the law, all we can do is work together and hope for reformation.