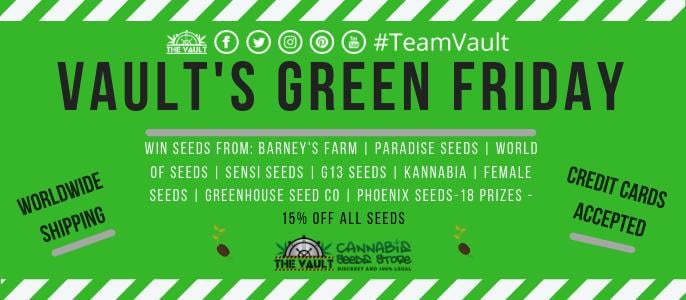 Who wants a drab, dull Black Friday, when you can make it colourful and change it to Green? Well, we do and that's why we are having a Green Friday Bonanza. We just 'googled' the colour green and the enlightining meaning is…
The color green has healing power and is understood to be the most restful and relaxing color for the human eye to view. Green can help enhance vision, stability and endurance. Green takes up more space in the spectrum visible to the human eye and it is the dominant color in the natural. It is a natural choice in interior design as an ideal background or backdrop because we as humans are so used to seeing it everywhere.
The color green is associated with renewal, growth, and hope!
Isn't that just apt! We love it.
So lets get down to business. This could be our biggest give away yet! There are 18 prizes up for grabs across 9 platforms with a total of 15 seeds to win per prize (according to our in house accountant that is a total of 270 beans that we will be giving away), not including a 15% discount on any orders which also come with upto 13 Freebies subject to your spend! And breath! Let's keep it nice and simple now…
What's Up For Grabs
Facebook – Barney's Farm – Phantom OG Feminised – x2 Prizes of x15 Seeds
Twitter – Female Seeds – Maroc – x2 Prizes of x15 Seeds
Instagram – GreenHouse Seed Co – Franco's Lemon Cheese x15 & Himalaya Gold x15
Like & Tag a Friend to Enter
GrassCity Forum – G13 Labs – Double Blacks – x2 Prizes of x15 Seeds
420 Magazine – Sensi Seeds – x15 Jack Herer & x15 Sensi Skunk
Roll It Up – World of Seeds – x10 Sugar Mango Ryder + x5 Wild Thailand Experience & x15 Wild Thailand Ryder
Overgrow – Paradise Seeds – Omar Sharif Afghani Landrace x2 Prizes of x 16 Seeds (in 2packs)
IC Mag – Kannabia – Mataro Blue x2 Prizes of x 15 Seeds
Autoflower Network – Phoenix Seeds – Good Shit Auto's – x2 Prizes of x 15 Seeds
More Juicy Info
All prizes will come with a Vault goodie bag and some awesome merch as provided by the above breeders.
This Promo will run until midnight of Thursday 29th November and winners will be announced on the afternoon of Friday 30th November UK Time.
November Green Friday Discount
For the rest of November you can use discount code 'GF15' to get yourself 15% off any seed purchase.
You can shop at The Vault for Cannabis Seeds here.
ENJOY Your Thanksgiving and Holiday Weekend everyone!
Legal Disclaimer: The competition winners will have their prizes sent to them via recorded delivery.  If you win the competition but don't receive your prize, we cannot resend competition prizes, so you'll have to raise this with your local delivery service (In the UK, for example, this would be Royal Mail).
Remember: It is illegal to germinate cannabis seeds in many countries and some remote, less enlightened planets outside the core systems.  It is our duty to inform you of this fact and to urge you to obey all of your local laws to the letter.  The Vault only ever sells or sends out seeds for souvenir, collection or novelty purposes.
Make sure you never miss another Vault promo and sign up for our newsletter at http://goo.gl/Bt2Ba2
#TeamVault