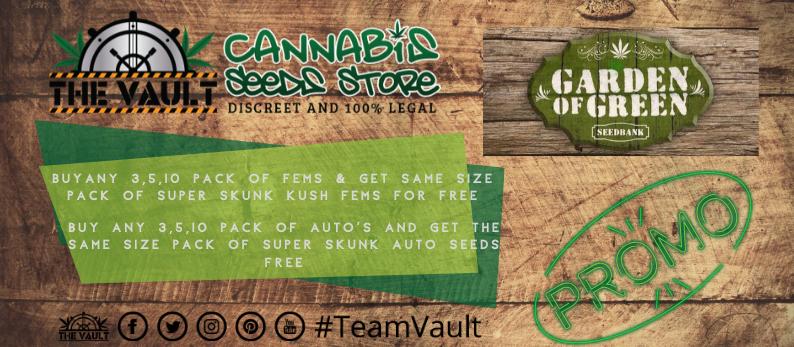 Garden of Green bring you an amazing promo NOW LIVE at The Vault Cannabis Seeds Store!
Essentially double your seeds when buying anything from the cannabis seeds breeder Garden of Green at The Vault!  Break it down for me George:
Buy any 3, 5 or 10 pack of fems from Garden of Green and get the same size pack of Super Skunk Kush Fem seeds free!
Buy any 3, 5 or 10 pack of Autos from Garden of Green and get the same size pack of Super Skunk Auto seeds free!
This is of course, on top of all the other offers currently live at The Vault Cannabis Seeds Store, check them out on our cannabis seeds offers page.
Garden of Green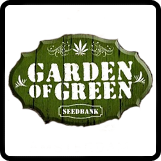 Garden of green is focused on bringing you medical Cannabis seeds of the highest quality. Their aim is to obtain and breed superior selections with the highest medical qualities of THC and CBD.
Garden of green offer top quality feminized Sativa and Indica strains as well as very popular feminised Autoflowering varieties.
Garden of green seeds are produced for Medical purposes, they strictly use only organic methods of farming. This includes both our fertilizers and insecticides. Garden of green strive for the best genetics and are extremely confident in their products which are available to you at very reasonable prices.
You too can have your very own Garden Of Green.
More About The Free Cannabis Seeds On Offer
Super Skunk Kush Feminised Seeds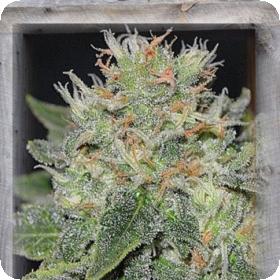 SUPER SKUNK KUSH is a cross between an elite Super Skunk clone with a selected pure Kush.
She is a vigorous, fairly compact plant that develops well with an ordered structure.
The exuberant branches become full of large buds. The resin has a profoundly sweet aroma with spicy Afghan hash back notes.
It'€™s effects are immediate with an initial euphoric high leading to a deep state of mental and physical relaxation. Suitable for a broad range of medicinal users due to its high Cannabinoid levels.
Super Skunk AUTO Feminised Seeds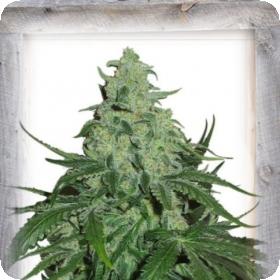 SUPER SKUNK AUTO is a strong robust strain that is ideal for beginners and also great for experienced cultivators.
This auto-flowering strain of SUPER SKUNK is fast flowering and potent.
She produces dense buds that are covered with resin.
You will not be disappointed by the aroma and flavor, which is rich and sweet with notes of lemon and hashish. The effect is cerebral and powerful.
Let us know your thoughts about Garden of Green and their strains in the comments section below.
Why not head on over to The Vault Cannabis Seeds Store now and pick up some Garden of Green Cannabis Seeds now, whilst taking advantage of the discount code GOG15 for a whopping 15% discount off your order of Garden of Green Cannabis Seeds.
Newsletter Sign Up
Make sure you never miss another Vault promo – sign up for our newsletter at http://goo.gl/Bt2Ba2
Remember: It is illegal to germinate cannabis seeds in many countries and some remote, less enlightened planets outside the core systems.  It is our duty to inform you of this fact and to urge you to obey all of your local laws to the letter.  The Vault only ever sells or sends out seeds for souvenir, collection or novelty purposes.