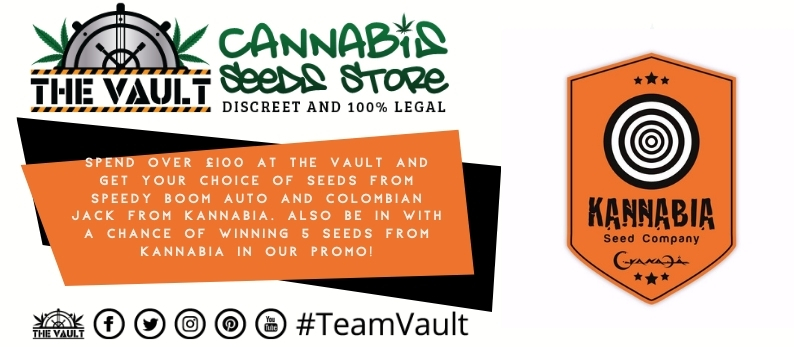 Another Big shout out to the Kannabia Seed Company as they have made another 2 amazing cannabis seed strains available for The Vault customers to try out, for FREE!
Simply order over £100 at The Vault and you will qualify for no less than 4 free seeds which will now include a choice of Speedy Boom Auto & Colombian Jack. This also includes the last few Ginger Punch and Silver Widow from last time so be quick if you want to pick these up.  This is of course on top of all the other cannabis seed offers live right now, visit our discount cannabis seeds page to view all the latest cannabis seed deals The Vault have for you.
Kannabia Seeds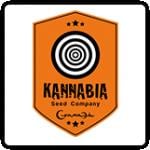 is a Spanish brand that was for many years at the forefront of Spanish seed banks and is still considered one of the best available brands in Spain.
They are extremely dedicated to their customers and provide an extensive catalogue of new and interesting seeds and strains that would fit even the pickiest pallet.
This brand has been growing for many years now and consists of extremely experienced breeders who have been growing and producing top quality products for a long time and don't plan on changing any time soon. In fact, if anything, they have greatly improved on account of their new and more stable breeding environment their seeds have only been getting better.
Kannabia Seeds have even won a couple of awards, for example at the Toronto 'Treating Yourself Expo' their strains won first and second place in the medical marijuana cup. With their many years of experience and the great amount of care that they have been shown to put into their strains this is hardly surprising and explains why it is that they are one of the leading Spanish brands.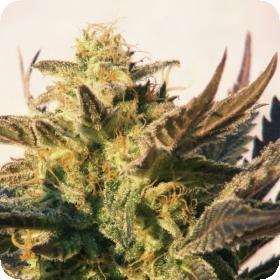 Speedy Boom (formerly Speedy G, Speedy Gonzales) is a true purebred auto strain, It's a very psychoactive strain that smokes with a hot intensity.
It thrives in all growing media and is guaranteed to perform at its potential indoors, although it is also very suitable for growing outdoors where it likes arid conditions.
It's about 75 cm tall. a little less indoors and a little taller outdoors. Plants will take 65-70 days from seed to be ready to chop.
The yields are approximately 400 gr / m2 indoors and up to 180 gr / plant outdoors under ideal conditions, It is a good idea to reduce the "daylight" hours towards the end of the flowering period in order to increase the density and hardness of the buds.
The effect is highly stimulating and euphoric and is recommended for depression-related illnesses.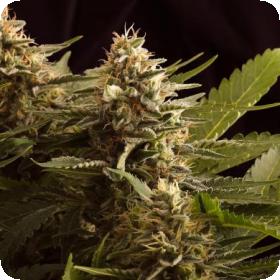 This wonder could well have come from the mind of Stan Lee or star in a new movie from the Marvel universe … cos it has all the qualities of a superheroine. "The result of an exhaustive selection and a careful preservation of genetics over time, at birth, Colombian Jack contained inside her the cosmic power of the Titanic Nebula and the explosive energy of the powerful Black Jack, her parents."
When she arrived on Earth she discovered her gifts: Superpowers of both aroma and effects; a delicious citrus flavour between lime and grapefruit with slight touches of incense; mental lightness with high creativity; remarkable homogeneity in the crop (thanks to the equal degree of dominance between her parents), giving rise to plants with large flowers full of dazzling trichomes and a huge production of resin that extends to more than half the surface of the floral leaves.
But the secret identity of our superheroine is in danger, because even whilst preserving a beautiful and discreet India, she can not hide her strong Sativa effect nor her high productivity, virtues that together with a normal flowering period and bestial THC levels, make her stand out on her own merits.
These prodigious genetics, among whose remote ancestors we also find elements of both Haze and Jack Herer, made her a champion before she was even on the market.
Win some Kannabia cannabis seeds for free:
We have 2 prizes to be won so there will be 2 winners – 5 Speedy Boom Auto or 5 Colombian Jack!  Winners will also receive a Vault Tee Shirt in a size of their choice!
Simply leave us a comment below of 'Kannabia' to be entered in the draw to win, let us know if you want to be entered to the draw to win the fems or the autos or don't mind which, maybe tell us about your experiences with the cannabis seed breeder Kannabia and or their strains.
The promo is live now and will close and be announced on Thursday 29th October.
WINNERS – JACK and The Cannabis Talk & Gary Dimmick – Well done – you will be emailed on how to claim your prizes.
Discount Code
Why not head on over to The Vault Cannabis Seeds Store and pick up some cannabis seeds now, whilst taking advantage of the discount codes Kannabia15 for 15% of all Kannabia Seeds and don't forget to check out our discount cannabis seeds page for all the latest cannabis seed offers, promos and competitions!
Newsletter Sign Up
Make sure you never miss another Vault promo – sign up for our newsletter at https://www.cannabis-seeds-store.co.uk/the-vault-newsletter
Legal Disclaimer: The competition winners will have their prizes sent to them via recorded delivery.  If you win the competition but don't receive your prize, we cannot resend competition prizes, so you'll have to raise this with your local delivery service (In the UK, for example, this would be Royal Mail).
Remember: It is illegal to germinate cannabis seeds in many countries including the UK.  It is our duty to inform you of this fact and to urge you to obey all of your local laws to the letter.  The Vault only ever sells or sends out seeds for souvenir, collection or novelty purposes.