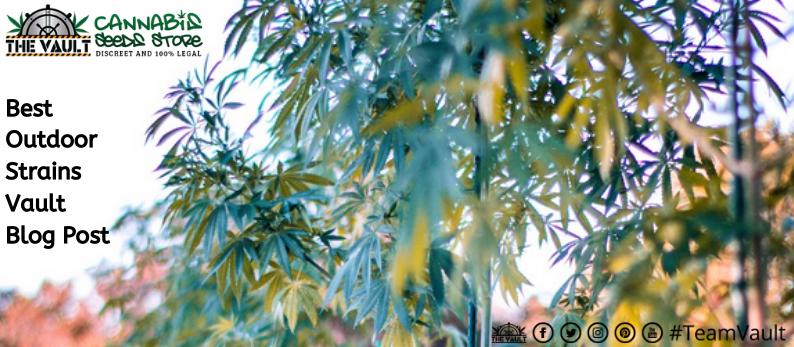 Best Outdoor Strains 
Growing cannabis outdoors isn't always the easiest undertaking, especially as it so heavily depends on climate. There are a number of different factors that have to be taken into account when cultivating an outdoor crop, one of them being the strain itself. Many strains will be better suited to the outdoors. This could be because of cold resistance, mould resistance or pest resistance as well as a number of other aspects. For those who have the luxury of a decent outdoor growing space the next step is finding the absolute perfect strain for the weather, space and the growing style.
White Widow is well known for being extremely high yielding as well as very resinous, hence the name. She responds especially well to being grown outdoors and will produce amazing flowers. Though she will grow well in an indoor setup, she really thrives out in the world. She can also survive a whole lot, her hardiness makes her ideal for all levels of outdoor grower. She needs a relatively cool and sunny climate and has a flowering time of 50 – 60 days. This is definitely considered to be one of the favourite outdoor strains on the market right now. She also gives a legendary high and a beautiful plant.
This is another great outdoor strain that doesn't require much effort or know how to give great results. Blue Dream definitely prefers a sunnier climate needing a good deal of light, warmth and long days. Basically, as long as she has plenty of sunlight she will be completely happy. Another strain that is perfect for all levels of growers, even beginners. The effect is dreamy and pleasant with a lovely soft blueberry scent. She will also produce amazing flowers if she is given high nutrient soil to play with. The blueberry attributes of this plant have been known to increase with outdoor growing. If she is well looked after there are no delicious heights this strain cannot reach.
This baby is extremely hard wearing and can take almost any kind of weather during the growing period. She doesn't need a lot of attention or special treatment, just a sunny harvest to make sure she gives the best results. She is a pure Sativa and will grow very tall when planted outdoors. The high is clear and crisp with a beautiful energy behind it that makes it great for daytime use. This one is perfect for getting creative or going on a hike, definitely a strain that likes being in nature. Durban Poison is also pretty speedy, maturing in as little as 10 weeks. It can also produce as much as 350g/plant when grown properly, yields that are nothing to be sneezed at. All over the world, this strain is considered to be one of the very best outdoor plants due to its durability and adaptability.
This strain is a fast flowering speed demon perfect for outdoor growing. This strain has a flowering time of just 42 days, or 6 weeks. This strain is still photoperiod rather than auto-flowering, she will still need a decent amount of light hours. The crop will be short, which makes it great for smaller outdoor spaces. This strain is also extremely strong and has a very high percentage of THC. This strain is considered perfect for beginners and will produce amazing yields of fantastic buds. Definitely a good strain for those who don't enjoy long summers.
This little lady is not only high quality and is ideal for growers who aren't lucky enough to live in a perfect growing climate. This strain is the best at tolerating cold climates and less favourable outdoor conditions. Despite being so tough Super Skunk still produces incredible yields of potent buds. This strain has a decent balance of THC and CBD, making it a good pain relief strain without it being aggressively psychoactive. The stature is short and bushy which makes it perfect for those who are a bit strapped for space. Flavour and scent wise this is just full classic skunk with that classy earthy, musky scent. Super Skunk is ideal for anyone suffering from anxiety, pain and insomnia.
The most interesting thing about this particular strain is its colouration and appearance towards the end of flowering. Most outdoor strains will turn a purple colour due to the temperatures outdoors. Passion #1 somehow manages to stay green, even in chillier climates. The effect is extremely euphoric, perfect for anyone struggling with anxiety or depression. Like some of the other top outdoor strains, Passion #1 has a very short flowering time so can be harvested before the weather turns. The aroma is fresh and lemony, which beautifully supports the pleasant, happy high.
For the growers who are new to outdoor growing, it can be a good idea to try out one of the many outdoor mixes available. Going with a mix instead of a specific strain can help new growers figure out which strain is perfect for them. It also means they don't have to break the bank on a bunch of different seeds to find out. The mixes available from The Vault are specially put together from the best outdoor strains in their inventory. Each selection details which seeds are included which makes it easy for growers to figure out what they are doing. Plus, pretty sure they say variety is the spice of life. These mixes come in a variety of forms from regular to feminised and auto-flowering so there should be something to suit every kind of grower.
Outdoor growing can be extremely rewarding, both as an experience and in material reward. Some of the most beautiful and bountiful strains grow extremely well outdoors and will produce incredible yields of heavily resinous buds. It is always wise to have a good research as well as considering the outdoor space available before selecting the strain or strains to grow.
The Vault Cannabis Seed Store
Why not head on over to The Vault Cannabis Seeds Store and pick up some cannabis seeds now, whilst taking advantage of the discount codes VAULT15 for 15% of your order total and don't forget to check out our discount cannabis seeds page for all the latest offers, promos and competitions!

Make sure you never miss another Vault promo and sign up for our newsletter at https://www.cannabis-seeds-store.co.uk/the-vault-newsletter
Remember: It is illegal to germinate cannabis seeds in many countries including the UK.  It is our duty to inform you of this fact and to urge you to obey all of your local laws to the letter.  The Vault only ever sells or sends out seeds for souvenir, collection or novelty purposes.