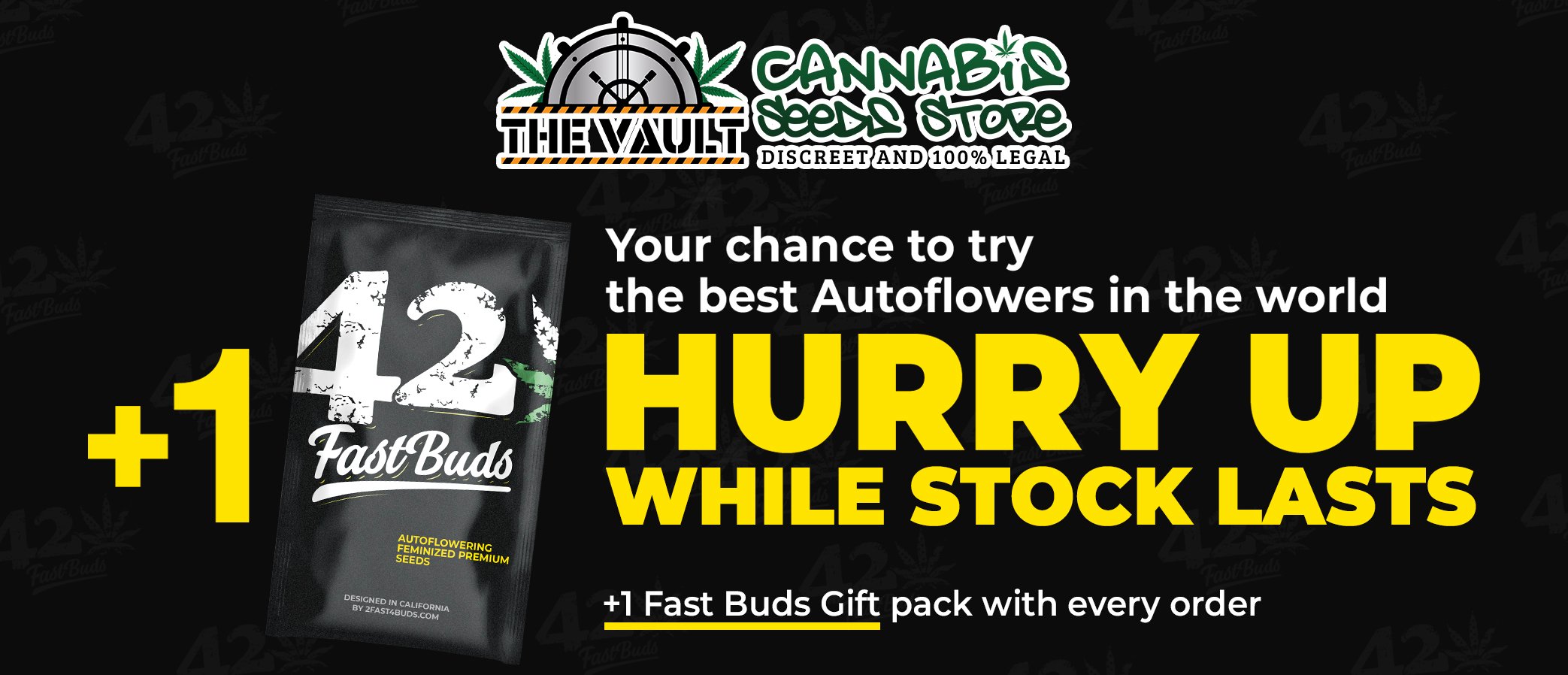 The kings of auto-flowering seeds, Fast Buds, are feeling generous!
You can get a random FREE auto-flowering seed by Fast Buds with every order you place at The Vault, on top of all the other promos and freebies available.
Do you want to know more about the strains you can get? Get all the info below!
About Fast Buds
If you're not sold on autoflowering genetics yet, Fast Buds is the place to buy your first batch of auto-feminised seeds.
Fast Buds was started in 2010 and has since solely specialized on feminised autos. The Autoflowering Seed Company has been working hard for over a decade to bring amateur growers the newest and best American cannabis developments in autoflowering seed form.
The company serves as a link between the expanding US West Coast cannabis market, and a hidden but flourishing European cannabis community. Fast Buds auto fem seeds firm have been in high demand since 2014. A great success achieved by this Barcelona-based seed company.
Many thanks to Fast Buds and other committed breeders for bringing newer autoflowers to the attention of the general public.
As autos gained popularity among growers, they began to dominate international events and fairs. Fast Buds has entered its autoflowering strains in over 20 competitions since 2016. The most prestigious was arguably 1st place at the Autoflower Cup 2019 in Oregon, USA.
Fast Buds now offers over 50 autoflowering strains, some of which are market leaders. Let's look at the top five.
Fast Buds' most popular strain to date. These seeds are in high demand because they can bloom flowers with a THC content of 27 percent.
These seeds are in high demand because they can bloom flowers with a THC content of 27 percent. Despite its potency, the high is nicely balanced between mental and bodily energy, keeping you focused and motivated all day.
Rich and subtle, with earth and kush in the front, but also citrusy notes and a hint of menthol. And it's not just about its flavor but also the appealing appearance, with dark and bright tones of green covered in trichomes.
Growing Tip: Try Gorilla Cookies' remarkable pest and mold resistance by growing her out in your garden.
One of Fast Buds' sturdiest plants. Ready to resist Mother Nature's harshness. You can only expect tall, high-yielding plants from this hefty champion. Her golf-sized buds contain 24% THC, very powerful flowers in comparison with other purple genetics. It also mixes the flavour of cherries, blueberry muffins, and soil.
Purple Punch's deep euphoric body high contains just enough Sativa to keep you awake and functioning for a while.
Growing Tip: Purple Punch is a heavy feeder, so don't be scared to overfeed her. Just remember to flush her well before harvest.
This new Fast Buds cannabis strain is as tasty as her name suggests. It does smell like fresh strawberries and ripe bananas. But don't this fruity craziness fool you: with 27% THC, the buzz may be severe, at least for newbies. Connoisseurs can enjoy Strawberry Banana's invigorating effect while doing housework or even partying with friends.
This is also the most rewarding cultivar. Huge, hard-as-candy buds. Their delicate green colour is enhanced by frost, making your mouth swim.
Growing Tip: Because Strawberry Banana Auto is a tall species, allow plenty of headroom indoors. A smaller container can also control its growth.
This autoflower not only delivers scale-busting yields but also does it in record time. She doesn't waste any time. It grows layering flowers atop flowers until all limbs are covered in chunky sticky buds by harvest.
Wedding Cheesecake's terpene profile is dominated by pastry and cream scents. With 24% THC, this exquisite delight delivers a spectacular high tempered by Indica influence to calm and bring you pure bliss.
Growing Tip: Tie down Wedding Cheesecake's main cola to balance out the canopy and increase harvests.
Forbidden Runtz is another strong sugar-coated treat by Fast Buds. Even expert smokers will find her nasty at 26% THC. Expect a silky stone with sativa giggles.
The massive buds and big multicoloured calyxes of Forbidden Runtz are covered with trichomes and smell strongly earthy, with sweet fruit at the end. Its smoking flavour is powerful and excellent.
Growing Tip: Use a ScrOG net to take advantage of Runtz's inherent bushiness.
All Fast Buds Autos Are Winners
All the five top-sellers mentioned above are well-liked. They're autoflowering variants of today's hottest genetics. But Fast Buds' other strains, especially the Originals, are superb in their own right.
They also have great fragrances and flavours, are high in THC, and can be cultivated both indoors or outdoors by any grower. So, if by any chance none of the five strains make you tingle, try any of the other fifty in Fast Buds' collection. You won't be disappointed.
Newsletter Sign Up
Make sure you never miss another Vault promo – sign up for our newsletter at https://www.cannabis-seeds-store.co.uk/the-vault-newsletter
Remember: It is illegal to germinate cannabis seeds in many countries including the UK.  It is our duty to inform you of this fact and to urge you to obey all of your local laws to the letter.  The Vault only ever sells or sends out seeds for souvenir, collection or novelty purposes.