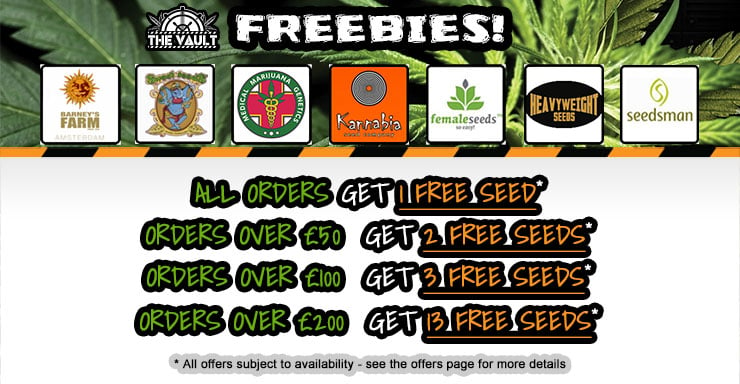 Here at The Vault, we give away so many freebies, sometimes we get scared in case you get the freebie jeebies. We hope not! As it's ever changing, we thought now would be a good time to remind you of the Freebies on offer and how you can qualify. To whet your appetite too, we are throwing in a very generous 15% discount on any order the next 15 days. The code for this is near the end of the post.
So, lets cover all of the goodness!
Free Seed on All Orders.
With every order we fulfil, you will get the choice of a seed from Barney's Farm. Barney's are well known in the Cannabis Seed World and you will be spoiled for choice by the selection! You can browse their full range of Barney's Farm Seeds here.
Orders of £50 and Above.
Spend over £50 and that opens the door to more seeds from more of the worlds top breeders. Right now you can choose a seed from Sweet Seeds, Medical Marijuana Genetics and Seedsman. We cater to all tastes.
Orders of £100 and Above.
Not only do you get another free seed for spending over £100 but your postage and packaging is also free at this level. For spending this amount you can choose a seed from either Kannabia, Female Seeds and Heavyweight. So, for those that are good at math, you now have 3 free seeds in your hip pocket! Now, do you want 13 free seeds? Read on.
Orders of £200 and Above.
Hey there big spender! So you've spent £200. For those types of bucks you want to get yourself not 1 extra free seed – but 10. Yes TEN. The lovely people at Female Seeds offer up 10 packs! So, you now have a total of 13 free seeds and we are going to send you that for FREE.
More Free Seeds
Also, remember that we have breeder specific promo's too. For example, if you buy from select breeders some throw in their own Freebies.
Discount.
As mentioned above, we promised a 15% discount. Use code Freebie15 to use on any seed in the Vault store.
Keep In Contact.
Never miss another dealio by signing up to our email newsletter! > http://goo.gl/Bt2Ba2
More Info
All free seed offers are subject to availability and if we happen to run out of any free seed we will substitute your choice for a similar strain with a similar price range. We have various free seeds at various levels of spend.
Remember: It is illegal to germinate cannabis seeds in many countries; therefore, it is our duty to urge you to obey all of your local laws.  The Vault only ever sells or sends out seeds for souvenir, novelty or collection purposes.
#TeamVault