At The Vault we are constantly striving to be the Worlds Best Seed Bank!  We listen to our customers feedback and we keep our finger on the pulse in the cannabis industry to make sure that we are not only keeping pace but leading the way!
Do you agree? If so, could you please cast your vote for us? Just click on the link below to cast your vote.
Click here to Vote for The Vault!  You can vote once per hour! Lets get The Vault to #1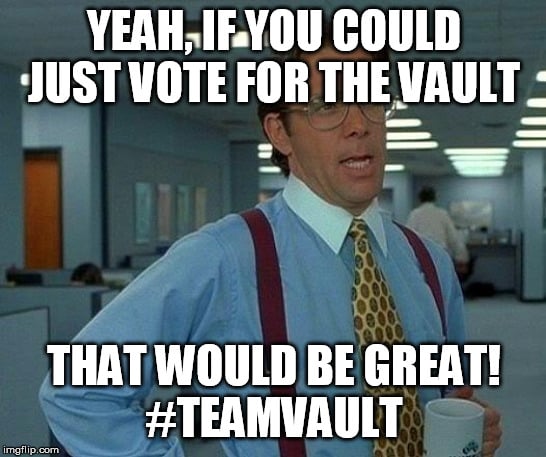 We came across this site when doing some Google searches so we don't even know if its being updated in real time or will be updated at the end of the month etc. so I guess we just go ahead and cast our votes and see what happens!
Please do leave us a comment below to tell us what we are doing right and if we didn't get a vote from you then equally, please do leave us a comment below telling us why so we can work on improving for you!
Win a Vault Goodie Bag
To thank you for your time we will choose 1 winner at random from all comments on the blog post who will receive a Vault goodie bag filled with cannabis seeds, branded papers, stickers, and more!  Of course there will also be the obligatory Vault T Shirt too for the lucky winner!
The winner will be selected at random on Oct the 29th.  We will contact the winner via the email address used to post a comment with.  We will not publish the winners details or email address of course so it would be really appreciated if you win that you come back and post here and / or post to our social pages or on any of the cannabis forums.
Won by guizzy.  Congrats buddy, I have emailed you via the email address you used to post with to arrange delivery of your prizes!
P.S I haven't seen that site update yet and I know the #TEAMVAULT squad were voting alot so that's a shame but hey, we all know The Vault is the #1 seedbank in the world anyways!
Looking to order some Cannabis Seeds?  Why not head on over to The Vault Cannabis Seeds Store now and use discount code VAULT15 for a 15% discount on your order of Marijuana Seeds.
Review The Vault Cannabis Seeds Store
If you would like to leave a review for The Vault that would very much be appreciated as well.  You can leave us a review at any or all of the following:
Do you have or know of any other review type sites that The Vault Cannabis Seeds Store are not yet listed on?  Let me know in the comments and Ill see if I can get us submitted
GO #TEAMVAULT
Newsletter Sign Up
Make sure you never miss another Vault promo – sign up for our newsletter at http://goo.gl/Bt2Ba2
Remember: It is illegal to germinate cannabis seeds in many countries and some remote, less enlightened planets outside the core systems.  It is our duty to inform you of this fact and to urge you to obey all of your local laws to the letter.  The Vault only ever sells or sends out seeds for souvenir, collection or novelty purposes.