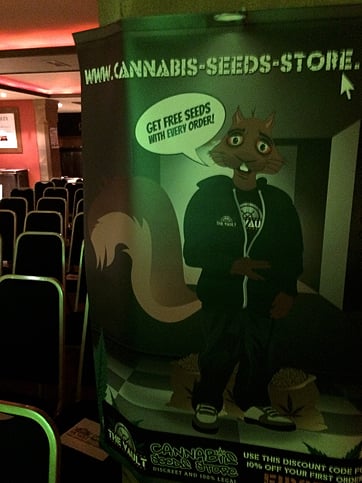 Recently, The Vault had the pleasure of teaming up with our buds at the Glasgow Cannabis Social Club to help organise a truly awesome event which granted us the privilege of being able to meet two incredibly influential, respected cannabis reform activists (and all-round lovely people) that need no introduction: Marc (The 'Prince of Pot') and Jodie Emery, who generously volunteered their time to speak at the event.
We wanted to share our experiences of how the night went with you guys, so we made sure to take plenty of photos that we'll post here: But before going any further, we wanted to throw out a big thank you to Marc, Jodie and everyone who made this a night to remember… From Jack and the whole team at The Vault: You all made the night super-special and we can't wait to have another gathering in the future!
Preparing for the event
On the big day, the atmosphere was electric, as we arrived at the venue to set-up for a truly memorable, enlightening evening full of good company and great conversation: We were super-stoked at getting the chance to meet Marc and Jodie and listen to an eye-opening talk from our special guests – and we were especially thrilled to make new friends within the local community and let even more people know all about The Vault and what we stand for.
A full house – and plenty of great banter!
We were expecting a huge turnout, especially given that such prominent, highly-respected figures would be up speaking, but it truly was an awesome sight to behold when the venue started to fill up before our eyes – and we were super-excited when our esteemed guests arrived…
A 90-minute talk from The Prince of Pot, Marc Emery
Not only did Marc and Jodie Emery arrive to mingle and make friends with our local cannabis-culture community, but we were treated to a fascinating 90-minute talk from Marc, complete with a Q & A session: Marc is a very eloquent, gifted speaker and an incredibly intelligent guy, so needless to say, we all took something away that evening: Remember, Marc, a Canadian national and respected public figure, has only just recently completed a lengthy prison sentence, after facing extradition to the USA, where he was incarcerated for upholding his principles – but this hasn't stopped Marc and Jodie from fighting harder than ever to push for cannabis law reforms worldwide: These guys are real heroes to us – and to many like-minded individuals across the planet.
Meeting the couple
Marc and Jodie are such great guys – and we genuinely had a lot of fun getting our photos taken together! As the night progressed, The Vault presented some cool prizes to a number of lucky raffle winners, after which, Marc told me how impressed he was with The Vault: For a fan like me to get a thumbs-up from the world-famous Prince of Pot himself, I must confess that it put a big smile on my face!
As the night drew to a close, Marc and Jodie were kind enough to sign some autographs for us, with some thought-provoking messages, as always!
We've posted up even more photos on Facebook – as well as at Grasscity forums, so be sure to check those out before you sign out for the night: Peace!