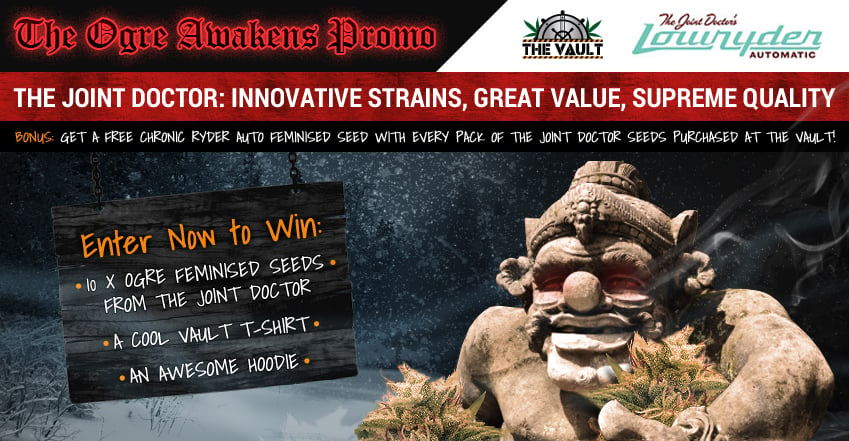 BREAKING NEWS: Ogre spotted, magic beans recovered
There has been an awakening deep within the primeval forests of Mellow-Stoned National Park.
A mystical being known for its immense power and giant stature has been spotted by hikers, dog-walkers and park rangers alike, leaving everyone that comes in contact with it feeling uplifted, red-eyed and with a really bad case of the munchies.
It is clear that this apparition was no common or garden Sasquatch passing through, or some hoaxer in a Halloween costume: In fact, all of the evidence points toward it being none other than the legendary Ogre spoken of in ancient folklore.
Our trackers followed the elusive beast's funky, skunky scent to its makeshift lair: But save for a few broken twigs, some cracked picnic baskets and an empty jar of Nutella, the only remarkable item left behind was a stash of magic beans, which, upon closer inspection, appeared to be none other than the amazing Ogre strain by the maestros at The Joint Doctor;
One thing's for sure: Whoever this Ogre chap is, he has some impeccable taste!
Enter now for a chance to win some awesome prizes
In honour of our amazing discovery, we hooked up with our buddies at The Joint Doctor to bring you this superb promo which could see you get your hands on the following earth-shattering prize haul:
10 x Ogre feminised seeds by The Joint Doctor
A great The Vault t-shirt
A superb Joint Doctor hoodie
How to enter
To be in this competition with a chance of winning, just visit the FB post HERE – The competition will run from Tuesday 3rd of March 2015 until Monday the 16th of March 2015, so move fast and make your entry count!
The lucky winner will be announced on Tuesday the 17th March 2015: So good luck, have fun and remember to tell all of your buddies about this great promo so that they don't miss out!
About the Ogre seed-strain
The genetic wizards at The Joint Doctor have distilled their extensive knowledge and expertise into crafting the uncompromising Ogre. This Sativa-dominant giant of a strain combines Secret Citrus and Durban Skunk genetics into an auto-flowering package which hits hard and hits fast.
Thanks to its accelerated growth pattern and wide structure, as well as its incredible yield potential, Ogre has become a favourite for collectors who like their seeds to pack a lot of punch and hit the ground running.
Known for its pungent skunk aroma with fragrant citrus undertones, this is a delicious strain which produces uplifting, euphoric effects and a sublimely chilled-out deep body stone.
Bonus!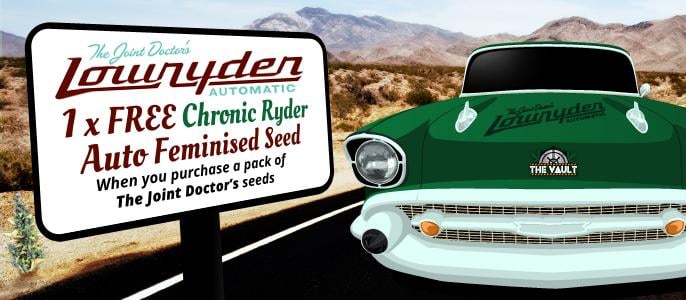 The Vault carries a huge selection of iconic seed strains from The Joint Doctor, including: Ogre, Lowryder #2, Diesel Ryder and many more: And we have some great news for you: Any time you decide to buy a pack of seeds from this top-quality brand at The Vault, you'll get a Chronic Ryder seed thrown in for free: Boo-ya!
UPDATE: 17/03/15 winner has been annouced at https://www.facebook.com/thevaultseedsstore/posts/352365524966156:0
Legal Disclaimer
The competition winner will have their prize sent to them via recorded delivery. If you win the competition but don't receive your prize, we cannot resend competition seeds, so you'll have to raise this with your local delivery service (In the UK, for example, this would be Royal Mail).