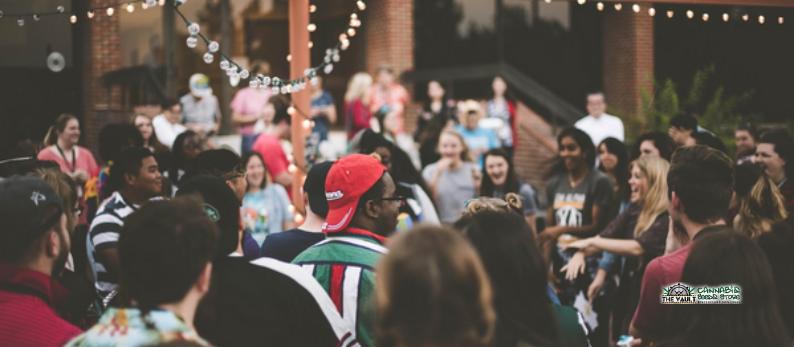 Several parts of the world are now getting closer to reopening the doors of pubs and clubs. The concept of the night out is once again on the table, and I'm sure many of us are extremely excited about it. Even those of us who would usually consider ourselves introverted may be getting tingly at the concept of being able to exist in the company of other humans. However, since it has been quite a while since partying was legal we may need a bit of help getting back into the spirit of the thing. This is where these fantastic night out strains come in. These are the best strains for increasing energy, calming nerves, or just improving overall mood so that we can indulge in our first foray back into nightlife.
This is a classic strain that is powerful and relaxing but still uplifting and happy. She is often used in social situations due to her ability to increase conversation flow. This is perfect for anyone who hasn't spoken to another human being in person for several months. She was created by combining White Widow and OG Kush, meaning her genetics are pretty much second to none. She is a great strain for hash and concentrates which also makes her perfect for odourless vaporisers. The THC content is a whopping 23%, so she is not for use by the faint of heart, especially not in public. In the wrong hands, this strain may not be great for a night out, but for those who are experts at this sort of thing, it is a fantastic option. White Russian OG has a flowering time of 55 – 65 days and can be grown indoors, outdoors or in a greenhouse.
Hawaiian Snow has won a few awards in its day and is well known for its uplifting and chatty high. This lady has a THC level of 23% as well but doesn't have the same potentially soporific effect as the previous strain. Hawaiian Snow is also often used as an effective relief for chronic pain and depression. She has also won 1st prize at the HTCC 2003, 3rd prize at Highlife 2006, 2nd prize at the Champions Cup 2007. Hawaiian Snow owes her fantastic genetics to her parent plants, Hawaiian Sativa and Laos. She produces extremely impressive yields of resin-coated buds that are both dense and deliciously fragrant. The body stone on this strain can be pretty intense, so those with a lower tolerance should watch out for that. This strain has a flowering time of 12 weeks and will grow well indoors, outdoors or in a greenhouse.
This is a perfect strain for anyone who is slightly terrified by the idea of re-entering the world of socialising. After being stuck inside for months and only seeing other humans over Zoom or in the supermarket, the idea of real socialising can be a bit scary. This strain is extremely relaxing which is perfect for anyone with social anxiety. It is often used as an active day time strain for those suffering from anxiety, stress and pain. It doesn't cloud the mind too much but will just chill it enough to let it enjoy a bar full of people. The THC level usually sits between 19 – 23% so again it can be a little on the powerful side and needs to be treated with respect. This strain was created by combining Emerald Headband and Blueberry, so it has all of that amazing effect from the Headband parent with the amazing scent of the Blueberry. This strain has a flowering time of 63 – 68 day and can be grown indoors, outdoors or in a greenhouse.
This strain is considered the ultimate night out smoke. It is energetic, uplifting and super chatty with a deliciously euphoric cerebral hit. Durban Poison suits pretty much everyone as it just puts the brain into the perfect night out mood. She is also 100% purebred from a South African Sativa strain. No matter if the plan is to just sit and have a few in a beer garden or going out for a dance till 3 am this is a perfect strain. This is also a fantastic festival strain when those get going again. She lasts for hours and keeps the mood high and happy. Her flavour is spicy and with hints of cloves and liquorice with an equally enchanting scent. Durban Poison is easy to grow and has a flowering time of 8 – 9 weeks. She grows well indoors, outdoors or in a greenhouse.
Amnesia Haze is one we should all have heard of before. She is extremely popular due to her high levels of THC and amazing high. This strain is another that provides an uplifting, euphoric and cerebral effect. She was created by combining Amnesia, Haze and Super Skunk so it isn't short on fantastic genetic material. When it comes to medicinal uses this strain is often prescribed to those who are suffering from severe depression. This means it is perfect for those who want to go out but just can't muster the energy or are finding the idea mentally difficult. It is also great as a little boost to those who are extremely excited to go out. Amnesia Haze is perfect for growing indoors, outdoors or in a greenhouse with a flowering time of just 77 days.
This final strain is a deliciously fruity and sweet Sativa dominant smoke that comfortably and softly lifts the brain. This is the perfect strain for those who tend to get anxious with other uplifting strains. She is used to treat anxiety, depression and stress so will just hold the brain in a safe but uplifting high that is great for relaxing in a bar with a few friends. This strain is especially good for summer use due to its flavour and scent of fresh strawberry. Her THC is only 10 – 15% so this is the strain for those who know they have a lower tolerance and want to make sure they don't overdo it. This strain has a flowering time of 9 weeks and can be grown indoors, outdoors or in a greenhouse.
Remember: It is illegal to germinate cannabis seeds in many countries including the UK.  It is our duty to inform you of this fact and to urge you to obey all of your local laws to the letter.  The Vault only ever sells or sends out seeds for souvenir, collection or novelty purposes.
Make sure you never miss another Vault promo and sign up for our newsletter at http://goo.gl/Bt2Ba2
*Image via Unsplash