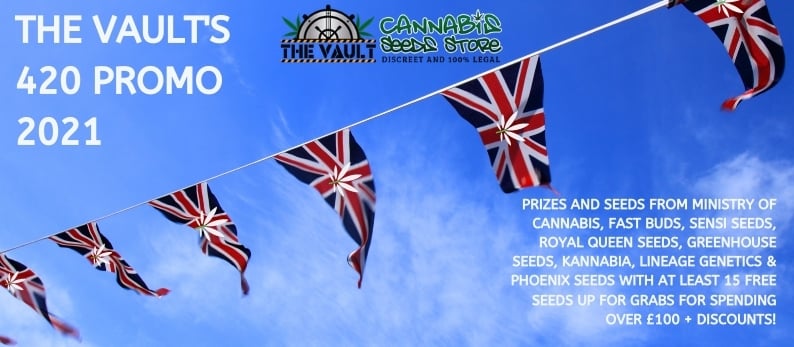 What a crazy time we've had in the past year folks. Covid and Brexit came together like a bull in the proverbial China Shop and turned our World's upside down and inside out. Whilst Brexit officially takes us out of the UK we want to assure you that we are all a big one world family here at The Vault and continue to treat everyone the same as ever by making sure our parcels get to you wherever you are in the world.
We want to clarify to you that we are still sending seeds to the UK from our UK and Spanish distribution centres. The Vault continues to go from strength to strength and we want you to see us as your number one supplier to the UK and the rest of the World too.
This year we will have daily activity around 420 starting with this blog post. Every day from today we will be launching something new up and until the day after 420. This is just for starters so let's see what the juicy details are this year.
We are going to have: spend £50 / £75 / £100 get x free from breeders such as Royal Queen Seeds, Ministry of Cannabis, Sensi Seeds, Fast Buds, and some others will be added as the days unfold to 420.
Seed competitions where you will be able to win seeds from Kannabia, Lineage Genetics and Phoenix Seeds.
Discounts & Offers on Top of Offers.
Let's detail what we have live now and what to expect in the coming days.
DIscount Code
First things first – treat yourself to a 15% Discount on The Vault Cannabis Seed Store Web Shop.
To get the discount use code – 42015
THESE OFFERS EXPIRED AT MIDNIGHT 20/04/2021
—
The Offers
Spend £50 to get an extra Royal Queen Seed of either:
Northern Light Auto
or
NL Feminised Seed
*This is as well as the free seed you get for spending £0.00 at The Vault + another free seed for spending £50 so you will have 3 free seeds for spending £50.
Spend £75
The above & add the following free seed
Ministry of Cannabis Auto Pilot XXL or
Ministry of Cannabis Big Bud XXL Fem or
Sensi Seeds Cobalt Haze or
Fast Buds Wedding Cheesecake Auto Fem
*Phoenix Seeds will be offered should any of these seeds run out
**Freebie seed total at this stage is 4
Spend £100 and get…
The above & the following free seed choices:
Phoenix Seeds Super Kush Feminised Seeds x10 pack
or
Fast Buds West Coast OG Auto Fem x 10 pack
Fast Buds Stardawg Auro Fem x 10 pack
Fast Buds Gorilla Glue Auto Fem x 10 pack
*On top of this you will get one extra Phoenix Seed for spending £100 at The Vault taking the total to 15
** We will be adding some Greenhouse Seeds to the above single seeds before 420 too!
*** Total amount of seeds not including our on purchase promo's that you will walk away with for spending over £100 is 14
**** These freebies or alternatives will be on offer until midnight on 20/04/2021
—
Prizes
We are doing things a little differently at The Vault this year. We will run one prize give away on this post and have 2 separate giveaways on other posts on Monday and Tuesday of 420. You will be able to win 200 Seeds from Lineage Genetics and 100 Seeds from Kannabia. Links will be added to the blog post to take part when they launch.
———————————————————————————————————————————–
In the meantime, you have 10 chances to win one of 10 packs of Phoenix Seeds and you can choose your strain if you like.
———————————————————————————————————————————–
How to Enter
Simply head to our Phoenix Seeds Range to find the name of the strain you fancy or if you want to enter quickly just write 'surprise me' in the comments on this blog post.
TERMS
Winners Announced Tuesday 4th May (free seed promo closes 21/4)
Prizes are picked at random – each winner will be allocated 10 seeds from the above prizes you have picked or we choose as a surprise
Social Media or Forums Entries Don't Count
One entry per person. Double entries will not be counted
Entries are verified first so your entry may not show up for 24-48 hours
We will share the news on our social media pages. Winners will also be emailed directly and your details will remain discreet. We will only publish your name on the blog that is supplied with the entry
Prizes must be claimed within 28 days or they will be put into the pot for a future promo
The draw will be random and the results are final
All freebie seeds subject to availability and will be swapped with another seed until midnight on 20/04/2021 if we run out of a particular strain
Have fun
GOOD LUCK!
Newsletter Sign Up
Make sure you never miss another Vault promo – sign up for our newsletter at https://www.cannabis-seeds-store.co.uk/the-vault-newsletter
Remember: It is illegal to germinate cannabis seeds in many countries including the UK.  It is our duty to inform you of this fact and to urge you to obey all of your local laws to the letter.  The Vault only ever sells or sends out seeds for souvenir, collection or novelty purposes.
Legal Disclaimer: The competition winners will have their prizes sent to them via recorded delivery.  If you win the competition but don't receive your prize, we cannot resend competition prizes, so you'll have to raise this with your local delivery service (In the UK, for example, this would be Royal Mail).
WINNERS ANNOUNCED 4/5/2021 (YOU WILL BE INFORMED ON EMAIL WITHIN 24 HOURS OR LESS)
Nathan Gregory – Surprise Seeds
Chris Munton – Surprise Seeds
Rene Doiron – Surprise Seeds
martin nicholls – Surprise Seeds
rabbit – Surprise Seeds
Cactus Jock – CBD Critical Mass
Thomas macgregor – Good S Fems
GhostRider – Big Yield Auto
William Foley – White Widow
Kooshimasters – Good S Fems
Huge thanks to all who took part – for more offers head to here > https://www.cannabis-seeds-store.co.uk/discount-cannabis-seeds
#TeamVault