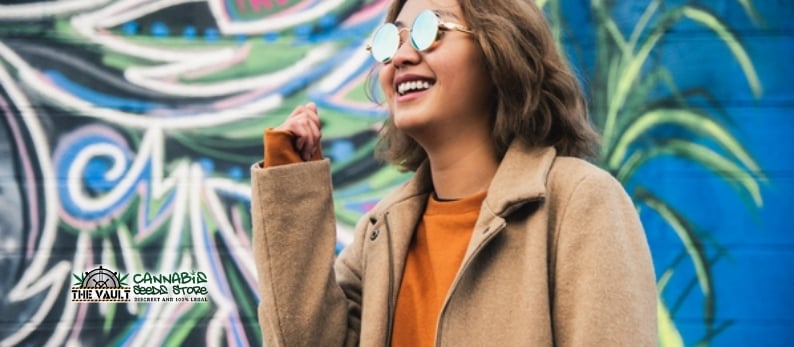 One thing that many have noticed about cannabis over the last decade is that the names are getting very inventive. As breeders play with genetic combinations the names become more and more outlandish. Sure there are still a lot of classics floating around, but there are plenty of hilarious strain names that you may not have heard of. Many of these strains are fantastic as well as being extremely fun to say.
Coming out of the gate with a really immature but also very funny strain name. Cheesy Dick was created by combining Moby Dick and Big Buddha Cheese. Despite the very silly name, this is actually a fantastic strain that is perfect for all sorts of growers and smokers. Hilariously the plant itself is extremely phallic, which may have led to the name of the plant or could merely be a coincidence. It has a high THC level and an uplifting effect that is just as fun and playful as the name would suggest. The scent is, however, much nicer than the name would suggest. It is a combination of musk earth and spice that is mouthwatering. Cheesy Dick's effect is happy but heavy, being Indica dominant. It does have a habit of inducing a touch of couch lock and is usually better for evening use. This strain has a flowering time of 8 – 10 weeks and can be grown indoors or outdoors.
So I mostly just enjoy saying this one, she rolls off the tongue. She is a powerful and mysterious Indica with an intense effect. It has a heavy couch-lock stone with an uplifting and euphoric high that is fantastic for watching a good film or just chilling with friends. Her THC level sits at around 23% so she is not a strain to be trifled with. The high is not only powerful but it is super lasting. You likely won't need to top up for hours after the first joint. She also has an intense lemon flavour that rolls around the tongue as the brain rolls around in pure euphoria. She has a flowering time of 65 days and can be grown indoors or outdoors.
This strain by Mephisto Genetics is of course a reference to the popular cartoon South Park. She was created by combining Gorilla Glue #4 and Grape Crinkle. Again this is just a fun name to say in the buying and selling process as well as being a pop culture reference. She is a combination of Indica and Sativa giving her an extremely euphoric and chill effect. She doesn't produce the biggest yields but she more than makes up for that in the quality of the buds. She has an extremely earthy yet sour smell and a fruity tropical flavour. 4 Assed Monkey is perfect for smaller growing environments as she doesn't need a lot of space to spread. Her flowering time is 60 – 65 days and she will grow best indoors.
This is more of a fun sexy pun than being outrageously funny, but I like it. The effect of this strain is extremely stimulating, a perfect accompaniment to an evening with a loved one. CannaSutra enhances sensitivity and increases energy with a sensual relaxation behind it. The high is also focused and clear headed so no chance of accidentally just falling asleep together on the couch. She it a vigorous plant that gives an impressive yield and has a fantastic scent. She is a cross between Reclining Buddha and Sensi Star. This strain is actually great for bronchial dilation so is perfect for anyone with asthma or for relieving congestion. CannaSutra has a flowering time of around 65 – 70 days and can be grown indoors or outdoors.
Just a fun movie pun, this strain has great genetics and a pretty weird name. This strain is best known for its fantastic scent which is a mix of sweet fruit, earth and chemicals with a hint of pine. She is a combination of relaxing and invigorating while strangely being perfect for those who are struggling with sleep. Her high is also clear and bright making her perfect for meditation and reducing stress. Chemdog Millionaire was created by combining Chemdawg and Delhi Friend. The THC level usually sits between 20 and 22% so she definitely packs a bit of a punch. She is a very versaile strain that can grow well indoors, outdoors or in a greenhouse. Usually plants will reach around 160 – 200 cm in height and will take 8 – 9 weeks to flower.
I just love how over the top and intense this name is. She is a cross between Girls Scout Cookies and and OG Kush. She has a hard core THC level of 23% which is partly how she got her name. She has an extremely strong, cerebral and physical effect that lasts hours and will knock your brain a bit sideways. She is Sativa dominant so definitely still has that uplifting weird and energetic high behind the muscle melting power. The knock out is basically instantaneous so if you're smoking make sure you have everything you'll need for a while in your immediate vicinity. The flavour is sweet and fruity with earthy notes. Zombie Death Fuck is versatile and can easily be grown indoors, outdoors or in a greenhouse. She will provide medium to high yields and has a flowering time of 65 – 75 days.
Let's end on a pun, because who doesn't love wordplay. The THC levels are between 15 – 20% so the strain is definitely holding up the dank end of the title. She is a Sativa dominant strain with a powerful high that is uplifting but intense. She was created by combining Big Buds 93, KC 636 and Viking 90. She is not only heavy yielding but resistant to mould, pests and disease. This makes her a great strain for humid environments and for beginner growers. When she grows outside she really spreads her wings and can reach 4 meters in height. However, when she is grown inside she keeps things a little more chill. She will usually only get up to 150cm in a reduced space. This strain has a flowering time of 9 – 12 weeks.
Newsletter Sign Up
Make sure you never miss another Vault promo – sign up for our newsletter at https://www.cannabis-seeds-store.co.uk/the-vault-newsletter
Remember: It is illegal to germinate cannabis seeds in many countries including the UK.  It is our duty to inform you of this fact and to urge you to obey all of your local laws to the letter.  The Vault only ever sells or sends out seeds for souvenir, collection or novelty purposes.