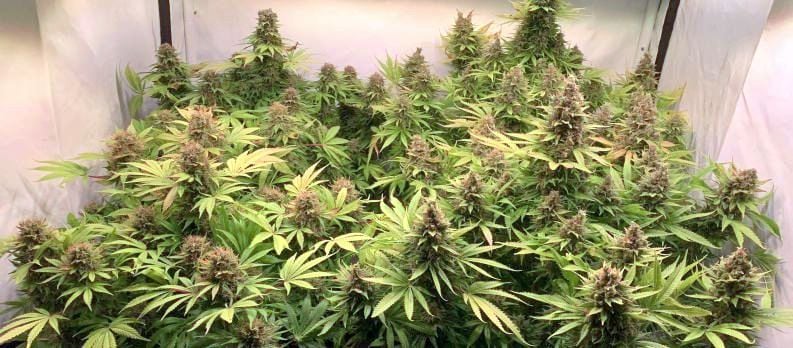 Skunk is one of the old-school classic cannabis strains originating from the US. Often the word 'skunk', especially in the UK and Europe, has been used to name any good quality cannabis, regardless of the actual strain but Skunk is a strain of cannabis, just like Northern Lights, White Widow, Blue Dream or something else. The origins of Skunk are well known and the story of the strain is as interesting as many other 'old' strain tails. Of course that many breeders and growers have their own stories of how Skunk became to be but this is the one we think it's true. As with many other strains, it's quite possible that the strain was reproduced either with inbreeding or crossbreeding by other growers and their versions of the strain may be 'original' as the one described here.
The beginning – crossing the landraces
It all starts in the 1970's with a group of cannabis growers known as the Sacred Seeds (later renamed to Cultivator's Choice) that were set up in the 1940s and their junior grower David Watson also known as Sam the Skunkman. Up to that time, almost all higher grade cannabis in the US was imported, mainly from Colombia and Mexico with occasional Thai sativas or Turkish hash that came from the Hippy Trail. All seeds were 'bag seeds' and most growers didn't know how to make clones, mother plants or seedless plants – known as Sinsemilla.
The important step to new strains was when they realized that if grown to full maturity, only female plants would produce high quality cannabis buds. They removed the male plants and started pollinating the females with other strains of cannabis in order to make new strains with new desirable traits. They crossbred tall and potent Sativa plants from Asia with short, fast flowering hashish making strains from Afghanistan and Pakistan and so the (grand)father of Skunk was created.
Skunk heritage is traced to (Colombian Gold x Afghani #1) x Acapulco Gold, powerful Sativas were crossbred with purest Afghani indica – creating a short flowering, high bud to leaf ratio, bushy plants with dense, potent and resinous buds that could be grown far from the hot californian sun. That allowed for the strain to be grown in the northern states and even southern Canada and greenhouses around the globe, but also put the Sacred Seeds (and other californian growers) on the DEA radar. Growing operations back in the day included selection between thousands of plants, so just the best plants were selected for future breeding material. During the years of harvest, the strain was stabilized, refined and perfected which allowed even wider spread of the strain, that soon became many growers favourite. The original Skunk strain was very pungent with smell reminiscing of one of a dead animal or a skunk and that's where Skunk got its name.
"The Dutch connection"
With DEA hot on their trail, a grow in Santa Cruz was busted and Skunkman ended up leaving to Europe with bags with kilos of seeds to Amsterdam and started working with and sold seeds to Nevile Schoenmaker, then owner of the first cannabis seedbank – The Seedbank (which later changed management and its name to Sensi Seeds) and later Shantibaba and Wernhard (from Positronic Seeds).
The Skunk strain, that has been hybridized and bred successfully in the US – was fused with dutch genetics and adapted to indoor cultivation and Skunk #1 was born. Needless to say, the strain became legend and has been winning cups and awards ever since 1988 when it was introduced to the wider public. With HID lightning indoor cultivation became possible and Skunk #1 became one of the first commercial hybrid stabilized strains and a breeding material to many excellent strains.
The strain existed before Neville and Skunkman started selling their seeds and the US collective of growers continued to breed and grow Skunk, so many other variations and stories are readily available. Mel Frank, a legend in the US growers and breeders circles says that he gave Skunkman his Durban Poison and Afghani #1, and that Skunkman had his version of Haze and Skunk #1 that he had gotten from other growers, but grew it and perfected it on it's own.
A cornerstone of modern cannabis genetics
There's also a story of a grower named Mendacino Joe, who allegedly worked with Skunkman and Sacred Seeds, moving to Vancouver islands and bringing some of the Skunk #1 genetics with him. Mednacino Joe later changed his handle to Romulan Joe and started the strain Romulan that became BC legend. Dutch Passion have also trademarked their Skunk #1 and claim to have the strain inbred and back crossed back in 1978 – something that many other seed banks have done for their own versions and variety of Skunk genetics.
Since then, almost every seed bank has bred and perfected their own Skunk strains, some of course with their own heritage stories and genetics hairloom but the general genetic markup has remained the same, making Skunk one of all time favourites. Growers and breeders in the UK loved the plant and used it to create the famous Cheese (Exodus cut), allegedly from a pack of Sensi Seeds Skunk #1. Just like in the UK, Skunk became a cornerstone of Dutch, and later, Spanish growers and is responsible for creation of many strains like Orange Bud, Lemon Skunk, Shiva Skunk, Super Skunk, Northern Lights, Jack Herrer, Shark Shock, Critical +, LSD and many more.
Original Skunk
Originally, Skunk has as 25% Indica and 75% sativa genetics – originally Acapulco/Mexican Gold x (Coloumbian Gold x Afghani). It finishes early, up to 60 days and is well suited both for indoor and outdoor cultivation. The strain is a high yielder with potent big buds and high leaf to bud ratio, making it easy to trim. As with all stocky plants, big buds can cause mold and mildew problems so good airflow is crucial for a successful indoor grow.
Original Skunk strain smells very pungent with smell similar to a skunk, hence its name. The taste is lightly sweet with harsh and strong tones reminding you of its heritage and the purpose it was created for – to get you really high. The high that Skunk produces is heavy, long lasting and relaxing, it's great for pain relief and muscle relaxation. Today there are two know variations of the 'original' Skunk genetics – one coming from Skunkman, more of a Sativa phenotype, with soft and refined aroma and a nice and calming high and the other one from Neville which features more Indica Afghani characteristics with strong smell and aroma and a more couchlock effect.
Some of the Skunk strains on the Vault worth checking out are:
Skunk #1 were one of the first commercially available feminized seeds that entered the market. By further stabilizing Skunk strains Dutch breeders obtained in the late 1970, Skunk #1 and it's feminized seeds were born and the rest is legend. Since then Skunk #1 has become a cornerstone and a legend of its own. Extremely potent, pungent and smelly it's to be handled with extreme care.
Super Skunk is a cross between old-school Skunk #1 and a carefully selected Afghani hash plant. This award winning strain will leave your grow area smelling strong and pungent and provide for a powerful and couch locked effect that will leave you happy and hungry.
White Skunk is an Indica dominant hybrid, a cross between two legendary and award winning strains – White Widow and Skunk. As one can imagine, such a cross takes best from both of his parents and produces high yields of extremely smelly and potent buds. Heavy, long lasting body buzz leaves you relaxed, euphoric, happy, talkative, calming and focused.
Super Skunk Automatic is an Indica dominant hybrid from White Label Seeds, a cross between Super Skunk and Ruderalis. By giving it extra resistance and its autoflowering trait, it's fast flowering and less picky version of the original, photoperiod strain. Effects are cerebral, energetic, uplifting and relaxing, leaving you calm, focused and hungry. Flavors and aromas are sweet and spicy, skunky with citrus undertones.
Lemon Skunk is a Sativa dominant hybrid, a cross between two sweetest and tastiest lemony Skunk phenotypes. Finishing fast, with great resistance to pests and disease, it's easy to grow both indoors and outdoors. Fresh, smelly and tasty, strong and potent, daily strain. Aromas are strong and pungent – skunky and lemony with earthy and floral undertones. Effects are calming, happy and euphoric, uplifting, energetic and relaxing.
Pineapple Skunk is an Indica dominant hybrid, a cross between two Skunk strains. Along with renowned high potency that reaches 27% THC and smelly, dank and skunky aromas, it has a nice fruity and tropical flavor that will suit connoisseurs and new users alike. Aromas are tropical, lemony and skunky with floral, spicy and piney undertones. Effects start as cerebral – euphoric, attentive and relaxing transitioning into calming and happy body buzz, leaving you sleepy and hungry.
Skunk XL from RQS is a perfect Sativa/Indica hybrid, a cross between legendary and world known Skunk #1 and Afghan. Smelly and pungent, like a true Skunk, it's a strong and powerful, easy to grow and resistant, well suited for beginners and experienced growers. Effects are fast hitting and long lasting, cerebral, energetic, uplifting, calming and relaxed.
Check out the rest of the Skunk cannabis strains on the Vault and tell us what are you favorite Skunk strains.
Why not head on over to The Vault Cannabis Seeds Store and pick up some cannabis seeds now, whilst taking advantage of the discount codes VAULT15 for 15% of your order total and don't forget to check out our discount cannabis seeds page for all the latest offers, promos and competitions!

Make sure you never miss another Vault promo and sign up for our newsletter at https://www.cannabis-seeds-store.co.uk/the-vault-newsletter
Remember: It's illegal to germinate cannabis seeds in many countries including the UK. It is our duty to inform you of this important fact and to urge you to obey all of your local laws. The Vault only ever sells or sends out seeds, or seed voucher prizes for souvenir, collection or novelty purposes.